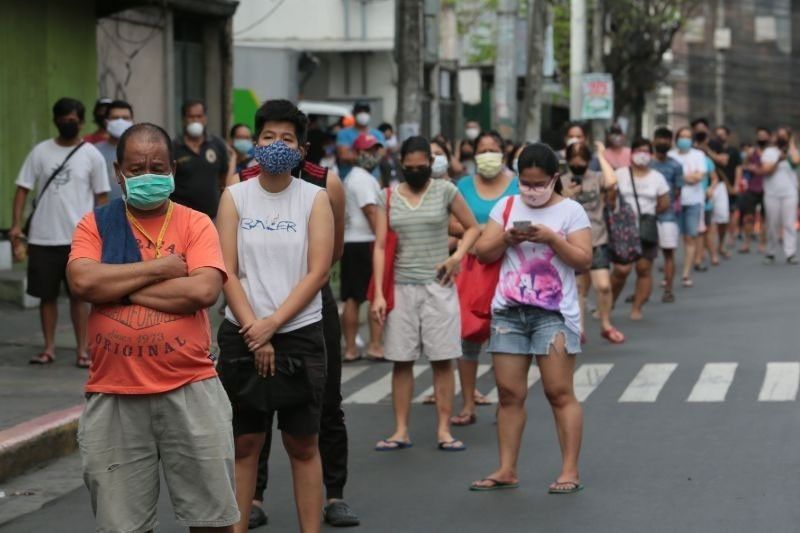 Market-goers at Barangay Quirino 3A in Project 3, Quezon City observe social distancing on March 22, 2020. The Health Department reported 73 new cases of COVID-19 bringing the total number of cases in the Philippines to 380 as of March 22, 2020.
The STAR/Michael Varcas, file
Government to public: Brace for midyear COVID-19 surge
MANILA, Philippines — Vaccine czar Carlito Galvez Jr. yesterday warned the public to brace for another surge in COVID-19 infections by June or July.
"We have to expect this coming June or July that we might have another peak or surge in COVID cases," Galvez, chief implementer of the National Task Force (NTF) against COVID-19, said in an interview on ANC. "The pandemic is far from over. There is a wrong notion that the COVID-19 is already finished in some other countries. It can reappear anytime."
Galvez issued the warning, noting that there are several variants of COVID-19 in the Philippines.
While the government has started the mass inoculation program, he said the efficacy of the vaccines would be determined six to nine months after the start of the vaccination rollout.
"We have to expect the worst when we are planning something and we are now preparing for it. Until such time that there is a definite cure for COVID, that is the time that we will see what we call economic recovery," he said.
According to Galvez, the government was able to expand the intensive care capacity of the health care system during the two-week implementation of the strictest enhanced community quarantine (ECQ) in the National Capital Region and nearby provinces, collectively known as NCR Plus.
He said during the ECQ, the government eyed an additional 164 ICU beds, 2,227 beds for moderate and severe COVID-19 cases and 1,045 isolation beds.
"If we look at our current situation, we have not seen modernization since 1991. We have a small number of ICU beds. In Metro Manila, the ICU beds right now are 1,395. Building an ICU cannot be done overnight," Galvez said.
He said the national government, local government units and private sectors should scale up strategies to combat the pandemic by establishing more testing laboratories, swabbing centers and treatment facilities nationwide.
The government must also fast-track the implementation of the vaccination program, Galvez said.
"The next few weeks will be crucial with the actions that we initiated when we went into ECQ. We aim to institutionalize sustainable and long-term response strategies, which we expect will help ensure that we will no longer need to return to ECQ," he said.
On Sunday, the government placed Metro Manila and the provinces of Bulacan, Cavite, Laguna and Rizal under modified ECQ (MECQ) until April 30.
Improved health care capacity
Despite the soaring cases of COVID-19, Malacañang said the improved numbers in health care and hospital bed capacity prompted the government to shift to MECQ until the end of the month.
Presidential spokesman Harry Roque and Public Works Secretary Mark Villar presented yesterday to the public the efforts of the government to beef up health care capacity to address the lack of beds, especially for severe and critical COVID-19 cases.
"It would have not been possible for us to return to MECQ if we were unable to beef up our health care utilization capacity," Roque said.
At a press briefing, Villar said there are 720 health facilities nationwide, which provide a total of 26,259 beds for COVID-19 patients. The facilities include 15 modular hospitals, 634 quarantine or isolation sites, 60 offsite dormitories and 11 technical assistance centers.
In Metro Manila, Villar noted that the mega quarantine facilities reached 61 percent occupancy rate amid a spike in COVID-19 cases.
"In NCR we have 1,543 beds at 61 percent occupancy rate. We also have a mega quarantine facility in Region 3 with 1,047 beds at 77.94 percent occupancy rate," he said.
In Region IV-A, 401 beds for COVID-19 reached 71 percent capacity.
"In Cebu City, we have 130-bed capacity which is now 4.62 percent occupancy," Villar said.
The Department of Public Works and Highways is set to build more facilities to cater to more COVID-19 patients, he added.
Noting the surge of COVID-19 infections in the National Capital Region, Villar said there is 66 percent occupancy rate in NCR.
"So the highest capacity is in NCR. Out of 6,985 total beds, 4,622 are occupied. We're focused on NCR where occupancy rate is highest," he said.
More quarantine facilities
Six more temporary treatment and monitoring facilities (TTMFs) are set to be activated this week to accommodate more COVID-19 patients, according to the Department of Health (DOH) and the NTF against COVID-19.
The DOH said these TTMFs would provide at least 1,765 additional beds for COVID-19 patients.
The facilities are located at the National Center for Mental Health in Mandaluyong with 1,000 beds; Subic Manila Times College (300); New Clark City (165), Eva Macapagal (200) and Orion in Bataan (100 beds).
There are also other local government unit-managed isolation facilities constructed by the government in partnership with the Philippine Red Cross and private groups.
The government is also expanding the hotels serving as isolation facilities, the DOH said.
"This equates to an additional 1,700-plus beds that can cater to mild, asymptomatic and recovering COVID-19 patients," the DOH said.
These are on top of the Oplan Kalinga's 280 beds for health care workers, 20 beds at the National Kidney and Transplant Institute, 88 beds for the modular hospital at the Lung Center of the Philippines and 110 beds at the Quezon Institute.
"All in all, a total of 3,436 beds were made available in NCR Plus following the declaration of ECQ and modified ECQ," the DOH said. – Christina Mendez, Sheila Crisostomo