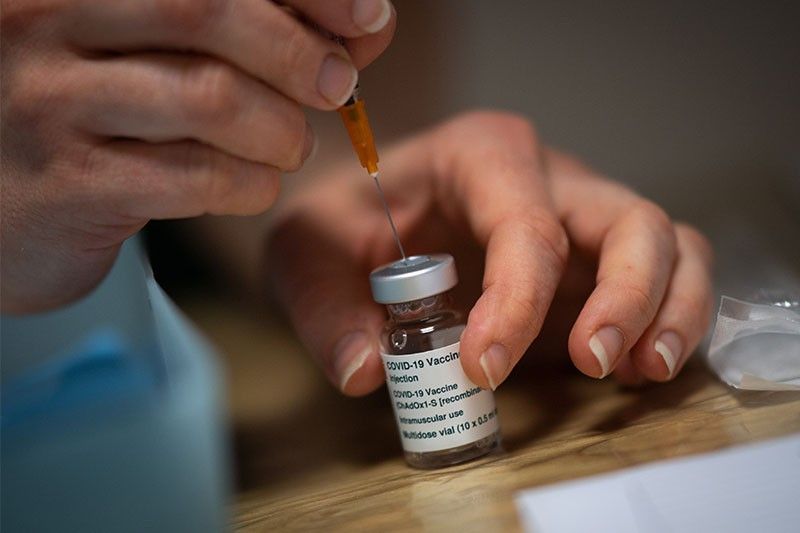 A pharmacist prepares a dose of the AstraZeneca/Oxford Covid-19 vaccine with a syringe in a pharmacy, in Savenay, western France, on April 2, 2021.
AFP/Loic Venance
Philippines temporarily stops giving AstraZeneca shots to those under 60
MANILA, Philippines (Updated 2:25 p.m.) — The Philippines is temporarily stopping administering AstraZeneca's COVID-19 vaccines to those under 60 after the European Medicine Agency (EMA) found that blood clotting combined with low platelet count is a potential, although "very rare," side effect of the shot.
The Department of Health (DOH) heeded Thursday the Food and Drug Administration's (FDA) recommendation to halt vaccinations using AstraZeneca pending further evidence and advice from local experts and the World Health Organization.
The EMA said Wednesday that it found a possible link between very rare cases of blood clotting with low platelet count and getting the AstraZeneca shot.
The EMA said that most of these cases were reported among women under 60 years of age within two weeks of vaccination.
Despite finding this link, the EMA said that the benefits of getting the AstraZeneca coronavirus jab outweighs the risks of side effects.
In a joint statement, the DOH and the FDA echoed this, saying that the national committee on adverse events following immunization have not received reports of blood clotting and low platelet count after getting the AstraZeneca shot.
"I want to emphasize that this temporary suspension does not mean that the vaccine is unsafe or ineffective—it just means that we are taking precautionary measures to ensure the safety of every Filipino," FDA Director General Eric Domingo said in a statement.
Earlier Thursday, Domingo said on state-run People's Television that there are hardly any AstraZeneca vaccines left anyway, and that the next batch of the jab are expected next month, which would give them enough time to study the shot.
"That will give us time to study the evidence and to see kung magkakaroon po tayo ng panibagong (if we will have a new) guidance sa paggamit ng (on the use of) AstraZeneca vaccine," he said.
AstraZeneca is one of four coronavirus vaccines given emergency use authorization by the FDA, along with the jabs of Pfizer/BioNTech, Sinovac and Gamaleya.
As It Happens
LATEST UPDATE: April 16, 2021 - 8:19am
The national government has so far secured two official deals for COVID-19 vaccine supplies in the Philippines, one with Chinese pharmaceutical company Sinovac and another with the Serum Institute of India.
Watch this space for bite-sized developments on the vaccines in the Philippines. (Main image by Markus Spiske via Unsplash)
April 16, 2021 - 8:19am
As approved by the inter-agency task force on COVID-19, Priority Group A4 of the National COVID-19 Vaccine Development Plan will include:
commuter transport (land, air and sea), including logistics

public and private wet and dry market vendors

frontline workers in groceries, supermarkets, delivery services

workers in manufacturing for food, beverage, medical and pharmaceutical products

frontline workers in food retail, including food service delivery

frontline workers in private and government financial services

frontline workers in hotels and accommodation establishments

priests, rabbis, imams and other religious leaders

security guards/personnel assigned in offices, agencies and organizations identified in the list of priority industries/sectors

frontline workers in private and government news media

customer-facing personnel of telecoms, cable and internet service providers, electricity distribution and water distribution utilities

frontline personnel in basic education and higher education institutions and agencies

overseas Filipino workers, including those scheduled for deployment within two months

frontline workers in law/justice, security, and social protection sectors

frontline government workers engaged in the operations of government transport system, quarantine inspection worker safety inspection and other COVID-19 response activities

frontline government workers in charge of tax collection, assessment of businesses for incentives, election, national ID, data collection personnel

diplomatic community and Department of Foreign Affairs personnel in consular operations

Department of Public Works and Highways personnel in charge of monitoring government infrastructure
April 15, 2021 - 2:28pm
The US, through the United States Agency for International Development (USAID), will provide P170 million in support to help the Department of Health rollout the government's COVID-19 vaccination program.
According to the US Embassy, the aid was announced by US Embassy Chargé d'Affaires John Law during a visit to a Caloocan City vaccination site with Health Secretary Francisco Duque III and other officials.
"Through this new funding, USAID will support the Philippines in strengthening the vaccine supply chain, monitoring vaccine safety, and delivering effective communication campaigns to address vaccine hesitancy. This assistance will also support local government units as they plan for, track, and administer vaccines."
April 13, 2021 - 8:42pm
Top US health authorities recommended a "pause" in the use of the Johnson & Johnson Covid-19 vaccine "out of an abundance of caution" as they investigate any links between it and blood clots, a regulator said Tuesday.
The US Food and Drug Administration and the Centers for Disease Control are assessing the "potential significance" of six reported cases of a rare blood clot in patients who have received the shot, the FDA tweeted.
"Until that process is complete, we are recommending this pause," it said.
The regulator said that as of Monday more than 6.8 million doses of the J&J vaccine had been administered in the US.
"CDC & FDA are reviewing data involving 6 reported U.S. cases of a rare & severe type of blood clot in individuals after receiving the vaccine. Right now, these adverse events appear to be extremely rare," the FDA stated on Twitter. — AFP
April 13, 2021 - 11:20am
Some 20 million doses of Russian-made Sputnik V COVID-19 vaccine are expected to arrive in the Philippines within the next four months.
Vaccine czar Carlito Galvez Jr. says the government will sign a supply agreement with Russia's Gamaleya Research Institute this week.
"It can be used on the elderly, so from 18 and above. So we can use this and the good thing is at least in the absence of AstraZeneca, we can use this," Galvez says in an interview with ANC's "Headstart."