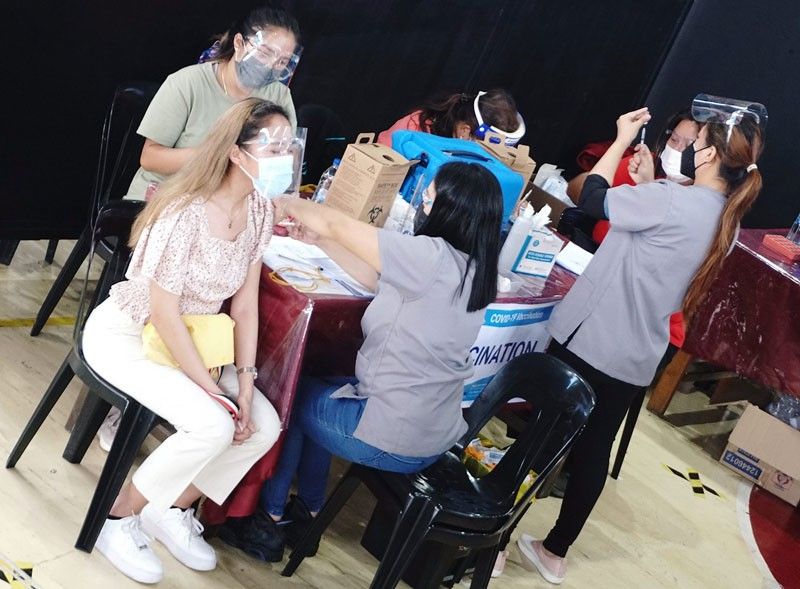 Persons with comorbidities and health workers are vaccinated yesterday at the gym of the University of Baguio.
Andy Zapata Jr.
Vaccination of 5 priority groups eyed in May
MANILA, Philippines — Despite the tight supply of pandemic vaccines, the National Task Force (NTF) against COVID-19 is optimistic that the inoculation of five priority sectors in focus areas can begin next month.
Vaccine czar Carlito Galvez Jr. yesterday said more than four million doses of COVID-19 shots are expected to be delivered by May. If the vaccines arrive on time, the immunization of frontline personnel in essential sectors (A4) and the indigent population (A5) may start next month, he added.
At present, COVID-19 shots are being administered to health care personnel (A1), senior citizens (A2) and persons with comorbidities or health risks (A3).
"For now, we are combining A1 to A3. And we are recommending that by May, considering that we call this Labor Day, we can open up (the vaccination) to what we call our economic frontliners, our laborers, our vulnerable laborers," Galvez said.
"We are recommending this to NITAG (National Immunization Technical Advisory Group) since the orders of the private sector are also expected to arrive. It's coincidence that during the celebration of Labor Day, we can include the A4 and A5," he added.
Galvez said vaccination of five priority groups would begin in focus areas like Metro Manila, Calabarzon, Central Luzon, Western Visayas, Cebu, Zamboanga peninsula and Davao.
As of yesterday, a total of 826,607 Filipinos have been vaccinated, 783,085 of them health care workers.
Scrap tripartite agreements
To speed up the vaccine rollout, Sen. Leila de Lima called for the junking of contracts requiring private companies to enter into tripartite agreements with the government and vaccine manufacturers.
"There is an urgent need to revisit the vaccination campaign, change the tripartite agreements that cause a bottleneck and allow the private sector to directly import vaccines without red tape," she said.
Not official
Department of the Interior and Local Government (DILG) spokesman Undersecretary Jonathan Malaya yesterday distanced the department from the remarks of Undersecretary for operations Epimaco Densing III who admitted that the national government has no solution to the surge in COVID-19 cases.
"The department wishes to clarify that the views expressed by Usec. Epimaco Densing III about the government's response to the surge is his own personal opinion and does not reflect the position of the DILG," Malaya said. — Cecille Suerte Felipe, Emmanuel Tupas