Senators hit proposed private sector vaccine procurement ban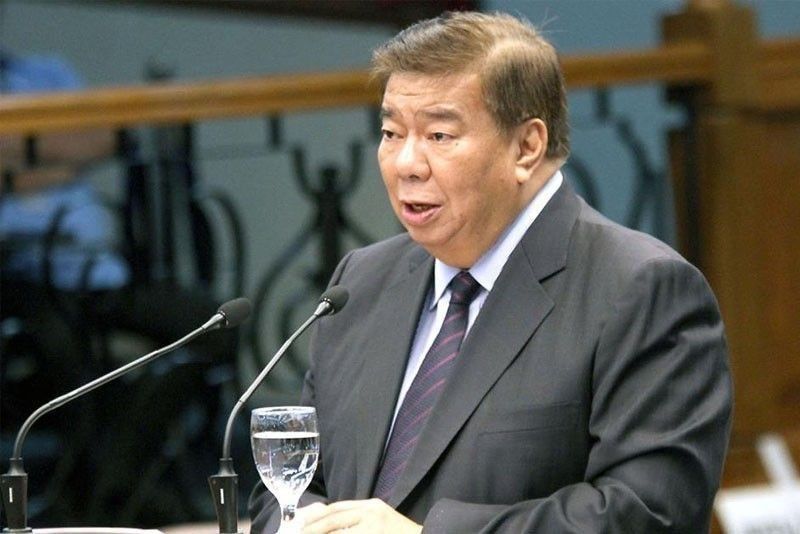 MANILA, Philippines — The plan of the Department of Health (DOH) to bar infant milk manufacturers, sugary beverage makers and other private firms from procuring COVID-19 vaccines for their workers is illegal, unauthorized and exposes officials to criminal charges, lawmakers warned yesterday.
Senate Minority Leader Franklin Drilon expressed alarm over the DOH's plan – either in the form of a department order or the implementing rules and regulations (IRR) of the COVID-19 Vaccination Program Act or Republic Act 11525 – to block select firms from procuring their own vaccines.
"I am deeply disturbed by this report. If indeed such a draft administrative order exists, that is a clear violation of the COVID-19 Vaccination Act of 2021. Such a policy is discriminatory and morally unacceptable. The DOH does not have the authority to do that," Drilon said in a statement.
"Who is playing God here once more? Please stop playing God. This is not the time for politics and selfish agenda. It is our moral responsibility to share the vaccine," he added.
In the draft order — confirmed by the DOH — it was provided for that "the NTF, together with the DOH shall review the requests of private entities to procure vaccines to ensure that private entities who will be part of the agreement are not in any way related to the tobacco industry, products covered under EO 51 series of 1986 or the 'National Code of Marketing of Breastmilk Substitutes, Breastmilk Supplement and Other Related Products' or other industries in conflict with public health."
Drilon warned Health Secretary Francisco Duque III that he will call for a Senate investigation if the latter insists on banning private entities from taking part in the vaccination program.
He said RA 11525 allows private companies to procure vaccines in cooperation with the DOH, because it recognizes the role of private entities in arresting the pandemic through their efforts to inoculate their workforce.
"Our economic workers risk their lives daily. It is our responsibility to protect them too," he said.
Senate President Pro Tempore Ralph Recto also slammed the plan, saying the practice of "legislating by IRR is a bad habit by bureaucrats who imagine themselves as the third chamber of Congress."
He said the two phrases in the draft section of the IRR will sabotage the public-private vaccination partnership.
"So this can be read that a pharmaceutical company that plans to procure vaccines, half of which it shall donate to the government, cannot do so simply because it has breastmilk substitutes in its product catalog? Also, will an airline company with an interlocking directorship with a tobacco company be likewise banned under that provision?" Recto said.
He said the second questionable phrase is that the ban covers companies dealing with "other products in conflict with public health."
But the list in the government almanac of unhealthy products whose consumption is punished by a tax is long as it includes soda, sugared products and alcohol, he said.
"So the company making Ginebra is disqualified despite its donation of a gazillion liters of disinfectant alcohol to hospitals? Under the proposed relationship rule, its parent company, San Miguel — despite donating billions of pesos to the pandemic fight — will be disqualified from buying vaccines it plans to give to its workers and to the government for free," Recto pointed out.
He said sin taxes paid by sweetened beverages reached P38.6 billion in 2019, and P28.6 billion in 2020. For alcohol, it was P77 billion in 2019, and P62 billion in 2020. Tobacco was P147 billion in 2019, and P139 billion in 2020.
"If these merchants of sin would like to plow back their profits in the form of vaccines, half for their workers and half for the people, why would a fumbling government illegalize such an offer of help?" Recto said.
Sen. Joel Villanueva said the proposed provision is inconsistent with the common goal of vaccinating the people so every worker can go back to work without fear of getting sick.
"Why are we discriminating against these industries? They are not asking for vaccine subsidies. They are legitimate businesses with a number of employees. If they are willing to vaccinate their employees for free, why stop them?" he said.
On the contrary, Villanueva said they should even be encouraged to vaccinate their employees "so that the government can just focus on vaccinating the frontliners, including minimum wage earners and contractual workers, government workers and our teachers."
Many members of the House of Representatives also slammed Duque's draft order, which several senators described as "discriminatory" and even Foreign Affairs Secretary Teodoro Locsin Jr. tweeted as "stupid."
Calling the policy "unfair," Deputy Speaker Bernadette Herrera of party-list Bagong Henerasyon said: "It's clear from that provision that the DOH is discriminating against companies it perceives to be in conflict with interest of public health."
Albay Rep. Joey Salceda, House ways and means committee chairman, said the DOH draft order is practically locking out the cash-strapped government from receiving any form of assistance from the private sector.
"The DOH is really stretching its authority here, and every rule they are introducing on top of all the others seems to just complicate our response without getting anything meaningful against Covid-19 done," Salceda said.
House Deputy Minority Leader Stella Luz Quimbo, a senior member of Salceda's committee, appealed to the DOH not to be too hasty in rejecting private sector participation.
The congresswoman from Marikina stressed that precluding tobacco, milk and other companies from participating in the program also means denying their employees the chance to be inoculated sooner rather than later.
Muntinlupa City Rep. Ruffy Biazon, an anti-smoking advocate, said instead of banning private entities which may be related to "barred" industries, DOH "should just make it conditional that the vaccines will not be used in any way to directly or indirectly promote or distribute products of those industries."
Deputy Speaker Bienvenido Abante, for his part, said any help from the private sector must be welcomed by government agencies to fast-track the attainment of goals of the vaccination campaign.
Rep. Ron Salo (Kabayan party-list) said while government does not discriminate against criminals, drug addicts, drunkards, murderers, rapists, plunderers, corrupt officials and convicted felons in having access to COVID-19 vaccines, it seems it wants to throw under the bus the employees of companies with unhealthy products.
"We should work together for the recovery of the entire Filipino nation. We cannot leave behind certain groups of people just because they work in industries we seek to discourage," he said.
Private sector's appeal
Meanwhile, the Infant and Pediatric Nutrition Association of the Philippines (IPNAP) said the DOH must make sure that vaccinations are affordable and available to all Filipinos.
"The IRR must be guided by the intended spirit of the law, that all Filipinos can avail of the essential services at an affordable cost. The law is inclusive. It is crystal clear. No Filipino will be left behind," Dr. Anthony Golez, IPNAP executive director said in a statement.
"We at the IPNAP are certain that DOH is cognizant of its mandate to protect the right to health of all Filipinos and we trust that they are laser focused on eliminating the real enemy which is COVID 19," he said.
In an interview with Dobol B TV yesterday, Employers Confederation of the Philippines (ECOP) president Sergio Ortiz-Luis Jr. said the private sector should be allowed to directly buy vaccines as many companies want to do so for their employees who are considered economic frontliners.
"If this will be allowed by the government, this would be a big reduction to what was earmarked for vaccination," he said, noting the government had to borrow funds for the vaccines.
"Wouldn't this allow us to quickly get herd immunity and allow the government to save? That's our only purpose here," he said.
He also said the vaccines to be purchased by the private sector are not for commercial purposes, but would be given to employees for free because the private sector wants its employees to be protected.
Earlier, the country's largest business organization Philippine Chamber of Commerce and Industry (PCCI) made a call to the government to allow the private sector to buy and import vaccines without restrictions and without the imposition of taxes, to accelerate vaccinations in the country.
The private sector group led by presidential adviser for entrepreneurship and Go Negosyo founder Joey Concepcion has purchased vaccines from AstraZeneca through a tripartite agreement signed with the drug manufacturer and the government.
Leni weighs in
Vice President Leni Robredo appealed to the government to allow more private sector participation in the vaccination program while it accelerates the inoculation of priority groups.
She cited how the Indian government has recently approved a large-scale private sector participation in its vaccination drive.
"The private sector is a big, big help so let us not over regulate," Robredo said in a post on her Facebook page. "Let us not make it difficult for private companies to participate."
In her weekly radio show over dzXL, Robredo emphasized how countries with high COVID-19 vaccination rates have experienced sharp decline in new cases and hit the slow vaccine rollout in the country.
"If we look at Indonesia, they have a good rollout of vaccines. Actually, they have more cases than us, but when I looked at their data, there was a dramatic decline (in new cases)," she said.
Robredo said the US – the hardest-hit by the pandemic – is also experiencing a decline in new COVID-19 cases with many people getting vaccinated against the disease.
In the Philippines only 269,583 or 23.95 percent of health workers were vaccinated more than two weeks since the vaccines arrived, she said, adding: "We have a problem with the rollout." – Louella Desiderio, Helen Flores