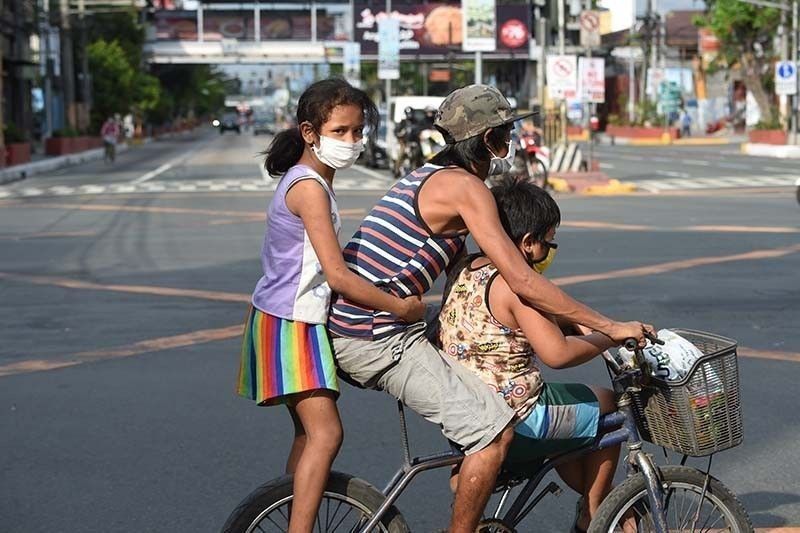 A father with his children aboard their bicycle crosses an almost empty road in Manila on March 20, 2020, after the government imposed an enhanced community quarantine against the rising numbers of COVID-19 coronavirus infections.
AFP/Ted Aljibe
Metro Manila to ban minors from going out again as COVID-19 cases spike
(Philstar.com) - March 16, 2021 - 11:22am
MANILA, Philippines — Minors in Metro Manila would again be banned from going out of their homes for two weeks beginning Wednesday, in a move to curb the transmission of COVID-19 in the face of a spike in cases feared to overwhelm the healthcare system.
The Metro Manila Development Authority announced this Tuesday, saying that the Metro Manila Council, which is composed of the MMDA and mayors in the capital region, is drafting a resolution prohibiting those aged 17 and below from going outdoors.
"We are implementing age restrictions because of the increase in our COVID-19 cases," MMDA chairman Benhur Abalos said. "The metro mayors and MMDA are regularly monitoring the COVID-19 numbers and we will implement calibration and changes on our directives depending on the figures that we have."
Metro Manila mayors earlier allowed minors aged 15 to 17 to go out of their homes upon the prodding of the national government, which pushed to ease coronavirus restrictions in a bid to restart economic activity stalled by the pandemic.
But now faced with a spike in cases that reached a seven-month high on Monday, local governments, particularly in Metro Manila where most of the new cases have sprouted, have scrambled to reimpose restrictions that had been lifted earlier, including lockdowns, curfews and liquor bans.
READ: Here's a briefer on the uniform Metro Manila curfew
This approach has gotten the backing of Acting Socioeconomic Planning Secretary Karl Kendrick Chua, who previously pushed for looser restrictions, and called the latest moves to tighten prohibitions a "good balance" between fighting a new surge and new coronavirus variants as well as permitting existing economic activities to carry on.
The Department of the Interior and Local Government has also directed local governments and the Philippine National Police to implement a "crackdown on quarantine violators" and intensify enforcement of minimum health standards in all barangays.
It also ordered the coronavirus task force's implementing arm, the Joint Task Force COVID Shield which includes the national police and the military, to increase police deployment and strictly enforce minimum public health standards in Pasay, Malabon, Navotas, Cebu City and Cebu province, which have registered a spike in cases. — Xave Gregorio with reports from Franco Luna and Ian Nicolas Cigaral
As It Happens
LATEST UPDATE: June 21, 2021 - 4:54pm
Follow this thread for updates on COVID-19 risk levels, safety measures, and data from Metro Manila's local government units.
Photo: The STAR/Michael Varcas
June 21, 2021 - 4:54pm
Manila allows walk-in clients in all vaccination sites following low vaccination turnouts reported in the city.
Mayor Isko Moreno issued the directive at 4:30 p.m., Manila Public Information Office says.
Manila City started its no-walk in policy on Monday, resulting to low vaccination turnouts.
NEWS ALERT: Manila City Mayor Isko Moreno allows walk-in clients in all vaccination sites following low vaccination turnout.

Directive was issued at around 4:30 pm today. #AlertoManileno #COVID19PH pic.twitter.com/njD6CTbH01

— Manila Public Information Office (@ManilaPIO) June 21, 2021
June 16, 2021 - 12:25pm
Quezon City may terminate its contract with Zuellig Pharma Corp. over "technical difficulties" on its eZConsult service that have prevented residents from signing up for COVID-19 vaccination slots.
"We have issued an ultimatum to Zuellig so they can improve their system quickly and provide all the deliverables. If not, we have no other choice but to find another company that can do the job quickly and efficiently," QC Mayor Joy Belmonte says in a press statement.
The eZConsult system bogged down in June 10, 2021, the QC government said, "causing the city government's inability to provide vaccines to its constituents in a quick and timely manner."
It said the city may also seek damages from the company over the inconvenience that the technical difficulties caused.
June 14, 2021 - 11:46am
The curfew in the National Capital Region will be adjusted to from midnight to 4 a.m., Metropolitan Manila Development Authority Chair Benhur Abalos announces.
The new curfew hours — shorter than the 10 p.m. to 4 a.m. curfew imposed in May — will take effect on June 15.
May 26, 2021 - 2:41pm
Quezon City Mayor Joy Belmonte has issued a show-cause order for Majority Floor Leader Franz Pumaren to explain alleged violations of health protocols at a food distribution event on Tuesday afternoon.
"The move is consistent with the city government's policy of going after violators of established health and safety protocols as well as to hold them accountable for their actions, regardless of status or position," the mayor's office says.
In a press briefing, Pumaren says the food distribution in Barangay Old Balara was assisted by purok leaders to act as marshalls and ensure that health protocols were followed.
Aside from the volunteers, personnel from the Philippine National Police and the city's Task Force Disiplina were also at the event to manage the crowd, which Pumaren says reached around 5,000 to 6,000 people.
He says the line was orderly until rain disrupted the activity and acknowledges that people rushed back to get in line when the rain stopped.
"The Quezon City Epidemiology and Surveillance Unit has been instructed to conduct Covid 19 testing among participants of the activity," the mayor also says.
May 26, 2021 - 8:37am
Metro Manila Development Authority Chairman Benhur Abalos says he may ask National Capital Region mayors to consider loosening some restrictions like curfews and capacities.
Mayors are meeting on Wednesday night, he says on the ABS-CBN News Channel.