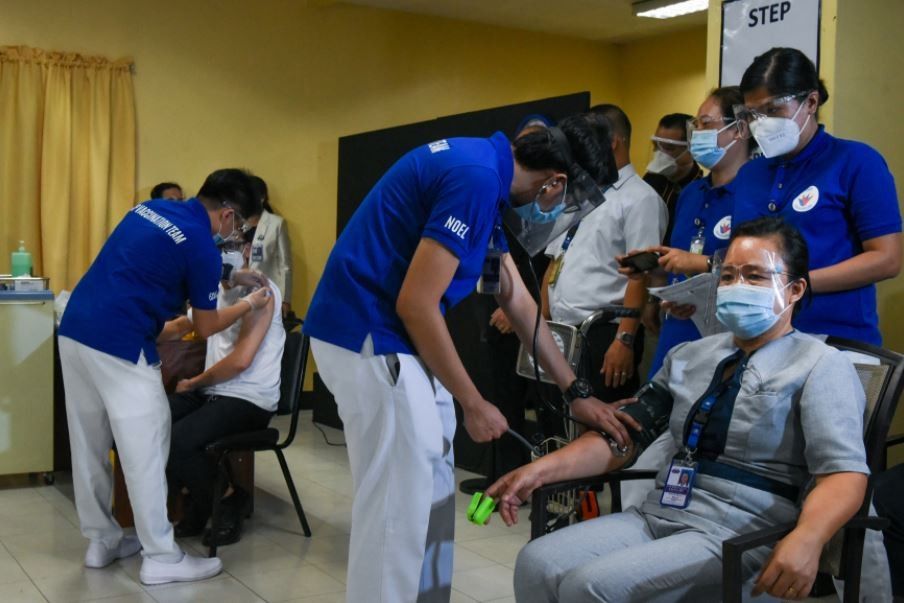 A health worker receives the first Sinovac vaccine against the Covid-19 coronavirus disease at the Lung Center of the Philippines in Manila on March 1, 2021.
AFP/Maria Tan
Vaccine czar: No date yet for arrival of AstraZeneca and Pfizer vaccines
MANILA, Philippines — Sinovac doses arrived in the country as February came to a close, but the arrival dates for AstraZeneca and Pfizer vaccines are still up in the air despite an earlier claim that they would be here last month.
The country began its vaccination program on Monday, March 1 after doses sent by China arrived on Sunday afternoon. The vaccination program has seen delays because the government was caught by surprise on the indemnity requirement to cover adverse reactions.
A postponed arrival of AstraZeneca vaccines was the latest given by presidential spokesperson Harry Roque who gave optimistic but inaccurate updates on when the vaccines would arrive.
Last month, he said the jabs under the COVAX facility would be in the Philippines by around February 15, a date that the Department of Health clarified was just an estimate.
It is now unclear when the vaccines will arrive.
Vaccine czar Carlito Galvez Jr. in a briefing on Monday did not give a specific date for the arrival of AstraZeneca vaccines. He said vaccines from Pfizer would arrive by the second quarter of the year.
"The AstraZeneca was delayed because of global acute shortages and logistical challenges," he said.
In seeking to explain the situation with Pfizer, Galvez said supplies are in high demand in many countries and that the Philippines should not expect delivery any time soon.
The AstraZeneca and Pfizer doses that the government is waiting for are from the COVAX facility, a global initiative for ensuring equitable access to the jabs.
What about vaccines the government is buying?
The direct purchase from drugmakers is a different matter and deals for those have yet to be sealed. This means that the P72.5 billion that Congress approved for securing doses has yet to be spent.
"What we are seeing is maybe by second quarter for Pfizer from COVAX," Galvez said. "But not on the procurement as they are saying initially by third or fourth quarter as they no longer have supplies."
People on the government's priority list are left with the choice of taking the Sinovac-made CoronaVac or an indefinite wait for other vaccine brands.
The Food and Drug Administration initially advised against administering it on health workers, but the coronavirus task force has since said that the vaccine is safe for their use after all.
The first dose of a legal coronavirus vaccine was given to Philippine General Hospital chief Gerardo Legaspi although members of the Presidential Security Group and columnist Mon Tulfo got smuggled Sinopharm doses last year. According to Tulfo, he took the vaccines with "Cabinet-level" officials and a senator.