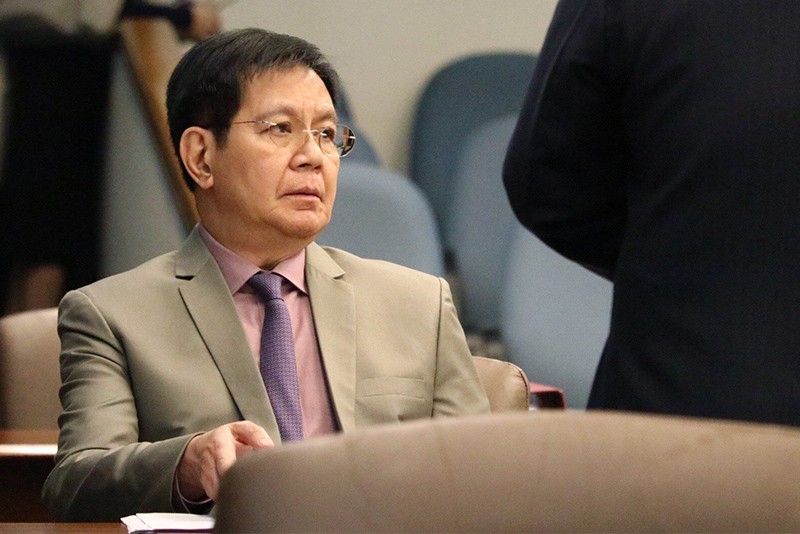 Sen. Panfilo Lacson, a former PNP chief, said one such adjustment would involve the PDEA "overseeing" anti-drug operations and focusing on intelligence work, and leaving assault operations to specially trained police personnel.
Philstar.com/File Photo
Policy change urged to prevent another PNP-PDEA shootout
Paolo Romero
(The Philippine Star) - March 1, 2021 - 12:00am
MANILA, Philippines — The government may need to adjust its policies to prevent a repeat of the shootout between Philippine National Police (PNP) and Philippine Drug Enforcement Agency (PDEA) operatives in Quezon City last week, Sen. Panfilo Lacson said yesterday.
Lacson, a former PNP chief, said one such adjustment would involve the PDEA "overseeing" anti-drug operations and focusing on intelligence work, and leaving assault operations to specially trained police personnel.
"We have to resolve the trust issue between the PNP and PDEA. But it would be better if the PDEA acted as overseer in anti-drug operations, and focus on intelligence gathering, whether it is technical or human intelligence," Lacson told dzBB in Filipino.
"In other countries, the output of intelligence work is shared with specially trained police units, with one or two PDEA operatives accompanying or 'guiding' the police force in the operation. That is the ideal situation where coordination is smooth and tight. The last thing we need is the reluctance of our agencies to work together because of what happened," he said.
He said this setup is used in the US, where representatives from the US Drug Enforcement Agency "oversee" or "guide" specially trained police forces in the assault.
The senator said such policy adjustments are needed for the government to keep two to three steps ahead of drug syndicates, especially to address the possibility that such syndicates manipulate "informants" to mislead government forces into fighting each other.
Lacson also voiced support for Senate Bill 3 of Senate President Vicente Sotto III, which – among others – creates the Presidential Drug Enforcement Authority as the supervising agency for the proper, more effective and efficient implementation of the Comprehensive Dangerous Drugs Act of 2002.
The proposed agency will also absorb the policymaking and strategy-formulating functions of the Dangerous Drugs Board.
Lacson said those found liable for Wednesday's incident should not just be relieved, but slapped with administrative and criminal charges due to the deaths of the law operatives involved.
"Sad to say, the government's anti-drug efforts have not succeeded. Otherwise, we would have made a big dent in the operations of drug syndicates. This is shown by the mere fact that shabu is still being sold and so many drug addicts are roaming the streets," he said.
Senate President Pro Tempore Ralph Recto said the botched entrapment, which killed four anti-drug operatives in a gunfight among themselves, should speed up the implementation of the use of body cameras and dashboard cameras by law enforcers.
"It is again a bloody reminder of a missing but vital equipment in policing – video recording devices, especially during operations," he said.
Recto had sponsored, with then senator Joseph Victor Ejercito, a P5.4-billion fund in the 2017 national budget for new police equipment, including body cameras, "but it took four years and five PNP chiefs to buy some 2,600 pieces."
After failed biddings, the PNP finally took hold of the cameras early this year and are reportedly drafting protocols for their use.
But if 2,600 is the annual number of bodycams the PNP can buy, Recto said, "it will take 100 years" to provide every policeman with one.
"And about 20 years if the target is to buy 40,000, on the assumption that only one in every five officers would need to wear one at any given time," he said.
He said cameras are relatively cheap "at a time when we are buying missiles, attack helicopters, destroyers and fighter jets.
"And if man can send a vehicle with a camera 200 million miles away to Mars, why can't we equip our police patrol cars with dashcams – which every car or food delivery bike seems to have these days? In this age of Facebook Live, that isn't cutting-edge space technology," he said.
Recto said making it mandatory for police officers to wear body cameras during routine patrols and also for PDEA, the National Bureau of Investigation (NBI) and military units during field operations "will store evidence needed to prosecute criminals."
"Played in court, the footage is evidence hard to refute. It will also ensure that SOP is followed during operations. And it cuts both ways. It protects citizens from abuse, and the police from unfounded charges of abuse," he said.
He said the same would be the case for dashcams, not only to help record incidents but also check whether or not patrol units did their rounds or just "parked under the shade."
A 'thorough' probe
Justice Secretary Menardo Guevarra yesterday gave assurance that, if necessary, even high-ranking government officials would not be spared in the NBI's probe into the shootout between the PNP and PDEA.
Guevarra also said that the NBI continues to enjoy the trust of President Duterte because it has proven its capability in conducting fair and thorough investigations involving other government agencies.
According to an online report of CNN Philippines, NBI Deputy Director and spokesperson Ferdinand Lavin confirmed that, as of last count, the fatalities as a result of the shootout between the PNP and PDEA had gone up to five.
Lavin reportedly admitted that the biggest challenge they face in conducting an investigation is the level of cooperation from the two agencies that are still in a state of mourning.
The NBI is already in the process of reviewing all submitted footage from the incident and would soon begin authenticating the documents and statements given by the PDEA and PNP.
Leave no stone unturned
Lawmakers said the NBI should leave no stone unturned in its investigation into the shootout.
"We really hope they can bring light into this controversy. How did this happen and how can incidents like this be prevented? As it is, there are a lot of unanswered questions that could cast a shadow on the administration of justice in this country," Rep. Fidel Nograles said.
The Rizal congressman, who is also vice chairman of the House committee on justice, expressed concern over the "lapses" that have led to the encounter as he urged law enforcement authorities to "take a long and hard look" at their processes.
"This should not have happened in the first place. We should review the processes of our law enforcement agencies so that we can prevent another unfortunate incident like this to happen," Nograles said.
If left unchecked, the public's confidence in those tasked with upholding the law could be dented, the Harvard-trained lawyer said.
The House committee on dangerous drugs headed by Surigao del Norte Rep. Robert Ace Barbers has temporarily suspended its scheduled probe today, in deference to the inquiry that will be done by the NBI.
But the senior administration lawmaker said such incidents should never happen again.
"Both claims of the police and PDEA that their anti-drug operations are legitimate are both highly questionable," Barbers noted. "The presence of high-ranking police officers in this alleged uncoordinated buy-bust is another suspicious angle that we want to investigate.
"This adds to the irregularity in the total scenario. On the other hand, news footage showing several PDEA agents in uniform taking positions during the early stages of the fight seems to show a prepared operation," he added.
"These things will have to be clarified in order for us to introduce proper legislation, timely as it is because we have just approved on second reading the proposed amendments to the Dangerous Drugs Act which we intend to address situations such as this," Barbers said. – Evelyn Macairan, Delon Porcalla