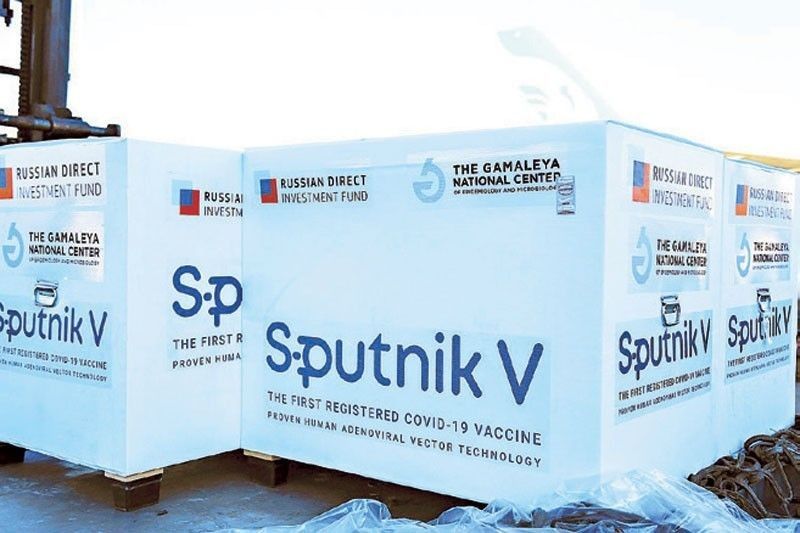 The private sector will bring in Sputnik V. I talked to the Russians via Zoom. All ready," Foreign Affairs Secretary Teodoro Locsin Jr. tweeted.
STAR/File
Private sector to bring in Sputnik V
Helen Flores
(The Philippine Star) - February 20, 2021 - 12:00am
MANILA, Philippines — The private sector will bring Russia-developed COVID-19 vaccine Sputnik V to the Philippines, Foreign Affairs Secretary Teodoro Locsin Jr. confirmed on Twitter last Thursday.
"The private sector will bring in Sputnik V. I talked to the Russians via Zoom. All ready," Locsin tweeted.
Locsin said the vaccine developed by the Gamaleya Research Institute is the only one he would trust, citing a more than 90 percent efficacy rate, according to The Lancet, a peer-reviewed medical journal.
"I'm turning every stone to get Sputnik V in. It is the one I will trust my life to. The Lancet review is definitive," Locsin said.
The country plans to buy 20 million doses of Sputnik vaccines, after President Duterte expressed preference for Sputnik V and CoronaVac of China.
Israel recently introduced the drug EXO-CD24, which researchers said successfully treated at least 30 patients with severe COVID-19 in initial trials.
Clinical trials
Department of Science and Technology (DOST) Undersecretary Rowena Cristina Guevara gave updates on the progress of clinical trials for Belgium-based Janssen Pharmaceuticals and China-based Clover Biopharmaceuticals and Sinovac.
"Janssen has already started with the clinical trial proper – patients screening, recruitment and vaccination. For Clover and Sinovac, site preparations are ongoing," Guevara said.
She refused to divulge details of the three "independent" trials but maintained that the Janssen trial will be conducted in Metro Manila, Region 4-A and 6.
She said government is still waiting for Bharat Biotech to submit its interim Phase 3 clinical trial data for evaluation by the Vaccine Expert Panel. American firm Moderna has yet to submit its requirements for an emergency use authorization (EUA), while the Food and Drug Administration (FDA) is still waiting for Gamaleya Institute to submit regulatory requirements for final evaluation.
So far, authorities have approved Pfizer-BioNTech and AstraZeneca vaccines for emergency use.
European manufacturers wary
Meanwhile, presidential spokesman Harry Roque Jr. insinuated that European manufacturers may have been talking among themselves in ensuring they are also protected from any liability when it comes to the EUA of their anti-COVID-19 vaccines.
"The manufacturer of Dengvaxia is Sanofi, not Pfizer. But you know, these Europeans are talking among themselves. That is why Pfizer seems to be more careful as a fellow European manufacturer of Sanofi, when it comes to supplying vaccines under emergency use authorization," Roque said in Filipino.
Amid high vaccine hesitancy among the public, Department of the Interior and Local Government (DILG) Undersecretary Jonathan Malaya tasked local government units (LGUs) to intensify vaccine information drives.
"We are mobilizing all our DILG field officers down to the municipal level and all our chiefs of police, jail wardens and fire marshals so that they become vaccination champions. Through a series of webinars and dialogues with health experts, we will equip them in their new role as vaccination champions in their respective communities," Malaya said in a statement. – Sheila Crisostomo, Rainier Allan Ronda, Cristina Mendez, Romina Cabrera