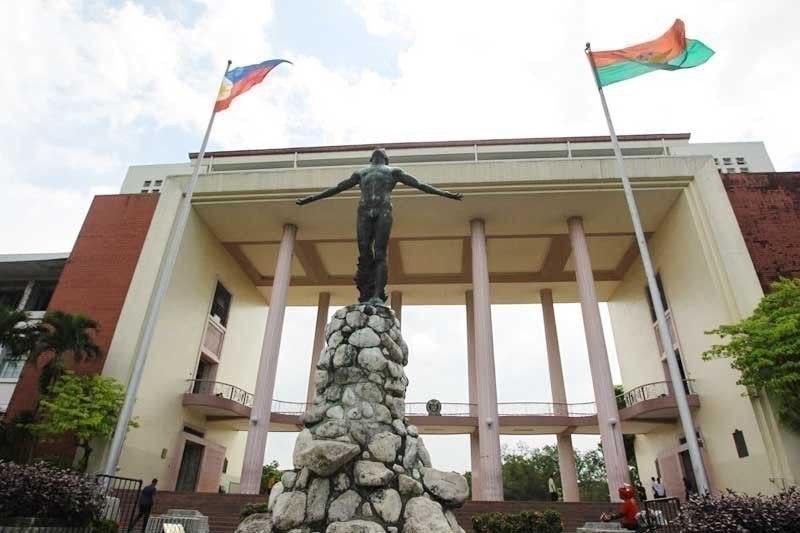 In an advisory, the university said the academic oval would be off limits to the publicfrom Jan. 23 to Feb. 4, but will re-open on Feb. 5.In an advisory, the university said the academic oval would be off limits to the publicfrom Jan. 23 to Feb. 4, but will re-open on Feb. 5.
STAR/ File
UP closes academic oval up to February 4
Janvic Mateo
(The Philippine Star) - January 23, 2021 - 12:00am
MANILA, Philippines — University of the Philippines (UP) Diliman school officials announced that the campus academic oval would be closed due to the recent increase in COVID-19 cases.
In an advisory, the university said the academic oval would be off limits to the publicfrom Jan. 23 to Feb. 4, but will re-open on Feb. 5.
Based on UP's latest report, there are currently 35 active COVID-19 cases in the UP Diliman community, including four faculty members, 22 staff, three dependents and six barangay residents.
Since March last year, the university has recorded 577 confirmed cases, with 532 recoveries and 10 deaths. There are four active cases currently admitted at the university's isolation facility.
UP campus 'crime hotspot'
Yesterday, the Philippine National Police (PNP) said that Barangay UP Campus inside UP is considered a 'crime hotspot' for ranking 20th out of 142 barangays in Quezon City.
According to PNP figures, there were 250 drug-related cases, 106 thefts, 72 robberies, 23 car thefts, two robberies with homicide, 14 deaths and 21 rapes in Barangay UP Campus from 2016 to 2020.
There were also 21 malicious mischief incidents, 43 cases of violence against women and children, four direct assaults, three forcible abductions, 14 homicides, five acts of lasciviousness and 11 public health violations.
PNP spokesman Brig. Gen. Ildebrandi Usana cited the figures as the reason why police are asking UP to allow the unimpeded entry of lawmen at the state university's campuses.
"People from the UP Campus need to open their minds to the realities around them and think about their safety and security. Cooperation with police authorities is not a political issue but about maintenance of law and order to protect inhabitants of the campus," he said in a statement.
He pointed out that UP Diliman's independent police force only has 42 officers, nine admin staff and 240 security guards manning the 493-hectare campus.
Military warns UP faculty, admin
Justifying the Department of National Defense (DND) decision to scrap the 1989 agreement, Lt. Gen. Antonio Parlade claimed that some UP faculty members are actively recruiting students for the communist rebellion yet the school refused to act on it in the name of academic freedom.
"One of those schools that's defective is this, you freely allow your faculty who are members of the NPA to conduct this subtle training and recruitment of students. If you know that and you're not doing anything about that, that's a problem," the National Task Force to End Local Communist Armed Conflict (NTF-ELCAC) spokesman said in an interview on ANC.
Parlade also said that they would now monitor individuals and organizations inside the UP system, warning individuals to be "very careful" with their actions as this could merit a violation of the new Anti-Terror Law.
Not a threat to academic freedom
The country's top lawyer also defended cancelling the agreement, insisting that that it would not suppress academic freedom.
"Given the nature of what academic freedom entails, it is clear that the termination/abrogation of the 1989 agreement will, in no way, curtail such freedom as UP will still be able to execute these rights even in the absence of such agreement – UP is still free to choose who may teach, what is taught, how such lessons are taught in class, as well as who may be admitted to such a prestigious institution," Solicitor General Jose Calida said in a statement.
He asserted that the right of UP students and faculty to protest wouldn't be hindered, noting that such right to peaceably assemble and protest stems from the Constitution, not the agreement. "Peaceful protests and assemblies can still be held even in the absence of such agreement," he said.
For his part, Commission on Higher Education (CHED) chairman Prospero De Vera III said that the scrapped 1989 UP-DND deal was "destined to be problematic" and prone to differing interpretations because the accord is rich in intention yet short on details.
"The accord has no clear detailed operational details to implement the provisions of the agreement. The joint monitoring group composed of UP regents and administrators, military and police officials has not met regularly to determine compliance with the agreement, review alleged violations, determine appropriate penalties and recommend revisions in the accord given the changing times," he said.
"The definition and framework can hopefully be the starting point of a dialogue between the DND and UP in the coming days," he said.
Expand UP-DND accord
Meanwhile, QC sixth district Rep. Kit Belmonte filed House Bill No. 8443 or the proposed Academic Freedom Act of 2021 that seeks to institutionalize the 1989 UP-DND accord in all SUCs by declaring them "freedom spaces."
Just like the 1989 DND-UP accord, the proposed measure also wants to declare all schools and state universities and colleges (SUCs) as freedom spaces that guarantee academic freedom. In the Senate, a counterpart bill was filed by Sen. Joel Villanueva.
"Why should we limit it to UP? This freedom, the right to protect our freedom of speech, our academic freedom – this principle should be available to all. This should be included in the mandate of state universities," Belmonte said.
According to records, one-fifth of Congress or around 60 lawmakers are graduates of UP. – Emmanuel Tupas, Romina Cabrera, Edu Punay, Ghio Ong