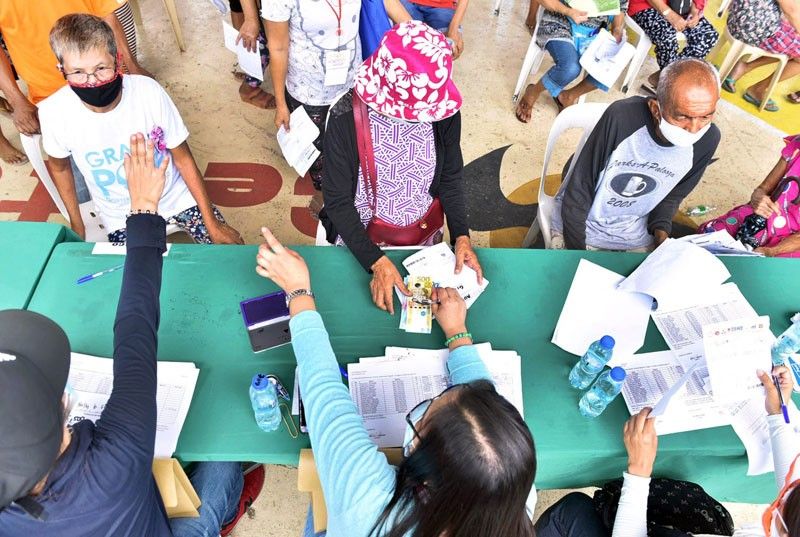 In this file photo from May, a resident of Gen. Trias City in Cavite receives her P6,500 cash aid under the Social Amelioration Program during distribution at the City Social Welfare and Development Office in Barangay Bagumbayan.
Edd Gumban
Senate bill eyes regularization, standardized pay for barangay officials
(Philstar.com) - December 18, 2020 - 10:53am
MANILA, Philippines — Sen. Manny Pacquiao is seeking regularization, standard pay, special risk allowance in times of emergency and other benefits for barangay officials.
He filed Senate Bill No. 1956, or the Barangay Officials Salary Standardization Act, on Wednesday, citing in its explanatory note "the selfless service of barangay officials and personnel," as "the National Government's basic partner in the implementation of the policies, rules and regulations to control the effects of the [COVID-19] pandemic."
"Despite the extensive range of duties and responsibilities that Punong Barangays and other barangay officials perform, they only receive monthly honoraria instead of fixed monthly salaries, with some added minimal benefits....They are not entitled to the same employment benefits and privileges that other local government officials enjoy," the senator said.
Under SB 1956, all baragay captains, members of barangay councils, local youth development councils, barangay secretaries, and barangay treasurers will be regularized and thereby entitled to fixed salaries, allowance, insurance, medical and dental coverage, retirement benefits, and other incentives and fringe benefits which regular government employees are entitled to.
The following is the position classification and compensation scheme for barangay officials listed in the bill:
Barangay Salary Grade I (minimum P15,000/month) for barangay appointive officials as already provided by law, and other barangay personnel the positions of which are provided for by ordinance of the corresponding barangay
Barangay Salary Grade II (minimum P25,000/month) for barangay elective officials in the sangguniang kabataan and sangguniang barangay with the exception of the punong barangay
Barangay Salary Grade III (minimum P35,000/month) for punong barangay
The proposed measure also provides for special risk allowance, highlighting the dangers assumed by barangay official amid the pandemic and other similar situations in the future. The amount and duration for the allowance will be determined by the Department of Interior and Local Government.
The DILG is also directed by the measure to "provide quarterly rice allocations for barangay officials and personnel."
A counterpart measure at the House of Representatives, House Bill No. 7296, was filed in August and is pending at the committee level.
— Bella Perez-Rubio