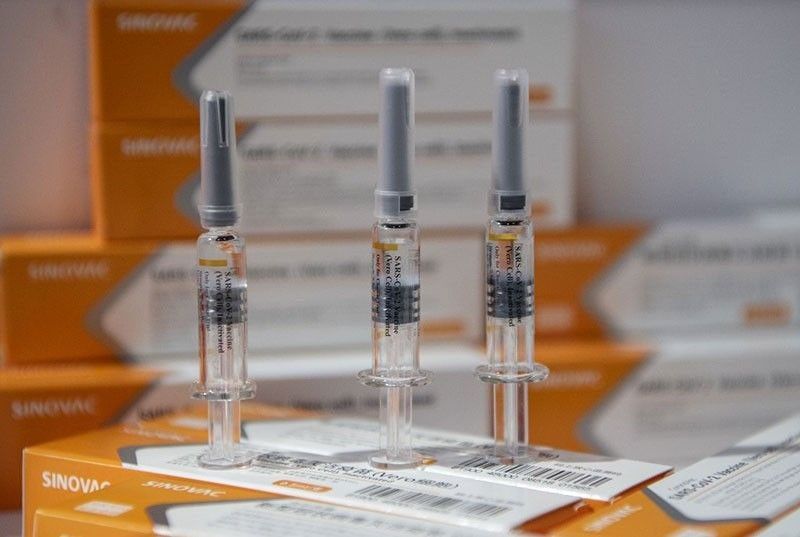 A Sinovac Biotech LTD vaccine candidate for COVID-19 coronavirus is on display at the China International Fair for Trade in Services in Beijing on September 6, 2020.
AFP/Noel Celis
FDA evaluating Chinese vaccine applications for local clinical trials
MANILA, Philippines — The Food and Drug Administration (FDA) is evaluating the application of China's COVID-19 vaccines Clover and Sinovac for clinical trials in the Philippines, an official said yesterday.
FDA director general Eric Domingo said they are checking the documents submitted by Clover last week.
Sinovac applied in November, but its documents are still lacking.
Once the companies have submitted all the required documents, Domingo said it would likely take the FDA 30 days to decide.
Aside from Sinovac and Clover, Russia's Gamaleya Center applied to hold Phase 3 clinical trials in the Philippines for its Sputnik V vaccines as of Dec. 3.
Action on Gamaleya's application have been deferred pending submission of some required documents on Phase 3 Study Protocol and Informed Consent.
As a protocol, vaccine manufacturers will have to apply with the Vaccine Expert Panel (VEP) convened by the Department of Science and Technology (DOST).
If they pass the VEP's reviews, their application will be forwarded to the Ethics Review Board for evaluation.
Once the board clears them, their applications will be submitted to the FDA for approval.
Meanwhile, Sinovac has secured the approval of the ethics board to conduct trials of its COVID-19 vaccine here in the Philippines, according to the DOST official.
Jaime Montoya, executive director of the DOST-Philippine Council for Health Research and Development, confirmed that Sinovac was the second firm to receive both clearances from the VEP and the single joint research ethics board to conduct clinical trials for their respective COVID-19 vaccines in the country.
Science Secretary Fortunato dela Peña confirmed last week that another Chinese firm, Clover Biopharmaceuticals, also received clearances from the two panels. – Janvic Mateo