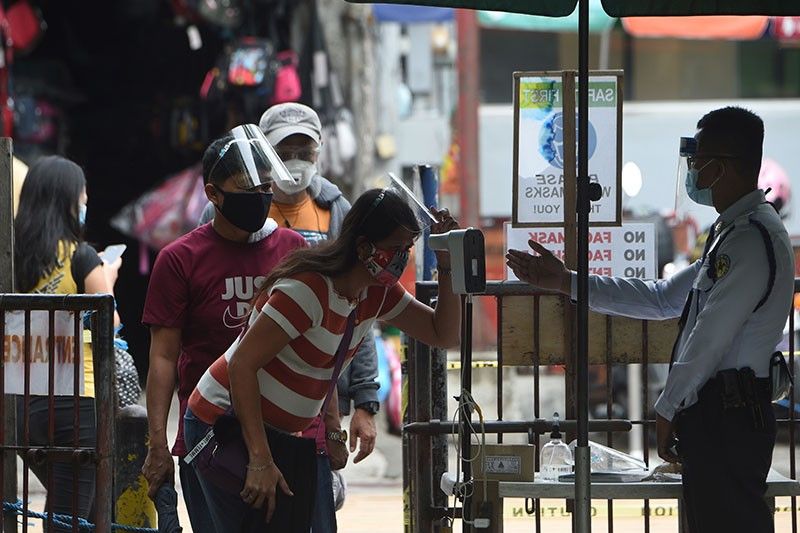 Catholic faithful wearing face shields have their body temperature checked prior to attending a mass at the usually packed Baclaran church in Paranaque City, suburban Manila on October 9, 2020. After months of livestreaming mass to millions of faithful from behind closed doors, churches in the Catholic-majority Philippines are beginning to reopen.
AFP/Ted Aljibe
Coronavirus cases in the Philippines exceed 438,000, deaths now at 8,526
(Philstar.com) - December 5, 2020 - 4:00pm
MANILA, Philippines — The Department of Health on Saturday confirmed 1,733 more COVID-19 infections, bringing the national caseload to 438,069.
Of the total number of cases recorded in the DOH's latest bulletin, 29,961 are classified active, which means these patients are still undergoing treatment or quarantine.
The health department marked another 133 patients as recovered, bringing the total number of those who beat the virus to 399,582.
However, another 17 succumbed to the disease, pushing the country's death toll to a grim 8,526.
The country's positivity rate as of Dec. 5, 2020, stands at 4.6%. This is based on the 24,843 of people screened the day previous, 1,142 of whom tested positive.
According to the health department, the following areas posted the most number of COVID-19 cases:
Davao City with 162 new cases
Quezon City with 92 more infections
Benguet with 80 new cases
Rizal with 70 more infections
Laguna with 66 new cases
Worldwide, 65.76 million people have contracted coronavirus, a staggering 1.51 million of whom died as a result.
The United Kingdom this week became the first Western country to approve a vaccine for general use, piling pressure on other countries to follow suit swiftly. Other nations are also moving ahead with plans to roll out the vaccines with the US expected to give a green light later this month.
In his second appearance at the United Nations General Assembly, President Rodrigo Duterte said it would be a "gross injustice" if low-income nations would be left behind in securing access to COVID-19 vaccines, renewing his call for equal access.
However, the World Health Organization warned nations against complacency, flagging what it called the erroneous belief that because vaccines are on the near-horizon, the COVID-19 crisis is over.
"Vaccines do not equal zero COVID," WHO emergencies director Michael Ryan said during a virtual news conference, adding that not everyone will be able to receive it early next year.
It has been 264 days since parts of the Philippines were first placed under lockdown, marking the longest community quarantine period in the world. — Bella Perez-Rubio
As It Happens
LATEST UPDATE: January 18, 2021 - 4:05pm
Other regions and provinces in the Philippines considered moderate and low-risk areas will be placed under general community quarantine starting May 1. Bookmark this page for updates. (Main image by The STAR/Edd Gumban)
January 18, 2021 - 4:05pm
With 2,163 newly reported cases, coronavirus infections in the Philippines climb to 502,736 on Monday.
Active cases stand at 26,839 or 5.3% of the total cases.
Total of recovered patients is at 465,988 with two more recoveries while the death toll is at 9,909 with 14 additional deaths.
January 17, 2021 - 4:06pm
Coronavirus cases in the Philippines reach 500,577 with 1,895 new cases reported Sunday.
The Department of Health also logs 5,868 new survivors, bringing the recovery count to 465,991 while the death toll is at 9,895 with 11 new fatalities.
Active cases are at 24,691.
January 17, 2021 - 2:24pm
More than 400,000 overseas Filipino workers affected by the COVID-19 crisis have been brought home by the government, the DOLE reports.
Figures from the Overseas Workers Welfare Administration show that 8,274 were sent to their home provinces last week, while 7,895 were also transported in the preceding week.
"After their ordeal in their country of origin, our dear OFWs were all provided accommodation, food, transportation and cash assistance by the government. Now, they are safely home with their families," Labor Secretary Silvestre Bello III says.
January 16, 2021 - 4:18pm
The Department of Health reports an additional 2,058 cases of the coronavirus disease. This brings the total number of COVID-19 infections in the Philippines to 498,691.
To date, there are 28,674 active cases. The DOH also reports eight new fatalities, bringing the death toll to 9,884. 406 more recovered, bringing the total number of COVID-19 survivors to 460,133.
January 15, 2021 - 4:03pm
COVID-19 cases in the Philippines climb to 496,646 with 2,048 newly reported cases Friday.
Of the confirmed cases, 27,033 are active. The Department of Health also reports 551 new recoveries and 137 new deaths, bringing the total of recovered patients to 459,737 and the death toll to 9,876.