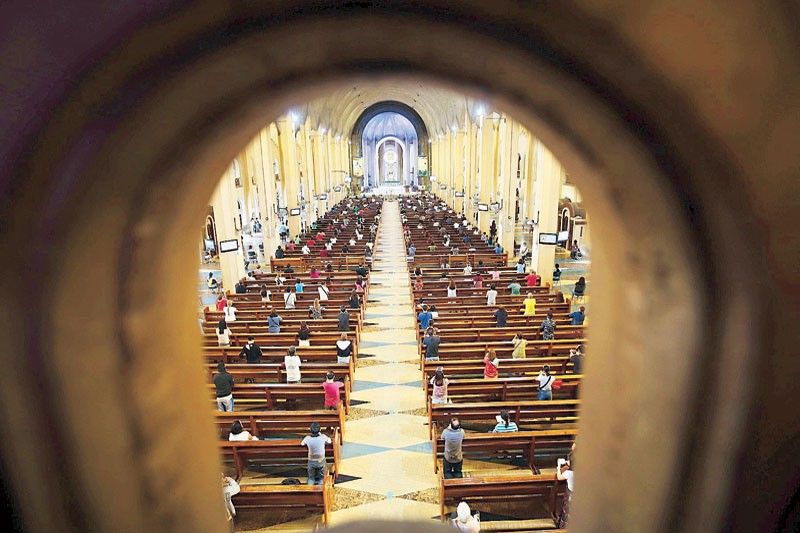 Mass is celebrated at the Redemptorist Church in Baclaran, Parañaque with 30 percent seating capacity. A CBCP official said several Simbang Gabi masses can be held daily to comply with the mandated capacity.
KJ Rosales
Churches to hold multiple dawn masses
MANILA, Philippines — Since the seating capacity of churches cannot be maximized due to the pandemic, the Catholic Church has decided to add more Simbang Gabi services to keep the time-honored Filipino Christmas tradition alive.
Father Jerome Secillano, executive secretary of the committee on public affairs of the Catholic Bishops' Conference of the Philippines (CBCP), told Thursday night's episode of "The Chiefs" on Cignal TV's OneNews that as many predawn masses as possible will be held in churches as needed.
Secillano said that while churches strictly observe the government-mandated 30 percent capacity during masses, the nine-day Simbang Gabi will be held as many times as possible from 6 p.m. to midnight and from 3 a.m. until 6 a.m.
Earlier, the government announced adjusting the curfew in the National Capital Region (Metro Manila) to 12-3 a.m. to give way to predawn masses, which begin on Dec. 16 (Dec. 15 for anticipated masses).
"We're going to have our schedules based on the curfew," Secillano said. "In the National Capital Region, we can start our anticipated Simbang Gabi as early as 6 p.m. and then early morning can start as early as 3 a.m."
He clarified that even at 6 a.m., the mass could still be considered a "predawn" liturgical service, given the situation with the pandemic.
The CBCP spokesman noted that churches comply with the 30 percent operational capacity and require the faithful to wear face masks and face shields during mass.
As an extra precaution, he said priests have shortened their homilies and limited church hymns due to studies that singing increases the risk of transmitting the virus.
However, those hearing mass outside the church should be monitored by police and barangay officers to comply with physical distancing and age restrictions, Secillano said.
He said the Church cannot just turn away minors who tag along with their parents. "We can't just force them to go out, but we remind them that you are not allowed to go here. We are very prudent in dealing with them," he said.
"It's not our burden to arrest or prevent them from going inside. We should be accommodating to people," he added.
Meanwhile, church sacraments like baptism and weddings continue to be subject to health protocols, except for the anointing of bodies of those who died of COVID-19.
Secillano underscored the importance for the public to express their faith amid the pandemic.
"As priests, we try to be sources of hope to our parishioners," he said. "Through homilies, we try to assure them that there will always be a time for everything, that this pandemic will pass."