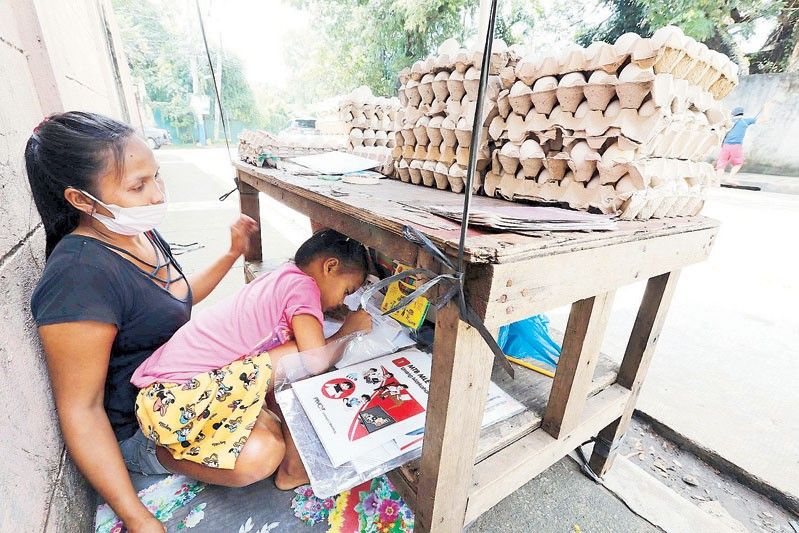 A mother watches her daughter answer questions on a learning module while selling eggs from a stall along the highway in Antipolo, Rizal.
Boy Santos
DepEd eyes limited face-to-face classes
Janvic Mateo
(The Philippine Star) - November 28, 2020 - 12:00am
MANILA, Philippines — The Department of Education (DepEd) has told a Senate committee that although face-to-face classes are not likely until yearend, a recommendation will be made to President Duterte to allow selected and limited classroom teaching with strict health protocols.
Education Undersecretary Nepomuceno Malaluan yesterday told the Senate committee on education, chaired by Sen. Sherwin Gatchalian, that Duterte will have the final say on the matter even as he recalled that Education Secretary Leonor Briones had made similar recommendations before.
"The question being answered is where and when and how can this be made," Malaluan told the hearing via video conference after giving an extensive briefing on the progress of the blended learning system since the start of the pandemic-delayed school year last month.
"The DepEd knows the resumption of face-to-face learning under certain conditions will be crucial to the learning process of our students… The social aspect of learning, together with face-to-face interaction with teachers and classmates, is still very important in this highly social activity," he said.
The blended learning system is a combination of paper self-learning modules (SLMs) sent to homes of students and are retrieved after a period of time, and online teaching.
He said the provision of instructional guidance and formative assessment of students by their teachers cannot be replaced by distance learning methods, especially for young children.
Malaluan also said something must be immediately done to the regulation or monitoring of time students devote to their lessons being done at home or within communities, something difficult to do outside a face-to-face setting.
A DepEd public school enrollment survey last August showed 2.7 million families have television with cable; 3.8 million have TVs but not connected to a cable network; 6.2 million have smartphones; 1.9 million have laptops; while 3.6 million have internet connection at home, he said.
The figures portray the wide gap in connectivity when compared to 23.6 million enrolled in elementary and high schools in both public and private institutions.
Gatchalian said it was understandable that Duterte and the DepEd in the past ruled out face-to-face classes as they have "near-perfect information" on the COVID-19 situation.
"But the situation has changed tremendously. We've done great strides in improving or even successful managing COVID-19 compared to some European countries, with us having less than 1,500 cases a day," he said.
Gatchalian said in his recent visit to the Bangsamoro Autonomous Region in Muslim Mindanao (BARMM), mayors there requested to allow face-to-face teaching as in many cases parents have not finished elementary or high school and thus do not have the confidence to teach their children using SLMs.
Report being crafted
With the decreasing number of COVID-19 cases, Briones said they are still crafting the report that may include a recommendation on limited face-to-face classes in low-risk areas.
But this will not happen this year, stressed Briones at a Laging Handa briefing, noting that only the President could change the no face-to-face class policy that he ordered earlier this year.
"We even clearly said that it's very likely to be limited," she said. "It will largely be influenced by the advice of the IATF (Inter-Agency Task Force for the Management of Emerging Infectious Diseases) and the Department of Health."
Last July, DepEd said limited face-to-face classes in low-risk areas might be allowed starting January, but these would depend on compliance with a policy that has yet to be issued by the government.
At the time, DepEd said decisions to allow limited face-to-face classes would be its joint responsibility with the local government units and health authorities.
Should it push through, the agency said stringent health measures would be implemented, such as a "no mask, no entry" policy in school premises; hand washing and hand hygiene; regular disinfection of school premises and checking of temperature and for respiratory symptoms.
Make-up classes
At the same briefing, Education Undersecretary Diosdado San Antonio said they are studying the possibility of implementing make-up classes for areas affected by class suspensions due to the recent typhoons.
He noted their earlier directive to extend the first grading period to give students more time to adjust to the new learning setup.
San Antonio said affected schools may also use the last week before the Christmas break next month, which is scheduled for in-service training of teachers, to make up for class days.
"If that is still not enough, we will discuss further what else we can do for areas affected by class suspensions," he added.
Marikina Mayor Marcy Teodoro earlier suspended classes in all levels until Dec. 15 due to the impact of Typhoon Ulysses.
The Christmas break for public elementary and high school students begins on Dec. 19.
According to Malcolm Garma, DepEd regional director for Metro Manila, some P6.8 million worth of modules were damaged in Marikina.
He said they would download the budget for the replacement of these modules.
In Calabarzon, regional director Wilfredo Cabral said non-infrastructure damage due to recent typhoons reached over P13 million.
These include learning materials, computer units and printers that were submerged in floods, mainly in parts of Quezon.
Cabral said some schools also sustained infrastructure damage and require renovation or reconstruction.
Briones earlier said that they have allocated P1.2 billion to replace learning materials damaged by recent typhoons that hit the country.
An earlier report noted that government will require some P9 billion to rehabilitate or replace some 3,000 public schools severely damaged by the recent calamities.
No authority over OVP
On the issue of community learning hubs, Briones said they have no authority to impose sanctions on the office of Vice President Leni Robredo should it be established that it violated the policy against no face-to-face classes.
"We do not have any authority to impose penalties against the OVP because that is not within the mandate of the Department of Education," she said. "Maybe other government agencies (can)."
Briones said they were only clarifying a report claiming that they had a partnership with the OVP regarding the establishment of community learning hubs to assist students in the remote learning setup.
"What we were saying is that there was no partnership, nothing was signed, there was no agreement," she said.
The OVP earlier clarified that the learning hubs are not meant to be sites for classroom or face-to-face instruction.
"Instead, it is meant to be a place for students where home-based learning is not conducive to get tutorial support in completing their modules and accessing resources, including the internet," said Robredo's spokesman Barry Gutierrez.
"Strict compliance with health protocols is followed in the hubs. There is also proper coordination not just with local DepEd divisions but also local government units to ensure a safe and effective learning environment," he added.
Malaluan earlier said that community learning hubs are not prohibited but these should adhere to the policy against face-to-face classes.
"The hubs can serve many purposes at this time that may be consistent with prevailing policy, such as use by teachers to deliver remote learning," he said last Wednesday.
"It's the use of learning hubs for congregation of learners for face-to-face instruction that is not consistent with policy… There should be uses of learning hubs consistent with prevailing guidelines and protocols, and our presumption (is that they are used) within those limits," he added. – Paolo Romero