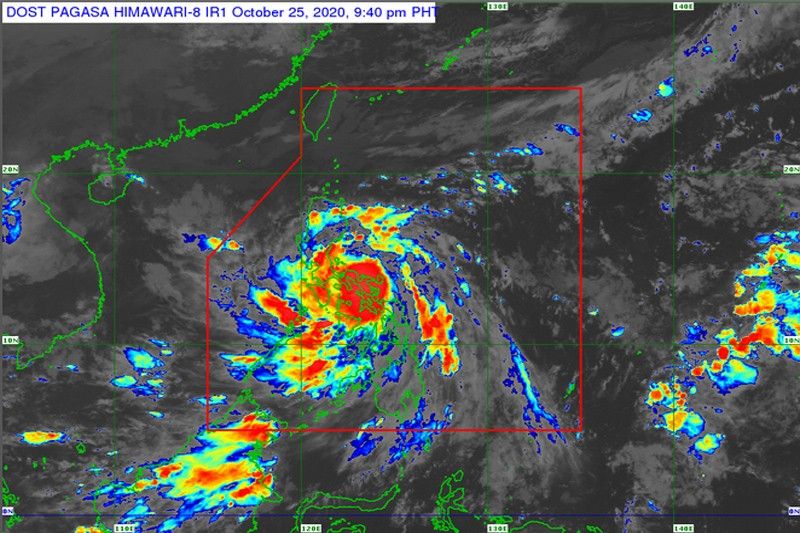 Quinta, the 17th cyclone to enter the country this year, made landfall over San Miguel Island in Tabaco City at around 6:10 p.m. yesterday, the Philippine Atmospheric, Geophysical and Astronomical Services Administration (PAGASA) said.
PAGASA
Quinta slams Albay; thousands flee
Helen Flores
(The Philippine Star) - October 26, 2020 - 12:00am
MANILA, Philippines — Over a thousand people were evacuated in Bicol yesterday as Typhoon Quinta (international name Molave) slammed Albay province.
Quinta, the 17th cyclone to enter the country this year, made landfall over San Miguel Island in Tabaco City at around 6:10 p.m. yesterday, the Philippine Atmospheric, Geophysical and Astronomical Services Administration (PAGASA) said.
As of 5 p.m., tropical cyclone wind signal No. 3 was raised over Catanduanes, the eastern portion of Camarines Sur, Albay, Sorsogon, and Burias and Ticao Islands.
Signal No. 2 was hoisted over Camarines Norte, the rest of Camarines Sur, Masbate, central and southern portions of Quezon, southeastern portion of Laguna, Batangas, Marinduque, Romblon, Oriental Mindoro, and Occidental Mindoro including Lubang Island, and Northern Samar.
Signal No. 1 was up in Metro Manila, the rest of Quezon, the rest of Laguna, Rizal, Cavite, Bulacan, Pampanga, Bataan, southern portion of Zambales, Calamian Islands, northern portion of Samar, northern portion of Eastern Samar, northern portion of Capiz, Aklan, northern portion of Antique, and the northeastern portion of Iloilo.
After its landfall, Quinta was expected to traverse the Southern Luzon area until this afternoon.
Moderate to heavy, to at times intense rains will persist over the Bicol region, Calabarzon, Aurora, Occidental Mindoro, Oriental Mindoro, Romblon, Marinduque, Calamian Islands, Northern Samar, Eastern Samar, Samar, Biliran, Aklan, Capiz and Antique until this morning.
The tail-end of a frontal system will also continue to bring moderate to heavy, to at times intense rains over Cagayan, Isabela, Apayao and Ilocos Norte, PAGASA said.
These two weather systems will also bring light to moderate, to at times heavy rains over Metro Manila and the rest of Luzon, Zamboanga Peninsula, Bangsamoro, Northern Mindanao, Caraga and the rest of Visayas until today.
PAGASA warned the public of possible floods, landslides, and sediment-laden streamflows, including lahar, during heavy or prolonged rainfall.
As of 4 p.m. yesterday, the eye of Quinta was spotted 70 kilometers east northeast of Legazpi City, Albay, packing winds of 130 kilometers per hour near the center and gustiness of up to 160 kph.
It was forecast to move west at 25 kph.
It was expected to exit the Philippine area of responsibility tomorrow afternoon.
After crossing the Philippine archipelago, the cyclone will continue to intensify over the West Philippine Sea, PAGASA said.
Mass evacuations
As Quinta was forecast to make landfall in Catanduanes and Albay yesterday afternoon until evening, massive evacuations of residents in the low-lying, flood and landslide-prone, and lahar areas had already been carried out, disaster management officials in Legazpi City confirmed.
Catanduanes Gov. Joseph Cua said residents of coastal villages, and landslide and flood-prone areas had already started evacuating yesterday morning. He added that they had also prepared relief goods for the evacuees.
In Albay, Cedric Daep, chief of the Albay Public Safety and Emergency Management Office, said that thousands of residents were evacuated in Guinobatan due to the threats of rampaging floods and lahar flow in the barangays located within six to eight kilometers from the crater of Mayon Volcano.
Those moved to evacuation centers in Guinobatan were from barangays Tandarora, Maninila, Maipon, Masarawag, Muladbucad Grande, Muladbucad Pequeño and Dona Tomasa.
As of 2 p.m. yesterday, at least 1,974 persons were moved to six evacuation centers across Guinobatan, said Joy Maravillas, the town's chief of the municipal disaster risk reduction management office.
Daep said massive evacuations were also carried out in Tiwi, Malinao, Tabaco City, Bacacay and Sto. Domingo, mostly towns in Albay's first district, where Quinta was forecast to make landfall.
Pre-emptive evacuation was also imposed in Manito, a town known for landslides and flooding during heavy downpour.
Legazpi City Mayor Noel Rosal had already ordered the evacuation of residents at the foot of Mayon Volcano due to lahar and rampaging flood threats due to Quinta.
Low-lying and coastal village residents took refuge in public schools after Rosal's request to use these buildings was granted by the Department of Education (DepEd).
Rosal also ordered business establishments here to close at 5 p.m. yesterday, to allow their employees to go home earlier.
The Office of Civil Defense Bicol reported that as of noon yesterday, there were at least 680 persons left stranded, as well as 288 trucks, 14 light vehicles and five sea vessels rendered immobile or unable to leave port.
Thirty-two sea vessels and two motorized bancas are also taking shelter in the Bicol ports of Pilar and Pioduran in Albay; San Jacinto, San Pascual, Masbate City, Cataingan and Aroroy in Masbate; and Matnog in Sorsogon.
Virtual meet for Rody, IATF
Typhoon Quinta has forced the weekly meeting of President Duterte and members of the Inter-Agency Task Force for the Management of Emerging Infectious Diseases (IATF) today to go virtual, as flights have been suspended between Manila and Davao City.
The President and the IATF are supposed to discuss the new quarantine classifications for the month of November following the end of the prevailing classifications by Saturday.
Duterte is still expected to address the nation later tonight after his meeting with the IATF, and that the new quarantine classifications would have been decided already.
Presidential spokesman Harry Roque said their flights have been cancelled and that they would hold a virtual meeting with the Chief Executive who has been in Davao City since last Wednesday.
Meanwhile, a cargo ship experienced engine trouble early Saturday evening as it was traveling toward the Bicol region, the Philippine Coast Guard (PCG) said.
Information reaching PCG headquarters showed that the cargo vessel M/V The Good Fortune, with 14 crewmembers on board, developed engine trouble at 8.5 nautical miles east off Ubay, Bohol, and 13 nautical miles off Maasin, Southern Leyte.
The vessel left the port of Naga in Cebu at 6 p.m. of Oct. 24 and was headed to Bicol when its engine lost power.
The Coast Guard immediately dispatched its monitoring, control and surveillance vessel from Aduana Wharf in Cebu City to conduct search and rescue operations, while the PCG's sub-station in Ubay in Bohol also deployed its aluminum boat with search and rescue personnel on board.
Based on information relayed by The Good Fortune's captain, Charlie Jesus Solleque, to the PCG's Command Center, their vessel was anchored at 5.54 nautical miles southeast of President Carlos P. Garcia, Bohol, and is currently undergoing repairs.
All 14 crewmen are reportedly in good physical condition. – Cet Dematera, Edith Regalado, Evelyn Macairan