Classes set to resume with millions not enrolled
October 4, 2020 | 12:00am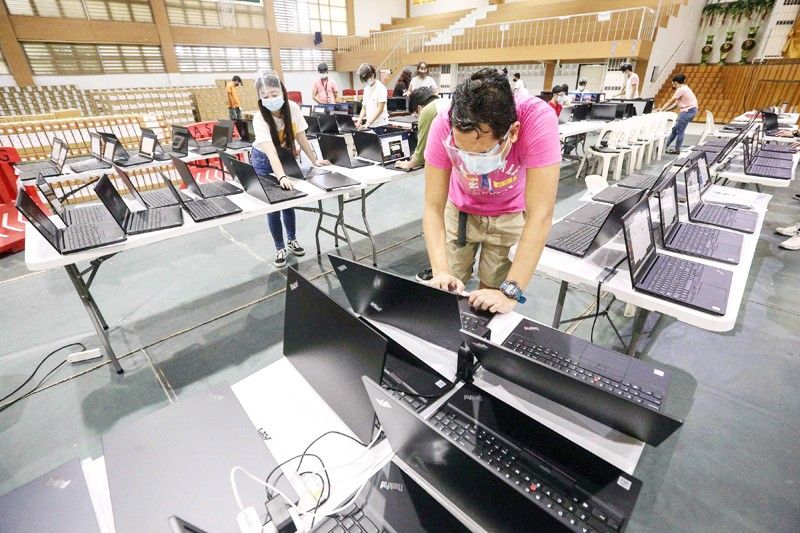 MANILA, Philippines — As classes resume in public elementary and high schools across the country tomorrow, millions of students have not yet enrolled and are feared to have dropped out of school due to the impact of the coronavirus disease pandemic.
Dolly, a single parent of three children, said she decided not to enroll her eldest son – who is supposed to be in Grade 3 this school year – as he is diagnosed with attention deficit hyperactivity disorder.
His condition, she said, makes it difficult for him to adjust to the distance learning setup, as he prefers to have physical interaction with his classmates.
"His focus is not good when it comes to online or even just sitting down (to complete the) modules," Dolly told The STAR in a mix of English and Filipino. "Another factor is I also work at night."
Nevertheless, she said education will still continue for her son, albeit informally, through interactive learning materials available online and the modules of her two younger children, whom she decided to enroll in a public school this year.
"I would like to try what is the approach of the government when it comes to (education)," Dolly said about her decision to enroll her two other children, who are in Grades 1 and 2.
"Prior to the pandemic, I considered transferring my children to home schooling. But since this already happened, I decided to try (blended learning) and see the difference," she added.
This decision, however, is not without sacrifices. Her work schedule, for instance, means that she has to make adjustments to make sure that she would still be able to guide her children as they complete their learning activities.
"What is recommended is to follow the daily activities indicated in the module," she said. "But for me, since I work at night, I will opt for one-time big-time and just refresh them once in a while."
While they are pushing for learning continuity for all students, education officials have repeatedly recognized that the final decision to enroll the children is up to the parents.
The Department of Education (DepEd), through Undersecretary Diosdado San Antonio, assured the public that they are ready for tomorrow's school opening.
"I believe we're ready," San Antonio said in Filipino on Dobol B sa News TV.
"Part of our readiness is being prepared for contingencies," he added.
"Nationwide, 59 percent of students will use printed module, 20 percent online and another 20 percent offline digital. TV and radio will be supplemental so it will be blended learning in other areas," San Antonio said.
The same assurance was made by DepEd regional director Nicolas Capulong in Pampanga on Friday. "We are more than ready to respond to the challenges of the New Normal Education thru the implementation of the Regional Learning Continuity Plan. We hope to have provided the necessary guidance and technical assistance to the schools division offices and basic education schools, both public and private," he said.
DepEd said many of those who have decided not to enroll their children may have been concerned about the lack of necessary gadgets for online learning.
But the agency repeatedly stated that there are other options available for students, such as the use of printed or digital modules, as well as education through radio and television.
There are also those who may have been concerned with the safety of their children, even as policymakers stressed that no face-to-face classes would be conducted – at least until the end of the year.
Various groups had earlier warned that the new learning setup could also discourage parents who are expected to play a more significant role in the education of their children.
Several reports noted concerns from parents who have no time to assist their children as they are working or have inadequate education to perform such task.
DepEd said it is readying a learner aide program involving the deployment of "para-teachers" to assist parents in guiding their children. But guidelines for the program have yet to be released.
Global problem
Enrollment data as of Friday showed 24.72 million enrolled in basic education this school year, representing 89.02 percent of the student population of 27.7 million last year.
While this exceeded the initial projection of 80 percent made by the National Economic and Development Authority, the number still translates to around three million students who may have dropped out of the school system.
Most of those unaccounted for were students enrolled in private schools, where only 2.16 million – or 50.32 percent of last year's student population – have enrolled so far.
Enrollment in public schools has already reached 22.5 million, or about 99.66 percent of last year, although this includes some 400,000 transferees from private schools.
A report released by children's rights organization Save the Children said at least 10 million children worldwide will not be able to return to school due to lack of access to technology needed for distance learning and support at home.
Alberto Muyot, former DepEd undersecretary who now heads Save the Children Philippines, said the global report reflects the situation of millions of Filipino children from poor households, including those with disabilities and living in marginalized areas.
"Children's rights to continue learning is critical amid the pandemic and must be fulfilled not only through access to online technology but the support of parents, caregivers and communities," he added.
Tracing students
At a briefing yesterday, Education Undersecretary Tonisito Umali said they would try to get in touch with students who have not yet enrolled to give them options on how they could continue their education.
He also encouraged private schools to provide updates on their enrollment data.
Officials earlier said they would encourage those who have not enrolled to sign up for the Alternative Learning System program, which is originally intended for working adults and other disadvantaged individuals who cannot enter the formal education system.
Umali said late enrollees would still be accepted in schools despite the scheduled opening of classes tomorrow.
DepEd regional director for National Capital Region Malcolm Garma said they would verify the list of enrolled students so they would be able to determine who did not enroll this school year.
He said some of the students may be in the provinces, while others – particularly those previously enrolled in private schools – may still be assessing the situation and are waiting for the opening of classes.
Meanwhile, Sens. Sherwin Gatchalian and Nancy Binay said DepEd should make sure that both students and teachers will remain safe as self-learning modules are being distributed nationwide for the opening of classes tomorrow.
A back-to-school list should now include face masks and face shields, according to Gatchalian, who chairs the Senate committee on basic education.
The lawmaker is donating 3.5 million face masks and 600,000 face shields to various schools in the National Capital Region, Bulacan, Cavite, Rizal and Laguna.
Binay said she expects "birth pains" in the blended learning system given the many factors affecting it, like poor internet connection, and the differing household characteristics.
"Maybe in the first semester will all be birth pains. If I didn't have an older child, I'd find it difficult to teach my youngest on gadgets. It's going to be difficult for parents not used to technology," Binay told dwIZ. – Paolo Romero, Ric Sapnu