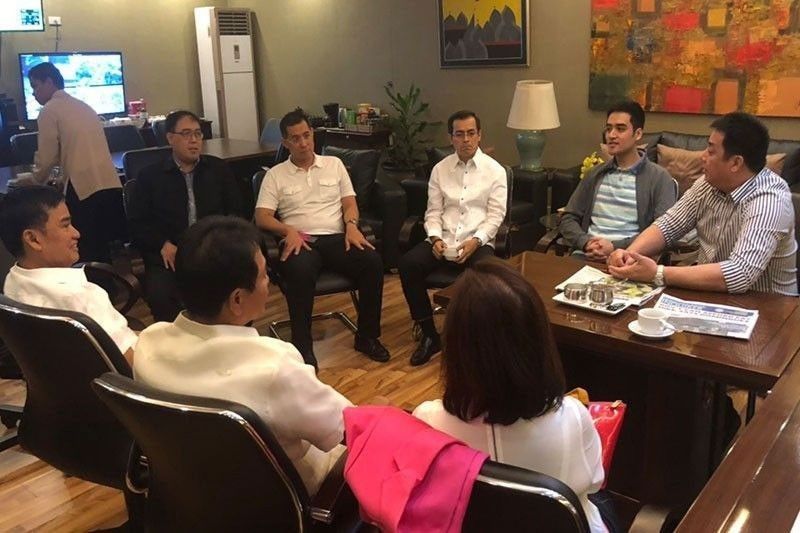 The metropolis and several other areas would remain under general community quarantine until Oct. 31, as decided by the government and recommended by the Metro Manila Council.
Manila PIO/Released
Mayors, experts want steady COVID-19 decline before MGCQ
MANILA, Philippines — Metro Manila mayors and experts are amenable to a shift to the lowest quarantine level only if they see a sustained decline in the number of COVID-19 cases in the region.
The metropolis and several other areas would remain under general community quarantine (GCQ) until Oct. 31, as decided by the government and recommended by the Metro Manila Council.
San Juan City Mayor Francis Zamora, who sits in the council with 16 other mayors of the region, yesterday said they saw a sharp decline of COVID-19 cases despite the reopening of businesses and more people being allowed outdoors.
For them to agree to a shift to modified GCQ (MGCQ) status, however, he said what they "want to see is a stable decline in the numbers so that if and when we see that indeed, the numbers continue to go down, then we can now re-allow some industries or businesses to reopen."
"We are seeing that the interventions that we in Metro Manila are doing, they are working... We felt this is not the right time to shift," he said in a television interview yesterday, noting that mayors are cautious to prevent a rise in cases.
This, as experts monitored a minor spike in COVID-19 cases following the short-lived implementation of eased social distancing requirements in public transportation this month.
Nicanor Austriaco, visiting professor of biology at the University of Santo Tomas and member of the OCTA Research team, noted the spike of cases recorded on Sept. 17-18, several days after eased social distancing requirements in trains and buses in Metro Manila.
"For three days, we had shorter social distancing and you can actually see a spike of several hundred cases in those three days," Austriaco said in an interview with "The Chiefs" aired on One News/TV5 on Monday.
"We relaxed for three or four days, and you can actually see a very small spike of several hundred cases about four or five days after that, which is what you would expect as the increase in mobility will lead to (more) infection," he added.
The Department of Transportation reduced social distancing requirements in public transportation starting Sept. 14, but the government suspended it three days later after experts raised concerns that it could lead to a spike in cases.
President Duterte later decided to scrap the policy.
Data showed an increase in mobility coinciding the time when the social distancing requirements in public transportation were reduced, according to Austriaco.
"It was about a 10-percent increase in mobility and that … resulted five days later into 300 or 400 more cases than expected," he said, as he warned against similar policies that could lead to rise in infections.
"The danger is if we change too much too quickly, we would not be able to see the effects until it's too late," he added.
In the same program, University of the Philippines (UP) mathematics professor Guido David, who is also a member of the OCTA Research team, cited studies showing high risks among activities that involve mass gathering.
Aside from activities such as going to concerts and cinemas, he said reduced social distancing in public transportation would also enable crowding in public places.
"By decreasing social distancing, you're also crowding your buses and trains and that could lead to more transmission," he said.
UP political science professor Ranjit Singh Rye said the plan to allow provincial bus operations has to be carefully monitored as it may result in more transmission.
"Yes, we have gone down significantly over the last month or so, but the case load is still high. The virus is still here and if we're not careful, we might be transporting carriers all over the country through provincial bus lines," Rye said.
He added that policymakers should also be careful in reopening the tourism industry in the country.
Rye expressed support for the continued implementation of GCQ in Metro Manila, saying they are not seeing numbers that would convince them that the quarantine restrictions can already be loosened.
'There is hope'
While Metro Manila remains the country's pandemic epicenter, there is still hope that quarantine measures in the capital region would be eased, Malacañang said yesterday.
The government's pandemic task force decided to retain Metro Manila's quarantine classification despite calls by some business groups to relax restrictions to reopen the economy.
Presidential spokesman Harry Roque, however, said Metro Manila may still be downgraded to MGCQ if its COVID-19 numbers improve.
"There is hope as reported by UP OCTA Group. Our (case) growth rate is on a downward trend and the attack rate is also going down, so there's always hope," Roque said at a press briefing.
The Palace spokesman said the two-week case growth rate in Metro Manila is at 45 percent, which is considered medium risk. The average attack rate, meanwhile, is at 5.8 per 100,000.
Roque said Metro Manila mayors agree that certain measures can be relaxed even if the capital region remains under GCQ.
"Mayors of Metro Manila support the view that while we are under GCQ, more sectors of the economy can reopen," he said.
"We need to live with COVID and in spite of COVID, so we have to take care of our (health) so we can work," he added.
The latest report by the OCTA Research showed that the number of new COVID-19 cases per day in the Philippines went down to 2,988 this month from 4,300 in August. The country's reproduction number, meanwhile, dropped to 0.82 this month from 1.14 in August.
New COVID-19 cases per day in Metro Manila decreased to 1,200 in September from 2,676 last month. Reproduction rate in the capital region, meanwhile, went down to 0.74 this month from 1.14 in August.
Metro Manila's positivity rate, meanwhile, went down to 10 percent this month from 16 percent in August. The occupancy rate for all COVID-19 beds in Metro Manila is at 57 percent while that for COVID-19 intensive care unit beds is at 65 percent, the report said.
Voter registration
Meanwhile, as talks about suspending the 2022 elections have surfaced, Zamora said those within the age brackets under strict stay-at-home orders need to wait until Metro Manila shifts to MGCQ before being able to register to vote.
Under the guidelines released by the government in June, persons 21 years old and below and 60 years old and above are still "required to remain in their residences at all times" even in areas under MGCQ.
"The voter registration will disallow those who are 18 to 21 to register at this point. I guess once we reach a point that we will shift to MGCQ, that will be the time they can go out and register. But everyone who is within the age that can go out can do so already," he added.
Voter registration resumed this month, except in areas under enhanced community quarantine and modified ECQ, prompting local chief executives to mull asking the Commission on Elections to defer registration to January 2021.
As of Monday, Department of Health figures showed Metro Manila has 21,279 active cases, 2,629 deaths and 138,369 recoveries – a total of 162,277 confirmed COVID-19 cases.
Aggressive implementation
The government will aggressively implement quarantine protocols in Metro Manila where people infected with COVID-19 are immediately isolated from the community, Interior Secretary Eduardo Año said yesterday.
Año made the statement after Duterte extended the GCQ in Metro Manila until Oct. 31.
He said the only way for cases in Metro Manila to go down is through the strict implementation of Oplan Kalinga, where people with COVID-19 who are on home quarantine are extracted from the community and placed in quarantine facilities managed by the government.
"We should be aggressive in putting in isolation facilities those who are positive," Año said in Filipino in an interview over Teleradyo.
Close contacts of COVID-19 patients will be placed on lockdown and are not allowed to leave their homes until they test negative for the virus.
Año had earlier said they would strictly implement the no home quarantine policy for COVID-19 patients, except for those with existing comorbidities.
"This is the way that we see to stop the chain of transmission," he said.
Under GCQ guidelines, residents of Metro Manila can fly to Boracay island starting Oct. 1 provided they test negative for COVID-19.
Año said tourists are required to wear face masks in public places in Boracay except when they go swimming.
"You might drown if you're wearing face mask," he added.
Parties, organized sports activities and other group events in Boracay are still prohibited in compliance with minimum health standards, according to the interior and local government chief.
Restobars are open for dine-in services, where customers are only allowed to have two bottles of liquor. – Alexis Romero, Emmanuel Tupas
Related video: