44,000 college students may be unable to enroll
September 23, 2020 | 12:00am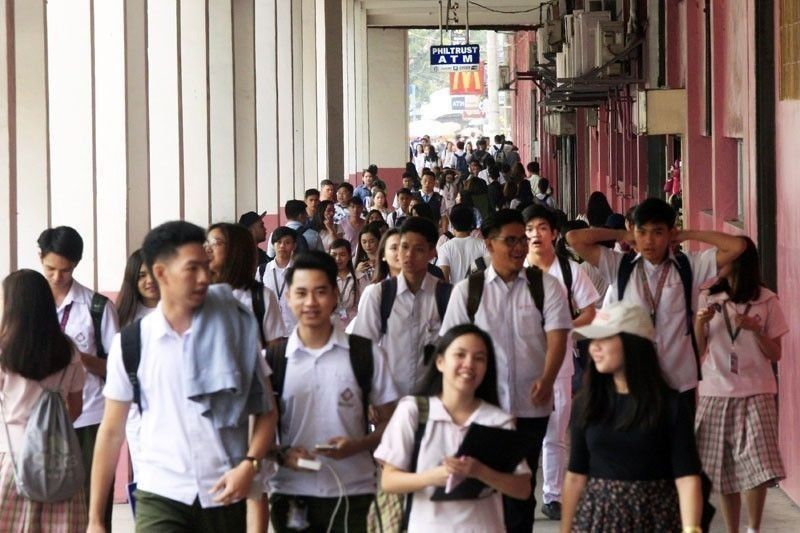 MANILA, Philippines — In addition to millions of elementary and high school students who have yet to enroll this school year, thousands are also expected to temporarily stop their college education this year due to the economic impact of the COVID-19 pandemic.
Tirso Ronquillo, president of the Philippine Association of State Universities and Colleges (PASUC), said a survey they conducted showed that around 44,000 undergraduate students may not enroll this year due to the pandemic.
He said the survey also showed that more than 6,000 graduate students in 112 SUCs across the country are not inclined to enroll this academic year.
"(The) majority is due to economic reason, although many of them also have anxiety (because of the current situation)," Ronquillo said in an interview with "The Chiefs" on One News/TV5 on Tuesday.
"There are those whose parents lost their jobs," he said in a mix of English and Filipino.
The number of college dropouts may even be higher as the survey only covered state-funded academic institutions, which represent less than half of the total college enrollment in the country.
According to Ronquillo, the actual enrollment in SUCs has increased from last year, from 1.29 million to 1.31 million as of early this month.
But this is expected, he said, due to the addition of a new batch of K-12 graduates.
The college student population last year was mainly composed of first and second year students due to the two-year gap as a result of the implementation of the senior high school program.
Despite the increase, Ronquillo said there are those who have decided not to enroll because of the pandemic.
28 HEIs closing
Cinderella Filipina Benitez-Jaro, executive director of the Commission on Higher Education (CHED), said they would see the actual enrollment trends when all schools have reopened next month.
During the same program, Jaro said they have received requests from 28 higher education institutions (HEIs) to allow them to suspend operations this academic year.
Specific details have yet to be released, but Jaro said the request was for "temporary closure of their programs."
She said the temporary closure will not affect the permit to operate given to schools provided that they come back a year after.
There are over 2,000 private colleges and universities in the country, with a population last year of 1.83 million students.
Earlier, the Department of Education (DepEd) said 865 out of 14,435 private elementary and high school schools have decided not to reopen this year primarily due to low enrollment and other impacts of the pandemic. The closure has affected over 4,400 teachers and 58,000 students, mostly in the elementary level.
Academic freeze
Like DepEd, CHED has also turned down the proposal to suspend the opening of classes until the end of the year.
Jaro said many HEIs in the country have already opened classes in August and September, with the rest scheduled to do so next month.
"The argument of those calling for academic freeze is focused on online learning. This is a misconception because flexible learning is not only focused on online learning, but actually relies on several modes of learning like online, offline and blended learning," she said in a mix of English and Filipino.
"Flexible learning is not just focused on online learning but also offline. That means that the HEIs must have mechanisms to provide the right education to those who have no connection," she said.
Citing their survey among SUC students, Ronquillo said only around 30 percent of their students have internet connection, while seven percent have no means of communication such as mobile phones.
But he nevertheless agreed that education must continue, noting different flexible learning modes such as delivery of self-learning modules to those who have no access to the internet.
Jaro said HEIs have been preparing for the opening of classes using flexible learning as early as May.
"They have already trained their faculty members. They have created the necessary materials so they can adapt to the new normal," she said.