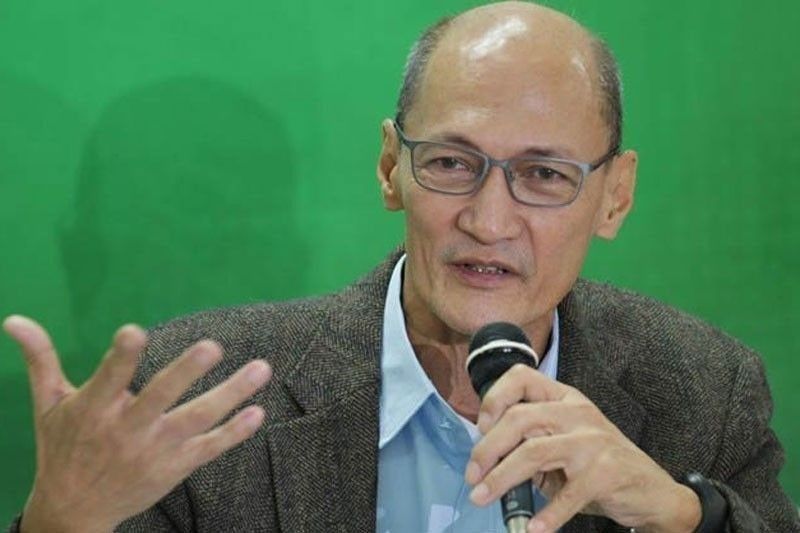 This is to confirm that the Office of the President has received today, Aug. 26, the resignation letter of Philippine Health Insurance Corp. president and chief executive officer Ricardo C. Morales," presidential spokesman Harry Roque said in a statement yesterday.
BusinessWorld/File
Lacson: Resigned PhilHealth chief will still face raps
MANILA, Philippines — Embattled Philippine Health Insurance Corp. president and chief executive officer Ricardo Morales yesterday resigned from his post, after President Duterte said it was best for him to quit PhilHealth because of his health problems.
"This is to confirm that the Office of the President has received today, Aug. 26, the resignation letter of Philippine Health Insurance Corp. president and chief executive officer Ricardo C. Morales," presidential spokesman Harry Roque said in a statement yesterday.
"We are still awaiting President Rodrigo Roa Duterte's further action/instruction on the matter," Roque added.
Duterte is expected to accept the resignation, which was tendered after he said it would be best for Morales to step down while PhilHealth is facing "critical times."
Justice Secretary Menardo Guevarra, the head of the multi-agency task force probing alleged corruption in PhilHealth, said the President also noted the "on-and-off health situation" of Morales, who is now on medical leave to undergo chemotherapy for lymphoma.
Morales had previously rejected calls for him to quit, saying he would act like a "good soldier" as long as he is needed in PhilHealth.
Last Monday, Duterte promised to spend his remaining months in office building cases against people involved in the alleged fraudulent schemes in PhilHealth.
"(The) PhilHealth (issue) should be investigated and everyone (involved) should be prosecuted and jailed. If that's the only work I can do in the remaining two years, I would do that," the President said.
Morales yesterday expressed relief that Duterte finally allowed him to resign.
"I am thankful to the President after he allowed me to take a rest. Now I can focus on my health and family," Morales said in a radio interview.
The embattled PhilHealth chief said the President's confidence in him never wavered as he did not use the corruption issues besetting PhilHealth as the reason for letting him go.
"I am humbled. He is a true friend," said Morales, who promised to continue participating in the investigation.
He added that he already signed bank secrecy waiver, submitted to lifestyle check and complied with the ongoing investigation of the Department of Justice (DOJ).
He further expressed confidence that fair and thorough investigation would prove their innocence in the reported anomalies in the state-run insurer.
As head of PhilHealth board, Health Secretary Francisco Duque III understands and accepts the decision of the agency president and chief executive officer Ricardo Morales to resign, according to the Department of Health (DOH).
"Secretary Duque understands the predicament of General Morales. We all know and he announced that he is sick and he is seeking treatment, that is probably why he decided that he will just resign," DOH Undersecretary Maria Rosario Vergeire said in a virtual briefing yesterday.
Vergeire said Duque appreciated all that Morales has done as head of PhilHealth.
"He has illness, but despite this during this pandemic, he worked well and provided the necessary health services to the people through PhilHealth," Vergeire added.
The DOH undersecretary, however, said it is still up to the Office of the President to accept or not Morales' resignation.
PhilHealth vice president Rodolfo del Rosario has also tendered his irrevocable resignation as he admitted that stress caused by the allegations of irregularities in the agency has affected his health.
"The past days have been grueling and stressful. The character assasination, trial by publicity and relentless persecution has left me in so much agony. My six-month preventive suspension is too much to bear," Del Rosario said in a post on Facebook.
He added that he also could not afford to be unemployed for six months so he decided to resign effective Aug. 24.
Senators welcome resignation
Senators yesterday welcomed the resignation of Morales and Del Rosario that they said should not preclude the filing of criminal charges against them and pave the way for a massive revamp in the agency.
"It is a welcome development. However, as long as the general structure of the corporation remains the same, corruption will continue," Senate Minority Leader Franklin Drilon said in a statement.
"What PhilHealth needs now is a top-to-bottom cleansing in order to get rid of individuals who used PhilHealth as their personal ATM (automated teller machine). Sa gitna ng pandemya, ginawa nilang personal na bangko ang PhilHealth (in the midst of the pandemic, they made PhilHealth their personal bank)," Drilon added.
The long history of corruption within the corporation, across all levels, may be addressed by passing a law that would authorize the President to reorganize PhilHealth, according to the senator.
"This reorganization must be accompanied by a well-studied reorganization plan," he said.
Sen. Panfilo Lacson, vice chairman of the Senate committee of the whole that probed the latest corruption allegations in PhilHealth, said Del Rosario's resignation "is one of many reasons to hope for some good things to come" in view of the ongoing DOJ-led task force investigation.
Lacson also felt sorry for Morales, whose health, the senator said, may have worsened with the controversies hounding the agency.
'Awkward'
The senator, however, warned his colleagues may be put in an awkward situation as they are expected to be confronted with two – and likely conflicting – committee reports on alleged corruption in PhilHealth.
The committee of the whole, chaired by Senate President Vicente Sotto III with all senators as members, is expected to release its report next week on its investigation into the controversial P27-billion Interim Reimbursement Mechanism (IRM), the alleged overprice in the purchase of P2.1-billion information technology (IT) equipment and other reported anomalies.
Last Tuesday, Sen. Richard Gordon, who chairs the Blue Ribbon committee, released what he called the "chairman's report" on his panel's inquiry into a previous set of corruption allegations at PhilHealth conducted in August last year.
While the committee of the whole relied heavily on testimonies and documents provided by several PhilHealth regional vice presidents to pin down alleged perpetrators of misdeeds involving the IRM and IT equipment overprice, Gordon's report tagged the same officials as members of the "mafia" in the agency for a different set of offenses.
Gordon's report is expected to be circulated among senators for their signatures; the same process will be followed for Sotto's findings.
Both reports will be presented in plenary for possible adoption.
Gordon said many supervening events – like the coronavirus disease pandemic – led to the long delay in the release of his report.
"One problem is that (the Gordon report) findings will contradict the committee report being crafted by the Senate President. So what happens? The Senate will be put in a very awkward situation," Lacson told reporters through a video conference.
"So I think we will have to discuss it in caucus… After all, we will be the ones to decide, the members, which committee report we will sign. If the two committee reports are in conflict, I cannot see how a senator would sign both," he said. – Paolo Romero, Evelyn Macairan, Edu Punay, Delon Porcalla, Elizabeth Marcelo, Robertzon Ramirez