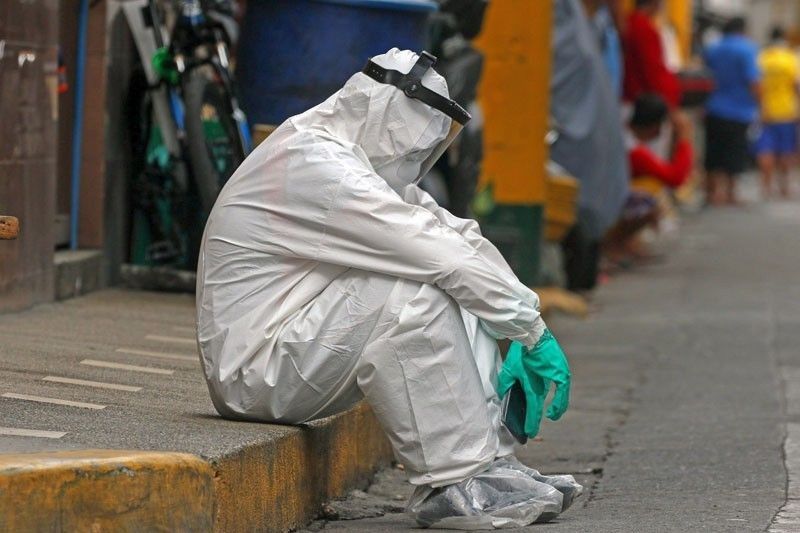 Recruitment leader Lito Soriano said allowing the deployment of newly hired nurses is unlikely to affect the country's health system as well as the fight against the coronavirus pandemic.
Krizjohn Rosales, file
Recruiters want deployment ban on health workers lifted
MANILA, Philippines — Insisting the country has no shortage of healthcare workers, the local recruitment industry yesterday pressed anew for the resumption of deployment of newly hired Filipino nurses abroad.
Recruitment leader Lito Soriano said allowing the deployment of newly hired nurses is unlikely to affect the country's health system as well as the fight against the coronavirus pandemic.
Citing government data, Soriano said over 500,000 nursing graduates have passed the licensure examinations from 2000 to 2019, but fewer than 200,000 are working as nurses in private and government hospitals nationwide.
"The reasons are obvious. Nurses have been underpaid for the past 15 years, with some earning less than P10,000 at private hospitals and P15,000 in government hospitals. Benefits are few and nurses are mostly underpaid and overworked," he said.
Soriano further noted that based on Philippine Overseas Employment Administration (POEA) data, the country has deployed about 150,000 nurses abroad for the past 19 years.
"Data will show that nurses' deployment peaked from 2003-2008, but has subsided with only an average of 8,000 to 10,000 annual deployment," Soriano noted.
Soriano expressed belief that the deployment of new hires will not affect the healthcare industry since there are over 240,000 nurses still in the country, though presently inactive in the healthcare industry.
He urged the Inter-Agency Task Force on Emerging Infectious Diseases (IATF-EID) and other concerned government agencies to undertake a thorough review and reconsider the deployment ban on healthcare workers.
The IATF, in its Resolution 64 approved last Monday, ordered the temporary suspension of overseas deployment of medical professionals.
Malacañang announced on Thursday that the overseas deployment ban does not apply to health workers who were able to secure employment contracts as of March 8.
Presidential spokesperson Harry Roque said the IATF agreed to allow health workers with overseas employment certificate (OEC) issued by the POEA and verified employment contracts as of March 8 to leave the country.
The deployment ban, Soriano said, has affected thousands of new hires, as well as those seeking to go back overseas, since under existing policy, processing of new contracts is not allowed after March 8.
"This rule effectively stops the deployment of new hires in the healthcare industry especially ex-abroad nurses and new graduates of the nursing profession including physical therapists, med techs, and other allied healthcare professionals to leave for countries which offer higher pay and benefit including permanent residency," Soriano pointed out.
"Overseas job opportunities for nurses have been the primary driver of inspiration for our HS (high school) graduate to take the nursing profession. The 'on' and 'off' ban will send a wrong signal to our youth that in the coming years, they will avoid nursing and this will impact the healthcare system of the country," he added.
The government stopped the deployment of 14 categories of healthcare professionals abroad to prevent a looming domestic shortage amid the continuing spread of COVID-19 in the country.
Thousands of health professionals leave the country to work overseas. Many travel to the United Kingdom to work in the National Health Service (NHS) and private hospitals and in social care.
The Filipino Nurses United (FNU) has consistently appealed for the total lifting of the deployment ban for nurses who opted to work abroad to save their families from starvation and for basic survival.
Soriano said many Filipino nurses want to work overseas because they are underpaid here and recent moves to increase their salaries to P32,000 monthly won't be realized until next year.
"If the government cannot provide better working conditions for nurses at least allow them to seek their opportunities for a greener future for their families," Soriano said.
The Department of Health (DOH) reported that the government has already hired 7,850 healthcare workers who were deployed in different hospitals and healthcare facilities nationwide.
DOH noted that over 10,000 slots for emergency hiring have been approved as part of the government's fight against the pandemic.
'Unconstitutional'
"The long and the short of it is that a work abroad deployment ban is FLATOUT unconstitutional," Foreign Affairs Secretary Teodoro Locsin Jr. tweeted last Wednesday.
"Either the Senate calls it out or the useless IBP takes the ban to Court instead of challenging the watery PH version of the US Patriot Act," he continued.
Last month, Locsin said in one of his tweets that Filipino healthcare workers have no future in the Philippines, where nursing graduates pay to work in hospitals to have employment experience.
He was reacting to a tweet that said "Walang future ang healthcare workers dito! (There is no future for healthcare workers here!)" and calls to lift the deployment ban on health workers.
"That is true; Filipino health care workers have no future in this country, the only one in history and on the planet that makes nursing graduates pay to get jobs in hospitals so they can claim to have hospital experience and they are worked to the bone," Locsin tweeted.
Locsin announced in April that nurses and other health workers with existing contracts of work overseas can now leave the country.
The secretary objected to the POEA governing board resolution temporarily suspending the deployment of healthcare workers abroad.
He said, "Future applications frozen until further notice provided all our 450,000+ nurses – exceeding by 250,000 ideal WHO ratio of people-to-nurses – must be given employment."
"Will try again with IATF. Especially with regard to HCWs who are being mistreated en masse in public hospitals here, exposing them en masse with such reckless disregard as to amount to deliberate intent to use up the 400,000 unemployed and misemployed nursing graduates," Locsin said.