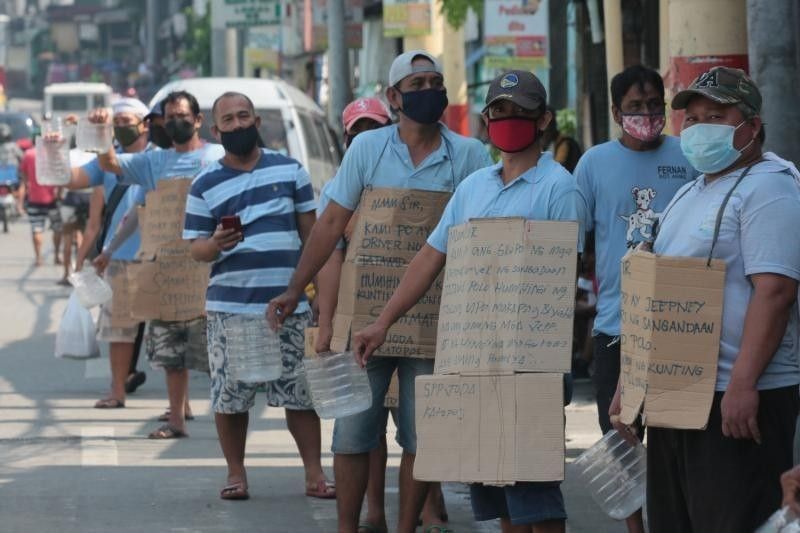 In this July 14, 2020, photo, jeepney drivers in Caloocan whose line were not allowed by the Land Transportation Franchising and Regulatory Board to operate ask for alms.
The STAR/Michael Varcas
National survey logs record-high unemployment in July
(Philstar.com) - August 17, 2020 - 11:35am
MANILA, Philippines — A national poll released Sunday found that joblessness in the adult labor force is now at a record-high 45.5%.
The survey, conducted by the Social Weather Stations from July 3 to July 6, saw the numbers of unemployed adults shoot up to 27.3 million in July from the 7.9 million recorded in December 2019.
The poll added that these joblessness figures marked "a 28-point increase from 17.5% in December 2019, and a new record-high since the 34.4% in March 2012."
SWS defines jobless adults as those who have left old jobs voluntarily, those seeking jobs for the first time, and those who have lost their jobs "due to economic circumstances beyond their control."
In addition to this, the survey found that 21% of adult Filipinos, "or half of the 42% with no job/livelihood at the time of the interview–lost their job/livelihood during the COVID-19 crisis."
The other 21% lost their jobs before the pandemic-induced crisis.
Meanwhile, 47% of adult Filipinos had a job at the time of the interview and the remaining 11% said they never had a job or livelihood before.
SWS also logged a slightly higher proportion of respondents who lost their jobs during the coronavirus crisis in urban areas at 23% as compared to the 18% in rural areas.
Geographically, Balance Luzon showed the highest numbers of COVID-induced unemployment at 23%, trailed by the Visayas and Mindanao at 19%, then Metro Manila at 18%.
The national poll found that 79% of Filipinos say their quality of life worsened in the last 12 months. An overwhelming majority of these respondents, at 84%, said they had no job or livelihood at the time of the interview.
According to SWS, the record-high surge in national joblessness is consistent across all geographical divisions, genders, and areas both rural and urban.
Unemployment also rose in all adult age groups, with 18-24-year-olds remaining the most jobless as compared to others.
The surveu was conducted among 1,555 adult Filipinos using mobile phone and computer-assisted telephone interviewing. Margin of error is at ±2% for national percentages, ±6% for Metro Manila, and ±5 for Balance Luzon, ±5% for the Visayas, and ±5% for Mindanao.
Latest data from the Department of Health places the national COVID-19 caseload at 161, 253 and fatalities at 2,665.
It has been 153 days since the Philippines was first put under community quarantine — the longest lockdown in the world. — Bella Perez-Rubio
As It Happens
LATEST UPDATE: December 9, 2020 - 3:44pm
Metro Manila and other "highrisk" areas were placed under a modified enhanced community quarantine last May 16, which is more relaxed than ECQ, but has more restrictions compared with the general community quarantine (GCQ). Bookmark this page for updates. Photo by The STAR/Michael Varcas
December 9, 2020 - 3:44pm
The local government of San Juan Batangas orders the closure of Blue Coral Beach Resort in Laiya Aplaya following repeated violations of COVID-19 protocols.
This comes after a video of a large group partying without face masks, face shields and not observing physical distancing at the beach of the resort were sent to the Department of Tourism.
San Juan Mayor Ilderbrando Salud has issued a memo revoking the business permit of the beach resort. — Report from Rosette Adel
LOOK: A group was seen partying without face masks/face shields at a beach in Laiya, San Juan, Batangas. The individuals are also not observing the physical distancing protocols at the beach.

Video from: DOT @PhilstarNews pic.twitter.com/mlyU9DvGf7

— Rosette Adel (@rosette_adel) December 9, 2020
December 7, 2020 - 10:29pm
President Rodrigo Duterte says he will ask local government units to make necessary arrangements on vacant hotels and motels to allow COVID-19 patients to stay in their premises.
Duterte says he will ask the Congress to find a way to compensate the hotels that will accommodate coronavirus patients.
"To the owners of hotels, inns, motels to accommodate the Filipinos who are in need of help. I will assume the full responsibility of paying you pagdating ng panahon," Duterte says in a recorded speech aired late Monday.
December 7, 2020 - 4:25pm
The Zamboanga City government strongly opposes proposals of Interior Secretary Eduardo Año in allowing children to go to malls and other public places with their parents.
The local official and health authorities also disapprove of the possibility of expanding the manner of classes to face-to-face classes engagement as part of the 'new normal.'
Mayor Maria Isabelle Climaco-Salazar expresses her disapproval, citing critical observations by local health officials here about the eminent contamination from the deadly Severe Acute Respiratory Syndrome CoronaVirus (SARS-CoV) which causes the coronavirus disease 2019 (COVID-19).
"It is not still safe to allow children to go out except for medical reasons or emergency cases," Salazar says in her virtual presser. — The STAR/Roel Pareño
August 18, 2020 - 4:47pm
Sen. Bong Revilla, who earlier tested positive for COVID-19, was rushed to the hospital, according to his wife Bacoor Mayor Lani Mercado.
"He is being rushed to the hospital. His latest X-ray shows that he has developed pneumonia and isolation in a regular facility is no longer ideal," Mercado says in a Facebook post Tuesday.
August 18, 2020 - 4:23pm
The Department of Health reports 4,836 additional COVID-19 cases in the country, pushing the total number of confirmed cases in the country to 169,213.
The DOH also logs 182 new recoveries, bringing the total of recovered patients to 112,861. The national death toll is now at 2,687 with the addition of 7 new reported deaths.
Total active cases (net of COVID-19 deaths and recoveries) in the Philippines is now at 53,665.