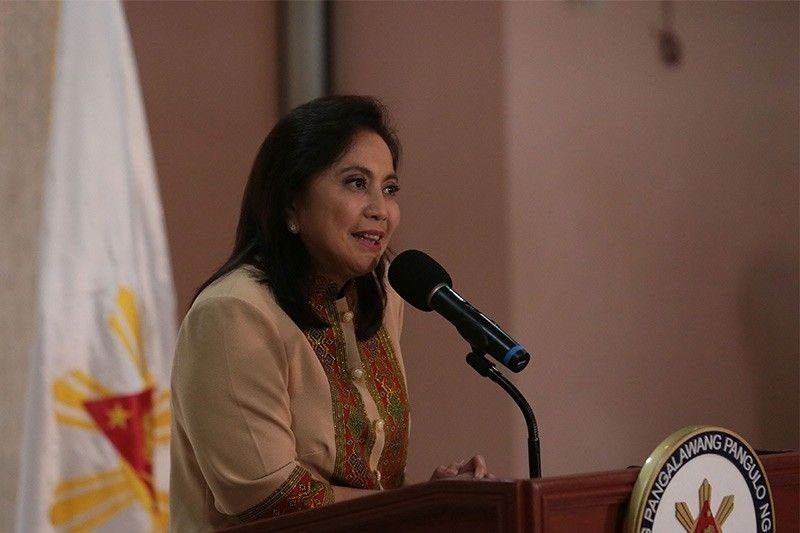 This undated photo shows Vice President Leni Robredo.
The STAR/Michael Varcas
Robredo urges DepEd to realign P29-billion budget to fund distance learning, health concerns
MANILA, Philippines — With classes set to reopen in less than two weeks amid the COVID-19 pandemic, Vice President Leni Robredo on Monday wrote Education Secretary Leonor Briones to urge that a budget for rehabilitating school buildings be realigned to address several distance learning and health concerns raised by stakeholders.
"Around P29.5 billion was earmarked for the rehabilitation of school buildings for 2020...This amount can be used to procure the needed gadgets and equipment for distance learning, as well as address the health concerns of educators," Robredo said.
She emphasized that rehabilitating school buildings is not a priority at the moment, given the shift to blended learning.
Meanwhile, she highlighted that access to internet has become paramount for many learners who hope to participate in distance learning this school year.
"Data shows that around 61% of 14 million households do not have access to the internet. Moreover, 74% or around 347,000 schools do not have the infrastructure to engage in online learning," the vice president said.
"While we understand the Department has set up the DepEd Commons learning platform for students to access lessons on their own, we have received reports that only 7 million learning platform for students have so far subscribed to this platform. This constitutes only 35% of the estimated 20 million public school students in the country," she added.
Robredo urged DepEd to set up internet hubs in schools and communities to address these gaps in access.
Realign P700 million for teachers' health concerns
In addition to distance learning concerns, she reiterated that teachers are worried for their own health, and are still waiting on DepEd to bare its plans on how it will ensure their safety, amid the pandemic.
"These anxieties are becoming more pronounced given that they too, will be among our frontliners when the school year opens," Robredo said.
Given this, she recommended that DepEd immediately realign a P700 million budget for the in-service training of teachers in order to take the following steps for them instead:
mass COVID-19 testing with results out before classes begin
set up a sufficient fund for physical checkups and medicine
provide supplies such as personal protective equipment, hand sanitizers and other necessary materials
issue regular and timely hazard pay
create a system to address health and wellness needs
"Many of these trainings have already, or will be, shifted to online modalities, thus freeing up resources that would otherwise have been used for travel and accommodations," she said. — Bella Perez-Rubio
As It Happens
LATEST UPDATE: November 30, 2020 - 3:01pm
Follow this thread for updates on when classes will resume, and how those classes will be conducted.
Photo: Students wearing protective face masks have their temperatures taken while entering their college campus in Manila on January 31, 2020. AFP/Ted Aljibe
November 30, 2020 - 3:01pm
International students have arrived in Australia for the first time since the country shut its borders to curb coronavirus in March, with a charter flight touching down in Darwin on Monday.
Australian universities have been leaking cash due to the country's indefinite border closure, which has locked out foreign students who keep the billion-dollar sector afloat.
A plane chartered by Charles Darwin University (CDU) carrying 63 international students arrived in the northern city of Darwin as part of a pilot programme aimed at kickstarting the higher education industry.
The students — from mainland China, Hong Kong, Japan, Vietnam and Indonesia — travelled to Singapore to catch the flight and will now spend 14 days in a government quarantine facility.
The mix of new and continuing students are enrolled across a range of undergraduate and postgraduate courses including law, nursing and engineering. — AFP
November 26, 2020 - 12:07pm
The University of the Philippines will implement a 'no-fail' policy for the current semester, the Office of the Student Regent announces.
The Office of the Vice President for Academic Affairs will release guidelines for the policy, where no grades of "4" (Conditional) or "5" (Fail) will be given.
November 12, 2020 - 6:05pm
Filipinos dealing with the aftermath of a series of major typhoons cannot continue classes under current conditions, Samahan ng Progresibong Kabataan says in a release as it demanded that classes and other academic work be postponed until the 19th.
"As Typhoon Ulysses continues to wreck havoc in Central Luzon and the Greater Manila Area and southern Luzon still grappling with widespread flooding, power outages and intermittent internet signals making distance learning of any kind practically impossible," the group says.
"We demand the suspension of ALL classes and submission of academic requirements in ALL levels NATIONWIDE until November 19. Millions need decisive action from our government officials NOW," it also says.
October 29, 2020 - 8:08am
The UN and World Bank plead in a new report Wednesday for schools to remain open despite COVID-19 risks, highlighting the damage the pandemic has inflicted on children's education, especially in poor nations.
Children in impoverished countries have been deprived of close to four months of schooling since the pandemic began early this year, while pupils in rich nations benefiting from remote learning have lost six weeks, the report said.
"Prioritizing reopening schools and providing much-needed catch-up classes are critical," says Robert Jenkins, education chief at the UN children's fund UNICEF.
"We don't need to look far to see the devastation the pandemic has caused to children's learning across the world," he adds in a statement. — AFP
October 9, 2020 - 12:24pm
A group of teachers warns of class disruptions and drop-outs if the problems have not been resolved a week after classes were opened.
"The Department of Education should objectively assess and boldly address the critical problems experienced in the first week of school opening, rather than patting its own back for its imagined success. If the agency has any foresight, they should know that the school year they opened is hanging by a thread," says Raymond Basilio, Alliance of Concerned Teachers secretary general.