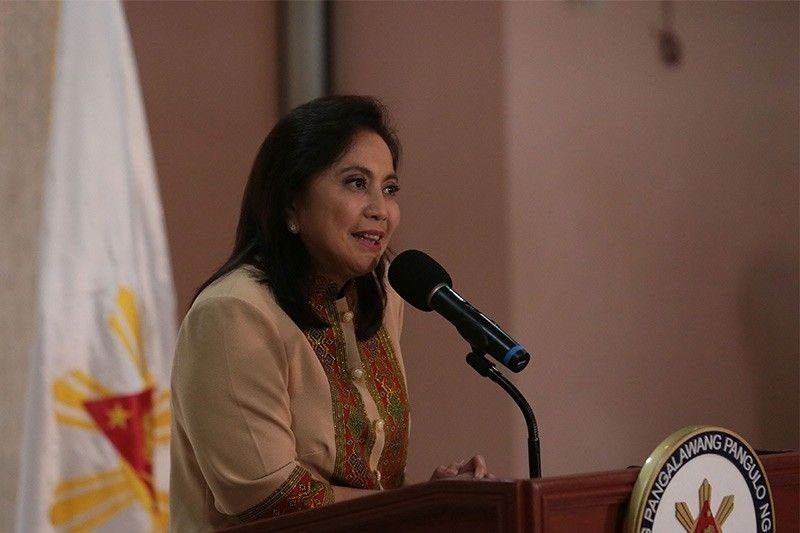 This undated photo shows Vice President Leni Robredo.
The STAR/Michael Varcas
Robredo urges DepEd to realign P29-billion budget to fund distance learning, health concerns
MANILA, Philippines — With classes set to reopen in less than two weeks amid the COVID-19 pandemic, Vice President Leni Robredo on Monday wrote Education Secretary Leonor Briones to urge that a budget for rehabilitating school buildings be realigned to address several distance learning and health concerns raised by stakeholders.
"Around P29.5 billion was earmarked for the rehabilitation of school buildings for 2020...This amount can be used to procure the needed gadgets and equipment for distance learning, as well as address the health concerns of educators," Robredo said.
She emphasized that rehabilitating school buildings is not a priority at the moment, given the shift to blended learning.
Meanwhile, she highlighted that access to internet has become paramount for many learners who hope to participate in distance learning this school year.
"Data shows that around 61% of 14 million households do not have access to the internet. Moreover, 74% or around 347,000 schools do not have the infrastructure to engage in online learning," the vice president said.
"While we understand the Department has set up the DepEd Commons learning platform for students to access lessons on their own, we have received reports that only 7 million learning platform for students have so far subscribed to this platform. This constitutes only 35% of the estimated 20 million public school students in the country," she added.
Robredo urged DepEd to set up internet hubs in schools and communities to address these gaps in access.
Realign P700 million for teachers' health concerns
In addition to distance learning concerns, she reiterated that teachers are worried for their own health, and are still waiting on DepEd to bare its plans on how it will ensure their safety, amid the pandemic.
"These anxieties are becoming more pronounced given that they too, will be among our frontliners when the school year opens," Robredo said.
Given this, she recommended that DepEd immediately realign a P700 million budget for the in-service training of teachers in order to take the following steps for them instead:
mass COVID-19 testing with results out before classes begin
set up a sufficient fund for physical checkups and medicine
provide supplies such as personal protective equipment, hand sanitizers and other necessary materials
issue regular and timely hazard pay
create a system to address health and wellness needs
"Many of these trainings have already, or will be, shifted to online modalities, thus freeing up resources that would otherwise have been used for travel and accommodations," she said. — Bella Perez-Rubio
As It Happens
LATEST UPDATE: September 18, 2020 - 2:11pm
Follow this thread for updates on when classes will resume, and how those classes will be conducted.
Photo: Students wearing protective face masks have their temperatures taken while entering their college campus in Manila on January 31, 2020. AFP/Ted Aljibe
September 18, 2020 - 2:11pm
A group of teachers says it welcomes plan of the Department of Education not to administer periodical examinations for the coming academic year.
But the Alliance of Concerned Teachers says the decision "should not be grounded on cheating and dishonesty concerns."
"The decision to forego periodical exams is a positive step towards addressing these ever-relevant matters concerning the education system. Next step should be to sincerely look into a pass-or-fail evaluation system and find its merits, again based on education's ultimate aims," says ACT national spokesperson Benjamin Valbuena.
September 4, 2020 - 2:47pm
The Department of Education-National Capital Region says it will continue to roll out its initiatives to further prepare public schools in Metro Manila for the opening of classes next month.
DepEd NCR Director Malcolm Garma reports that 14 out of 16 Schools Division Offices have already completed the simulation of the delivery of modules and conduct of classes.
August 27, 2020 - 1:05pm
A group of teachers slams the government for denying the P65-billion supplemental budget request of DepEd for its learning continuity plan.
"Education continuity cannot be further hampered by this state's withholding and misprioritization of the people's money. We call on officials and legislators to ensure the fulfillment of the state's education mandate starting with allotting sufficient resources for such," Alliance of Concerned Teachers Secretary General Raymond Basilio says.
August 22, 2020 - 2:15pm
A group of teachers urges the Department of Education to release the guidelines for an evaluation and grading system that "corresponds with education's objective of ensuring learners are 'well-equipped to understand, respond to, and contribute to society.'"
"As such, we recommend a 'pass or fail' mechanism for evaluation that rely more on the students' ability to exhibit and apply lessons to productive tasks at home and in their communities. This, to us, is more in keeping with education's objective of arming our youth amid the crises, instead of alienating them from their surroundings and adding unnecessary pressure onto their lives," says Alliance of Concerned Teachers Philippines Secretary General Raymond Basilio.
August 15, 2020 - 11:13am
Sen. Nancy Binay urges the Department of Education to issue clear guidelines on how private schools that have already started classes will proceed and to allow those which are ready to start classes on August 24 or later.
"So as not to interrupt classes in private schools that have already started, it is better to allow them to continue, at kung ready naman ang school na magbukas, DepEd can give them the flexibility to open on or before October," Binay says..
"While we welcome this move from DepEd, we also have to stress that DepEd should use the deferral as an opportunity to iron out any expected challenges in public schools, particularly access to new learning opportunities, before the opening come October 5," she adds.