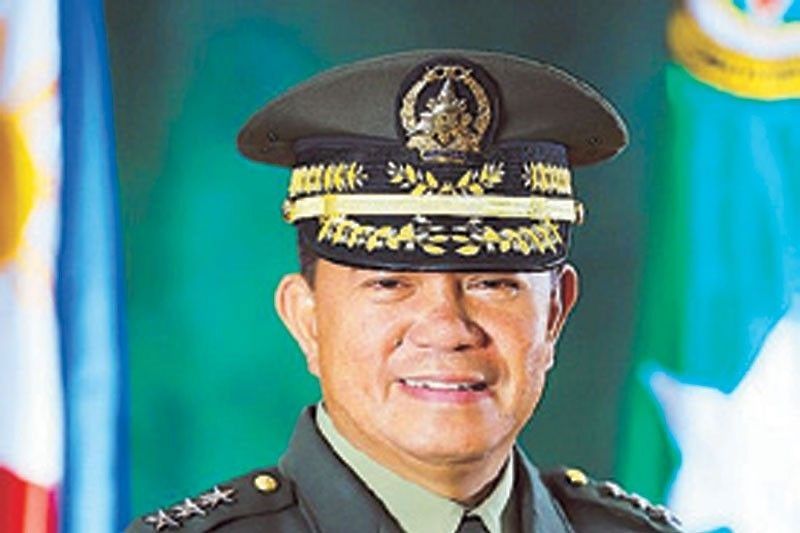 Army commander Lt. Gen. Gilbert Gapay
STAR/File
New AFP chief: Terror law to regulate social media
MANILA, Philippines — Newly installed Armed Forces of the Philippines (AFP) chief Lt. Gen. Gilbert Gapay wants to use the Anti-Terrorism Law and its implementing rules and regulations (IRR) to regulate social media.
During a virtual press briefing shortly after officially assuming as the AFP's 54th chief of staff yesterday, Gapay said this would curb radicalism and radicalization of the youth.
"We'll be providing some inputs on countering violent extremism and likewise, maybe regulating, even regulating social media because this is the platform now being used by terrorists to radicalize, to recruit and even plan terrorist acts," Gapay, who was sitting beside Defense Secretary Delfin Lorenzana, told reporters.
To do this, he sees the need to include specific provisions in the IRR of Republic Act 11479 or the Anti-Terrorism Law. The AFP, he said, has a say in the crafting of the IRR because the military is at the forefront of combatting terrorism in the country.
"(That) is why it will have some recommendations on how the law may be implemented," Gapay explained.
Apart from regulating social media, he said the military would suggest mechanisms to be created at the "sub-national, regional and the grassroots level to really address this threat of terrorism in our country." His proposed recommendations include possible provisions in the IRR on enhancing intelligence sharing "not only domestically but with our foreign counterparts."
"Because this is a global threat that we need to address. That's why intelligence fusion, intelligence sharing is very vital," Gapay stressed.
He also suggested the inclusion of provisions on strengthening maritime security, noting that some foreign terrorists slipped into the country through its porous backdoor.
Gapay said even materials used to make improvised explosive devices (IEDs), including agricultural products, should be regulated by the Anti-Terrorism Law's IRR.
"We will capitalize on this very good anti-terror law. It is comprehensive, it is pro-active and it is geared to prevent the occurrence of terroristic acts. So, we should be able to stop it even if it's just at planning stage," he added partly in Filipino.
Lorenzana said the anti-terrorism council had its first meeting last week as the Department of Justice is preparing the IRR.
"I believe all of us will be provided a draft of the IRR, look at it, so that we can place our input there. It's still a work in progress. We have 90 days since the signing of the law to come up with the IRR. So, we still have the time to carefully study what we will do with the IRR," Lorenzana explained.