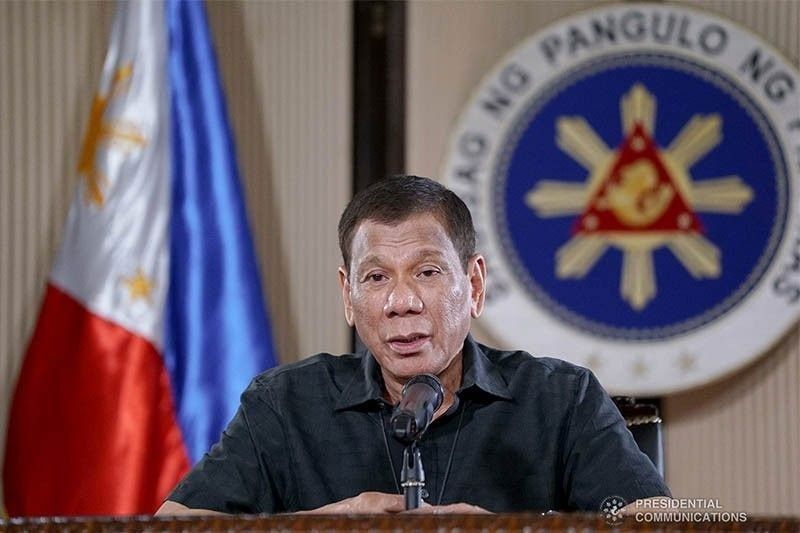 Presidential spokesman Harry Roque Jr. said the President gave the orders to the Inter-Agency Task Force for the Management of Emerging Infectious Diseases after hearing the concerns of the medical community.
Presidential Photo/King Rodriguez
Duterte to IATF: Look into medical community's appeal for ECQ
MANILA, Philippines — President Duterte has directed the government's pandemic task force to look into medical frontliners' plea for Metro Manila to again be placed under the strictest enhanced community quarantine (ECQ) to prevent the health system from reaching its breaking point in the face of surging cases of COVID-19.
Presidential spokesman Harry Roque Jr. said the President gave the orders to the Inter-Agency Task Force for the Management of Emerging Infectious Diseases (IATF) after hearing the concerns of the medical community.
Roque announced the development almost immediately after he ruled out a return to ECQ status for Metro Manila or the National Capital Region from the current general community quarantine or GCQ.
"President Duterte has heard the concerns of the medical community and the Chief Executive has directed the IATF to act on these concerns immediately," Roque said.
"The Palace considers our skilled, tireless and dedicated healthcare workers as important frontliners in the battle against COVID-19," he said.
Sought for clarification, Roque said the proposal to revert the NCR to ECQ would be part of new discussions of the IATF. "The suggestion will be discussed by the IATF anew," he said.
"We are grateful for their immense contributions to heal our people and our nation during these difficult times. Your voices have been heard. We cannot afford to let down our modern heroes. This is our commitment," he said.
The Philippine College of Physicians earlier called for the re-imposition of ECQ on the NCR as the continued rise of COVID-19 cases appeared to have overwhelmed a great number of medical workers.
However, Trade Secretary Ramon Lopez balked at the prospect of the NCR reverting to ECQ, arguing that the economic cost of tougher quarantine measures could also affect Filipinos' health and well-being. "We cannot go back to ECQ. (It would be) damaging to people's health with unemployment and poverty affecting health and wellness and nutrition intake. It will affect long-term health and capacity to learn for children," Lopez told reporters in a Viber message.
"Community quarantine alone, we repeat, is an insufficient response in controlling COVID-19," Roque said earlier in a statement or before Duterte's directive to the IATF.
The strict lockdowns, he stressed, had served their purpose and the government had to explore other measures to tackle the health crisis.
"It is for this reason that the local government units (LGUs) of Metro Manila have been directed to implement a strict localized lockdown/enhanced community quarantine in barangays where 80 percent of cases are located and the publication of these barangays," the Palace official said.
He reiterated the need to observe minimum health standards and added that there are efforts to increase the bed capacity of government and private hospitals.
"We are scaling up hospital capacity by increasing allocation of COVID-dedicated beds while hiring more doctors, nurses and medical personnel," he said.
"We are also engaging the community through risk communication, social mobilization and advocacy to observe the minimum public health standards of wearing a mask, washing of hands and keeping physical distance. Mag-mask, hugas, iwas is our battlecry in our war against COVID-19," Roque said.
IATF recommendation
Roque reiterated that the recent decision to extend the GCQ status in the metropolis was reached after consultation with the IATF.
"The Aug. 1-15 general community quarantine (GCQ) classification of Metro Manila has been a subject of debate and discussion by the members of the Inter-Agency Task Force for Emerging Infectious Diseases," he said.
Roque said there is a need to strike a balance between protecting public health and keeping the economy sustainable.
"The Palace understands the delicate balancing act between public health and the economic health of the nation, given that Metro Manila and CALABARZON make up 67 percent of our economy," the presidential spokesman said.
Lopez earlier said there are other ways to contain the spread of the virus such as through granular lockdowns of buildings, streets or barangays with high infection rates, along with massive tracing, testing, isolation, treatment, as well as stricter compliance with health protocols by business establishments.
But he emphasized there is really need to address the concerns of health workers.
"They need more support in all aspects. Healthcare workforce, relievers, beds, facilities, equipment, expanding testing capacities, tracing, etc., as well as living quarters for frontliners, logistics and other needs. We should find ways," he said.
Apart from placing the NCR under ECQ again, the medical groups also asked the government to reconsider its decision to allow more businesses such as gyms, fitness centers, review centers, internet cafes, personal grooming services and drive-in cinemas to reopen starting yesterday.
Lopez said the gradual reopening of business – at 30 percent capacity – is being done carefully, with establishments required to follow additional health protocols to prevent COVID-19 transmission.
In an interview on The Chiefs aired on One News on Friday night, Lopez said gyms, for instance, need to comply with special health protocols such as prohibiting group exercise activities, wearing gloves for those working out, having adequate spacing between equipment, physical distancing and ensuring good air circulation.
Under Memorandum Circular 20-44 dated July 31, the DTI said testing and tutorial centers, meanwhile, would only be allowed to have a maximum of 10 people inside a room subject to social distancing.
DTI also said barber shops and salons in areas under GCQ would be allowed to offer all hair, nail and skin care services except full body massage, subject to strict protocol on hand sanitation, face mask, face shields, gloves and sterilized equipment.
Food and retail businesses would be allowed to operate up to 11 p.m. and food delivery services until 1 a.m.
DTI said all business establishments would have to register with any contact tracing application such as SafePass or StaySafePh endorsed by the IATF.
They should also have contact tracing forms for all individuals entering their premises.
As an additional protection against the virus, Lopez said the government would also be requiring soon the wearing of face shields.
He said wearing face shields in addition to masks has been discussed by the IATF as an additional layer of protection against the virus.
Based on advice from experts, Lopez said wearing of masks alone provides 82 percent protection, but wearing of face shields in addition to masks gives higher protection of 99 percent.
"We need to manage and live with the virus which is here to stay. We are balancing health and economy," he said.