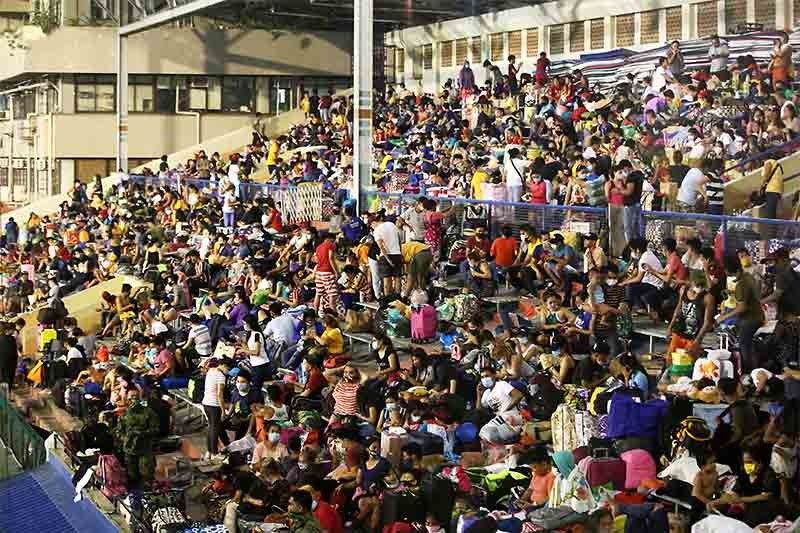 Thousands of locally stranded individuals, who are beneficiaries of the second batch of the Hatid Tulong program, are surrounded by their belongings as they spend the night on the bleachers of the baseball stadium of the Rizal Memorial Sports Complex in Manila on Friday,July 24..
The STAR/Miguel de Guzman
8-9 stranded individuals at Rizal Memorial stadium suspected to have COVID-19
(Philstar.com) - July 27, 2020 - 11:34am
MANILA, Philippines — Eight to nine of the locally stranded individuals (LSIs) crammed at the Rizal Memorial Sports Complex last weekend are suspected to have COVID-19, amid concerns of failure to impose physical distancing in the venue.
In an interview with ANC on Monday morning, Presidential Management Staff Assistant Secretary Joseph Encabo said out of the nearly 4,000 of the LSIs, "eight to nine persons were tested positive of the rapid tests."
Encabo, lead convenor of the government's "Hatid Tulong" program, also said that those who tested positive were immediately isolated and administered a confirmatory swab test.
If the individual tested positive, he or she will be brought to an isolation facility. If negative on the confirmatory test, they will be allowed to travel back home.
The Philippine Coast Guard said Sunday that they assigned 25 of their medical technologists to administer rapid COVID-19 tests to the LSISs. Encabo said they have eight stations, manned by doctors, nurses and medical technologists for the stranded individuals.
Those who have had close interaction with them were also recorded and the local government units where they will be sent off are notified, Encabo said. They will also be subjected to a confirmatory swab test and undergo 14-day quarantine, he added.
Thousands of Filipinos wanting to go back to their home provinces availed of the government's "Hatid Tulong" program. The Rizal Memorial Sports Complex was converted into a venue to house the LSIs while they waited for their transport back home. Photos of the LSIs cramped at the stadium's bleachers, making it impossible to observe physical distancing, made rounds last weekend.
'It's the lesser evil'
Encabo admitted that they had to choose the "lesser evil" when they brought the thousands of LSIs inside the stadium. He said the Technical Working Group decided to transfer the LSIs inside the stadium when they noticed that they had to queue under the sun and heavy rains were about to fall.
"Since we saw it, we cannot just take it lightly in our part... The moment we noticed that the rain is about to fall, we invited them inside the stadium t take refuge and shelter," Encabo said.
"Because of unavoidable circumstances, it's a decision of choosing lesser evil and we really have to give them the shelter and temporary refuge," he added.
"That's the least that we could do, somehow that's the best that we could offer because we have to protect these LSIs on the heavy downpour and at the same time he intense heat of the sun while waiting outside," Encabo also said.
He however said that hours after the stranded individuals were invited inside the stadium, they transferred some of them to the other stadium so physical distancing may be observed.
Encabo said 3,600 LSIs were brought home on Sunday, and they aim to transport thousand others on Monday. — Kristine Joy Patag
As It Happens
LATEST UPDATE: August 6, 2020 - 7:05pm
Follow this thread for updates on COVID-19 risk levels, safety measures, and data from Metro Manila's local government units.
Photo: The STAR/Michael Varcas
August 6, 2020 - 7:05pm
Restrictions on transportation during the August 1-18 Modified Enhanced Community Quarantine will be more lenient than during the previous lockdown, the Inter-Agency Task Force for the Management of Emerging Infectious Disease says in a press release.
Tricycles will be allowed to ply routes but are limited to just one passenger while pillion riding on motorcycles will be allowed "provided that they have the IATF-approved barrier installed."
Passengers will not be limited to the driver's spouse or partner.
August 4, 2020 - 11:04am
Quezon City reimposes its liquor ban in light of the Modified Enhanced Community Quarantine declared over Metro Manila.
Under the ban, selling or distributing alcoholic beverages is prohibited "from August 4, 2020 to August 18, 2020 (or until expiration of the MECQ, if MECQ is further extended)."
Previously, selling of alcoholic beverages was allowed from 1 p.m. to 5 p.m. with limits on how much alcohol could buy.
Drinking is allowed in private residences.
August 3, 2020 - 2:37pm
The Pamantasan ng Lungsod ng Maynila will be on lockdown for two weeks starting August 3 to curb the spread of the coronavirus in the campus. With this, employees will be adopting a work from home arrangement for the time being.
The university currently has four confirmed cases, two recovered patients and one death among employees with three probable and one suspect cases.
"We are taking this two-week timeout as an extra precaution as we acknowledge the current health situation in our campus, in the City of Manila, and in the country. We are hoping that in our own way, we can prevent further COVID-19 infections within our community," PLM President Emmanuel Leyco said.
August 3, 2020 - 12:32pm
Coronavirus cases in the Philippines may reach 220,000 by the end of August if Metro Manila remains under general community quarantine, UP Professor Ranjit Rye says.
Now that Metro Manila and nearby provinces will return to modified GCQ, there would be 50,000 to 70,000 cases less, he adds.
August 3, 2020 - 8:39am
Vice President Leni Robredo calls for another batch of volunteers for her team's COVID-19 response operations in Metro Manila.
"MECQ has just been declared. We will be activating most of the services we offered for our frontliners in March and April," Robredo says.
Those who are interested to volunteer may email ovpcovid19volunteers@gmail.com with the following details: name, address, contact number and email address.