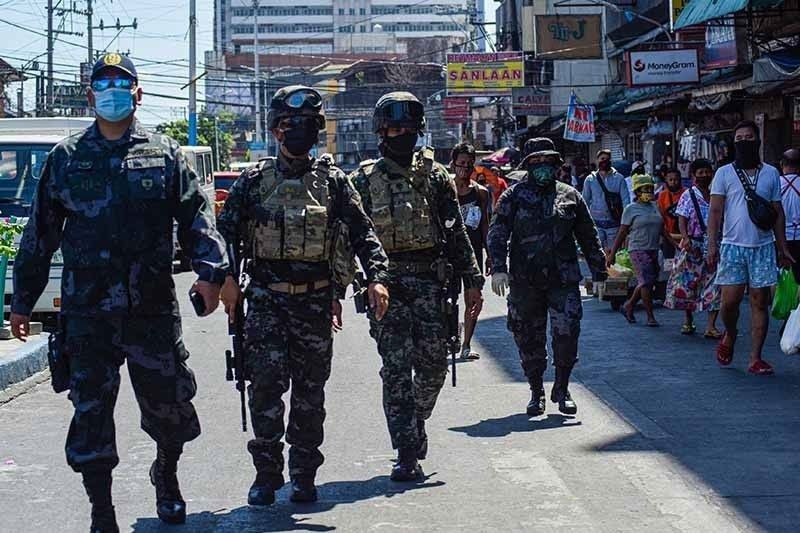 Metro Manila, which accounts for about half of the nearly 70,000 coronavirus disease 2019 cases in the country, has been under the lenient general community quarantine since June.
AFP/Maria Tan
Back to ECQ for Metro Manila? Wait and see – Palace
MANILA, Philippines — The government is not yet considering placing Metro Manila under the strictest lockdown scenario again, but will monitor developments in the following days to determine if quarantine measures in the capital region should be adjusted, Malacañang said yesterday.
Metro Manila, which accounts for about half of the nearly 70,000 coronavirus disease 2019 (COVID-19) cases in the country, has been under the lenient general community quarantine since June.
The Inter-Agency Task Force for the Management of Emerging Infectious Diseases (IATF) eased quarantine restrictions in Metro Manila in line with the government's policy of gradually reopening the economy while responding to the pandemic.
But infections in Metro Manila continue to rise, prompting some senators to propose that the capital region revert to the strictest enhanced community quarantine (ECQ). However, the government is not keen on the suggestion.
"That's not being considered for now. Suggestion of UP (University of the Philippines) was MECQ (modified enhanced community quarantine)," presidential spokesman Harry Roque said in a text message to The STAR when asked whether it was possible for Metro Manila to be placed under ECQ.
Under ECQ, only selected industries like business process outsourcing and export-based firms and essential sectors like food production and health care are allowed to operate. More businesses can resume operations under MECQ but mass transportation and public gatherings remain restricted.
Roque previously said that UP experts had recommended that Metro Manila be placed under MECQ to stem the spread of the virus. Duterte had agreed to tighten quarantine measures in Metro Manila but changed his mind after coronavirus policy chief implementer Carlito Galvez Jr. and Interior Secretary Eduardo Año informed him of the plan of mayors to intensify local lockdowns.
"We will see what will happen within the next two weeks," Roque said at a press briefing.
He noted that Metro Manila mayors are implementing localized lockdowns, setting up isolation facilities, and expanding their testing capabilities to arrest the further spread of the virus.
At the same briefing, Roque said it would be up to local governments to decide whether to adopt the suggestion of Interior Undersecretary Martin Diño to conduct a shame campaign against quarantine violators.
"We are leaving that to local governments. What we want is to have a common ordinance especially in Metro Manila because we have two weeks to slow the spread of cases," the Palace spokesman said.
Roque also maintained that the government won't release the names of persons infected with COVID-19 as doing so would violate privacy laws.
"Let us respect the privacy of those who got sick although there is a need to report to the DOH (Department of Health) those who are sick. But we won't make public their names," he added.
Roque also chided critics of the government's pandemic response, reiterating that the number of persons infected with COVID would have reached 20 million had the government not acted decisively.
"You can be assured that we won't be lax. We know that the number of cases is rising not just because of aggressive testing but also because many are catching the virus. We won't get tired of urging everyone to observe minimum health standards," Roque said.
"To our critics, open your eyes and minds about the hundreds of thousands of lives that were saved because of the action of the government," he added.
Meanwhile, Roque said those who intend to organize online cockfights should seek permission from IATF.
He said the Department of the Interior and Local Government was in favor of allowing cockfights in areas under the most lenient modified general quarantine as long as there is no live audience.
"But this has to be approved first by the IATF. The proponents of online cockfight that has no live audience should write to the IATF," Roque said.