St. Luke's, NKTI declare full capacity for COVID-19 cases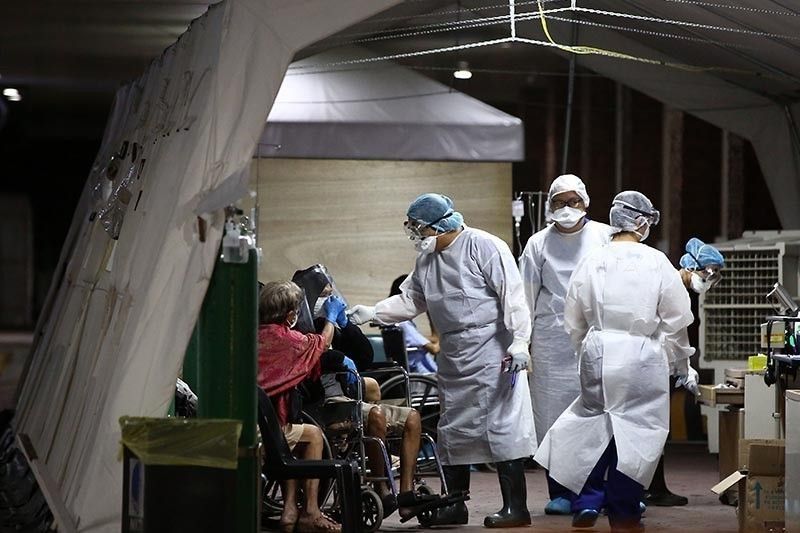 MANILA, Philippines — The St. Luke's Medical Center and the National Kidney and Transplant Institute asked coronavirus disease (COVID-19) patients to seek treatment from other health care facilities as they had reached full capacity in handling virus cases.
This comes as the country experiences a surge in COVID-19 cases following the further easing of restrictions nationwide. Latest figure from the DOH showed that outbreak epicenter Metro Manila reported 7,413 infections in just a week alone or from July 12 to 18.
In an advisory Monday, SLMC announced it had reached full capacity in all intensive care units for coronavirus patients for both hospitals in Quezon City and Bonifacio Global City. It also said critical beds in its emergency room were full despite having increased it to twice its capacity.
"The COVID-19 wards in both hospitals are likewise full. Several patients for admission are now lined up in the emergency room," SLMC said.
Call for help
In an open letter Monday, Rose Marie Rosete-Liquete, NKTI executive director, said the hospital's designated COVID-19 facility has had 100% occupancy for many weeks and dialysis patients from other centers flocked to its already congested emergency room.
"The emergency room remains congested. The hot zone is full. This is a call for your help to solve the situation," Rosete-Liquete said as she urged emergency COVID-19 cases or non-coronavirus patients to transfer to other hospitals.
"I hope our current situation will be addressed. Many government facilities have donated to [different] facilities, one way or another. And while NKTI has practically knocked on all doors but still, our letters, our pleases, have not been fully answered," she added.
NKTI also expressed concern for chronic renal patients who trooped to the hospital because they were turned away by other facilities for being COVID-19 positive or their dialysis centers were closed down.
"We, at the NKTI, have the most vulnerable patients. Just imagine numerous chronic renal patients with comorbidities—commonly with hypertension, diabetes and often also with heart diseases—inflicted with the coronavirus pulmonary infection, all trooping to NKTI," Rosete-Liquete said.
The hospital also sounded alarm on the condition of its medical frontliners.
"Our healthcare workers deserve quarantine breaks, a livable accommodation, transportation, and more realistic allowances commensurate to their unconditional service. It should not be given like an incentive because they actually deserve more than that; their service to humanity is immeasurable," Rosete-Liquete said.
To date, 174 healthcare workers have tested positive for COVID-19 at NKTI—most of whom are nurses, nephrologists, internists and medical technologists.
"The COVID-19 pandemic will probably remain for next one or two years. And we, the NKTI, your specialty transplant center, cannot be a breeding ground of the virus for that same period," the hospital's executive director said.
"Our census for transplant has precipitously dropped which means less and less of our patients can go back to the normal stream of life; less and less of the Filipinos shall become healthy in the years to come. This threat must be stopped," she added.
The coronavirus pandemic has far infected 67,456 people in the Philippines, with 1,831 deaths.
As It Happens
LATEST UPDATE: November 29, 2021 - 11:00am
Follow this thread for updates on COVID-19 risk levels, safety measures, and data from Metro Manila's local government units.
Photo: The STAR/Michael Varcas
November 29, 2021 - 11:00am
Metro Manila mayors have agreed to reimpose the number coding scheme in the capital region, MMDA chair Benhur Abalos says.
According to a report from state-run PTV, the number coding scheme will be implemented in Metro Manila from Monday to Friday, 5 p.m. to 8 p.m.
However, public transportation and motorcycles will not be covered by the scheme.
November 21, 2021 - 1:38pm
People in Barangay Central in Quezon City can exchange their used face shields on Monday for face masks, alcohol and vitamins, Akbayan party-list says in an advisory.
The party-list, which is joining the 2022 elections, said it will put up a "palit face shield" booth at Kalayaan Plaza Market in Kalayaan Avenue in Barangay Central.
Kalayaan Ave., Brgy. Central, Quezon City
Dr. RJ Naguit, the party-list's second nominee, said the group wants to help the public properly dispose of the face shields, which he said "have no real significant protective benefits."
The wearing of face shields, mandatory in public in the Philippines since December 2020, are no longer mandatory. Government officials said, though, that private establishments can still require them.
November 17, 2021 - 3:50pm
RiteMed Philippines Inc. announces that the first batch of anti-Covid oral drug Molnupiravir, under the brand name MOLNARZ, has arrived in the Philippines.
This will allow the company to start its distribution initially to hospitals that have secured compassionate special permits from the Food and Drug Administration.
November 8, 2021 - 10:13am
The City of Manila issues an executive order declaring the use of face shields as non-mandatory except in medical facilities.
The order cites the de-escalation of the alert level status of the Manila and the rest of the National Capital Region last November 4.
OFFICIAL MPIO NEWS RELEASE: Isko lifts use of face shields as requirement except in medical facilities. pic.twitter.com/8bPdLhEp5T

— Manila Public Information Office (@ManilaPIO) November 8, 2021
November 8, 2021 - 9:04am
Metro Manila mayors have agreed to remove the mandatory wearing of face shields, MMDA chair Benhur Abalos says.
Face shields would only be worn in critical areas, such as hospitals.
The mayors have yet to recommend this to the government's pandemic task force.