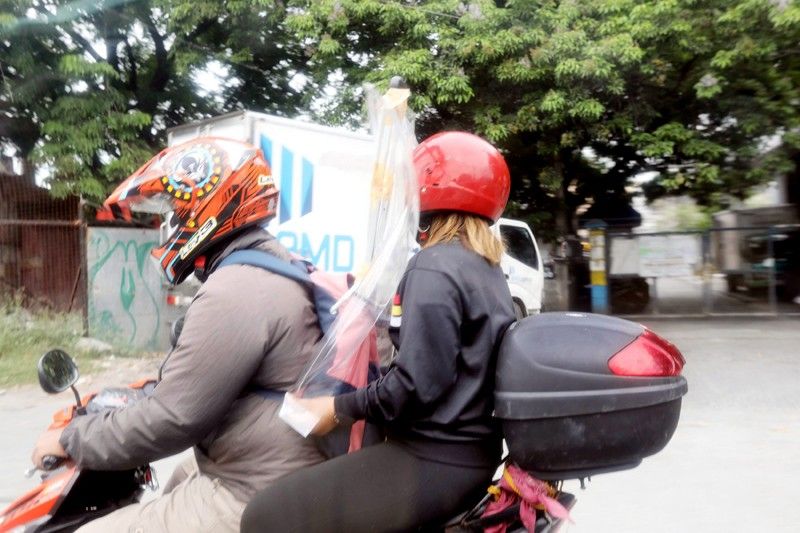 A couple rides with a makeshift divider on the motorcycle along Marcos Highway in Cainta, Rizal yesterday.
Boy Santos
Government allows back-riding for couples
MANILA, Philippines — Starting today, couples can ride together on motorcycles as long as they comply with minimum health standards and the mandatory use of body shields to prevent direct physical contact between driver and passenger, presidential spokesman Harry Roque Jr. said.
"Back-riding is allowed between married couples," he announced at a virtual press briefing yesterday.
But Interior Secretary Eduardo Año clarified that couples need not necessarily be married for as long as they are living under one roof.
"Couple living in the same household, whether they are married or they are common-law husband and wife or boyfriend and girlfriend but they are living in the same household (can back-ride)," he told dzMM.
Año explained that couples should have the same last name or address in their IDs in order to prove that they are living together.
The proposal is up for final approval today by the Inter-Agency Task Force for the Management of Emerging Infectious Diseases (IATF), which also OK'd the prototype shield proposed by Bohol Gov. Arthur Yap.
"The couple must abide with minimum public health standards, such as wearing face masks and helmet, and follow the speed limits," Roque said.
The new road courtesy will not cover the operations of motorcycle-riding apps such as Angkas whose franchise has already lapsed, he added.
Pressed on why relatives or a father and son cannot ride in tandem, Roque said the public clamor came only from married couples.
Lt. Gen. Guillermo Eleazar, Philippine National Police (PNP) deputy chief for operations, said they are now crafting guidelines to prevent confusion in its implementation.
He stressed the need for specific guidelines to prevent some people from pretending to be couples just to get through quarantine control points or checkpoints.
"They would do every alibi that they can think of just to circumvent the rules even if they are fully aware that what they are doing is wrong," he said in a statement.
Another problem that could surface, according to Eleazar, is when people would just use dividers which do not meet the safety standards set by government.
Eleazar ordered policemen manning control points to check for identification cards and other documents that would prove the couple is living at the same address.
Sen. Grace Poe welcomed the decision to allow couples on one motorcycle as part of the effort to ease the problem on public transportation during the COVID-19 pandemic, saying this brings a significant relief to families who rely solely on their motorcycles to get to work or place of livelihood faster.
"Rationality and compassion for Filipino families finally prevailed in this policy," said Poe. "Every trip demands strict adherence to existing safety protocols and diligence in wearing face masks and helmets, disinfection and obeying traffic rules, to ensure a virus-free ride."
Thinking that some people might take advantage of the decision, Metropolitan Manila Development Authority (MMDA) traffic chief Bong Nebrija warned the public against using colorum motorcycles or habal-habal to get to their destinations.
He cited the MMDA experience during the start of the enhanced community quarantine when motorcycle riders pretended to be married or live-in couples just to evade penalties.
"We are not pleading to those who are legally married or live-in partners. They are allowed to ride on motorcycles together. The question is for colorum motorcycle riders who will take advantage of this again," Nebrija said, clarifying that they are still waiting for the guidelines on its implementation.
Violators of the new back-riding policy may be penalized under Republic Act 11332 or the Mandatory Reporting of Notifiable Diseases and Health Events of Public Health Concern Act.
Meanwhile, Mandaluyong Mayor Menchie Abalos has asked the city council to temporarily suspend the implementation of its anti-riding in tandem ordinance as the government started allowing pillion riding for couples starting today.
The city has an existing ordinance that bans males from back riding on motorcycles within city limits, unless they are immediate family members or law enforcers, supposedly to prevent crimes such as theft, mugging, murder or other crimes perpetrated by male suspects aboard motorcycles.
In a letter to Vice Mayor Anthony Suva, presiding officer of the city council, Abalos appealed for the local legislative body's support for the move as residents are facing a continued lack of public transportation despite the easing of quarantine restrictions.
"More offices have reopened under the general community quarantine and thus, there is an even greater need to provide alternative modes of transportation," Abalos said in the letter dated July 4.
While the police cited the ordinance for the decrease in motorcycle-related crimes, it hasn't stopped them from happening. Last January, a construction worker who had just been added to his barangay's drug watchlist was killed by motorcycle-riding gunmen in Barangay Hagdang Bato.
Last year, a lawyer who was apprehended while using the Angkas motorcycle service filed a case in a Mandaluyong court challenging the constitutionality of the ordinance. Christian Imperio, Romina Cabrera, Neil Jayson Servallos, Emmanuel Tupas, Cecille Suerte Felipe, Marc Jayson Cayabyab
Related video: