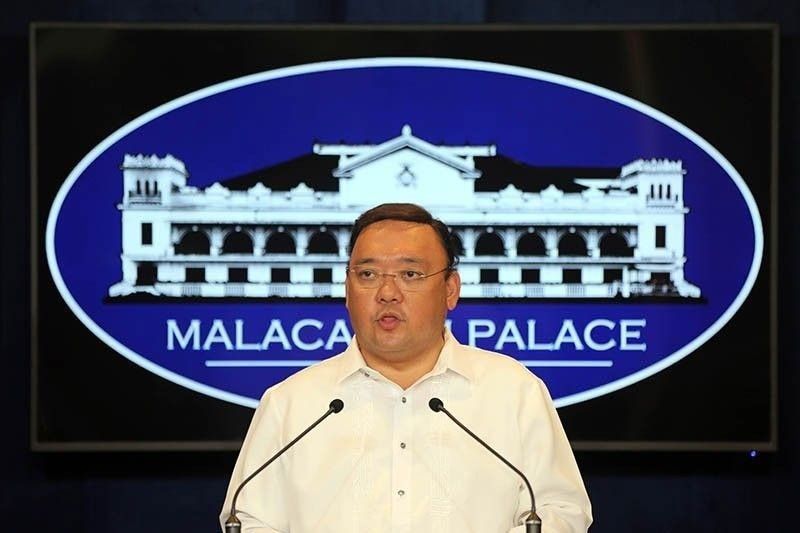 As part of conditions for the lifting of the travel ban, travelers on tourist visas would be asked to submit confirmed round-trip tickets, presidential spokesman Harry Roque Jr. said yesterday.
STAR/Krizjohn Rosales, file
Ban on non-essential foreign travel lifted
MANILA, Philippines — Filipinos can now travel abroad for business or tourism at their own risk and subject to government guidelines with the lifting of the ban on non-essential trips by the Inter-Agency Task Force on the Management of Emerging Infectious Diseases (IATF).
"The suspension of non-essential travel by Filipinos pursuant to IATF Resolution No. 13 dated 17 March 2020 is hereby lifted. All travel restrictions relative to outbound travel of Filipinos pursuant to IATF resolutions are likewise lifted," the resolution read.
As part of conditions for the lifting of the travel ban, travelers on tourist visas would be asked to submit confirmed round-trip tickets, presidential spokesman Harry Roque Jr. said yesterday.
"Let's not yet jump for joy, tourism is still not allowed. But what will happen is – there will be requirements for travelers that they have to present to the Bureau of Immigration," Roque said in Filipino.
"All non-essential trips of Filipinos will be subject to conditions – primarily, round-trip tickets for those with tourist visas," Roque said.
He added that Filipinos leaving the country should have proper health insurance to cover possible rebooking and accommodation in case they get stranded or need to be treated in case of sickness.
They will also be asked to execute a declaration acknowledging the risks involved in going abroad.
The Department of Tourism should also be informed about coverage of their travel insurance.
The IATF has set the condition to ensure the safety of Filipino travelers in case they get sick while out of the country.
Upon their return, Filipino overseas travelers should follow guidelines set by the National Task Force on COVID, particularly by having themselves subject to PCR test and quarantine while awaiting test result, Roque said. The same guidelines shall apply to returning overseas Filipino workers (OFWs).
Under an earlier IATF resolution No. 13, overseas travel was only allowed for OFWs and foreign nationals leaving the country during the duration of the Luzon-wide enhanced community quarantine. Heads of missions or their designated foreign mission representatives, including foreign mission and their staff, were exempted from home quarantine requirements when performing diplomatic functions.
Meanwhile, the Department of Trade and Industry has also released updated guidelines allowing salons and barbershops to offer more services in areas now under the most lenient modified general community quarantine (MGCQ).
Aside from hair cut and hair treatment, nail care services, basic facial care like make-up, eyebrow threading, eyelash extension and facial massage; and basic personal care services like waxing, threading, shaving, foot spa and hand spa are now allowed in MGCQ areas.
In GCQ areas, barbershops and salons are allowed only haircutting and hair treatment services.
"This will be subject to protocols on hand sanitation, face masks or face shield, gloves and sterilized equipment," Roque said at a press briefing.
Previously, only haircutting was allowed due to concerns over safe distancing. The guidelines were relaxed after barbershops and beauty parlors came up with plans to ensure that proper hygiene and safe physical distancing would be observed in their shops.
The trade department has also allowed the gradual increase in the number of patrons barbershops and salons can accommodate at any given time.
For GCQ areas, barbershops and salons can fill up to 30 percent of their capacity until July 15. Beginning July 16, they can fill up to half of their capacity. Barber shops and salons in MGCQ areas, meanwhile, are allowed up to half of their capacity until July 15 and up to 75 percent starting July 16.
The establishments should strictly enforce a "no face mask, no entry policy" and provide their clients with rubbing alcohol. They are also required to register with SafePass or staysafe.ph for contact tracing.
Barbershops and salons should also check the temperatures of customers before letting them in. Those with temperatures higher than 37.5 degrees Celsius and those with colds, coughs and breathing difficulties should be denied entry. Chairs inside salons and barbershops should be at least one meter apart on all sides. There should also be proper ventilation and exhaust system in the establishments. Alexis Romero, Rudy Santos