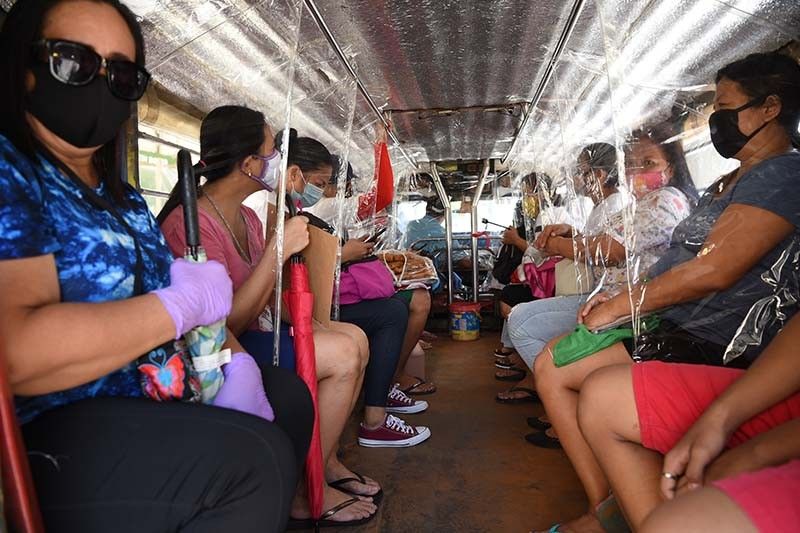 Passengers travel on a jeepney with seat dividers to ensure social distancing in Manila on July 6, 2020, after thousands of jeepneys hit the road again after over three months since they were forced to stop operation amid the COVID-19 coronavirus pandemic.
AFP/Ted Aljibe
DOH apologizes for mistakenly identifying emerging COVID-19 hotspots in Metro Manila
MANILA, Philippines — The Department of Health issued an apology Monday night hours after it mistakenly announced that four cities in Metro Manila had been classified as emerging virus hotspots.
In a televised briefing Monday afternoon, Health Undersecretary Maria Rosario Vergeire identified the cities of Marikina, Muntinlupa, Makati and Quezon City as emerging hotspots.
She said Marikina City had 51 cases for a case growth rate of 43.47%, while Muntinlupa had 30 cases for a case growth rate of 35.16%. Quezon City's 406 cases represented a 34.5% growth rate and Makati's 135 cases for a 30.18% growth rate.
The data that Vergeire mentioned, however, were from June.
"The following cities were mistakenly classified as hotspots and was based on a report last month," the DOH said in a statement Monday night.
It said that as of July 5, three of the four cities earlier mentioned showed decline in the growth of COVID-19 cases, with Marikina decreasing by 68%, Muntinlupa by 10% and Makati by 4%.
But the department said it is closely monitoring the situation in Quezon City, which has shown an increase by 34%.
"We apologize for the confusion. This is our up to date record. We will redouble our efforts to keep our reports as current as possible," the DOH said.
The total number of COVID-19 cases reached 46,333 Tuesday after the DOH added 2,099 infections to its tally. The recent spike in virus cases was attributed to "increased contact among the population" as the government further eased restrictions on movement nationwide.
The health agency is keeping an eye in Metro Manila and Cebu City after detecting clustering of cases.
Last week, President Rodrigo Duterte announced Cebu City in Central Visayas will remain under the strictest enhanced community quarantine, while Metro Manila will stay under general community quarantine at least until the end of the month.
As It Happens
LATEST UPDATE: August 2, 2020 - 9:24am
Other regions and provinces in the Philippines considered moderate and low-risk areas will be placed under general community quarantine starting May 1. Bookmark this page for updates. (Main image by The STAR/Edd Gumban)
August 2, 2020 - 9:24am
Motorcycle riders on Sunday hold a protest at the Commission on Human Rights grounds on Sunday against motorcycle barriers that they as well as engineers have said are unsafe.
ABS-CBN's TeleRadyo reports that the group, Kagulong, says the barriers are also expensive aside from being unsafe.
August 1, 2020 - 4:11pm
Presidential spokesperson Harry Roque says that President Rodrigo Duterte has directed the IATF-EID to act on the concerns of the healthcare workers immediately.
"The Palace considers our skilled, tireless and dedicated healthcare workers as important frontliners in the battle against COVID-19." says Roque. — The STAR/Christina Mendez
August 1, 2020 - 2:27pm
The Department of Health says they support the call of medical frontliners "to ensure appropriate implementation of community quarantines to ensure the protection of our health workers."
"But while the government is taking the necessary actions to address the situation, we emphasize that it is also the duty of every citizen to ensure that our health system is not overwhelmed. With this, we continue to call on everyone to BIDA Solusyon," the department says.
"We welcome this opportunity to continuously work with the medical societies and our healthcare workers on a united and strategic course of action to win the battle versus this pandemic," it adds.
July 31, 2020 - 10:22am
Filipinos appear to have different opinions on going to work and attending religious services in case the community quarantine ends next month according to a Social Weather Stations survey.
The poll released Friday found that 55% feel comfortable and 40% feel uncomfortable about going to work after lockdown.
The same survey showed that 45% of Filipino adults feel comfortable while 54% feel uncomfortable about going to church or mosque if the community quarantine is lifted.
July 31, 2020 - 9:38am
Metro Manila will remain under general community quarantine starting August 1, President Rodrigo Duterte announces.
Other areas to remain under GCQ are Bulacan, Cavite, Laguna, Rizal, Cebu City, Lapu-Lapu City, Mandaue City and Zamboanga City.
The rest of the Philippines will be under modified general community quarantine.