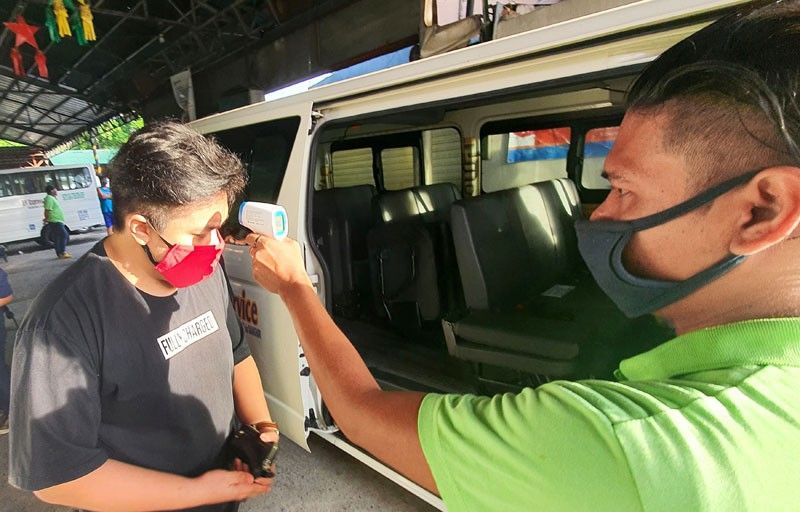 A passenger undergoes a temparature scan before boarding a UV Express as the service resumed yesterday.
Edd Gumban
UV Express back; traditional jeepney routes out this week
MANILA, Philippines — After being sidelined for three months due to quarantine restrictions, UV Express units returned to the streets yesterday, to tepid commuter response.
"Roadworthy" traditional jeepneys will also be allowed, but the routes where they can operate in Metro Manila are still being worked out and will be released later this week.
Malacañang noted that traditional jeepneys are now allowed to resume operations in some parts of the country.
Presidential spokesman Harry Roque Jr. said yesterday that the traditional jeepneys are now allowed in Caraga, Northern Mindanao, Davao region, Cordillera Administrative Region, Ilocos, Eastern Visayas and SOCCSKSARGEN regions; Bulacan, Pampanga, Cagayan de Oro, South Cotabato and Siquijor.
The public utility jeepneys, he noted, were permitted to resume operations due to the lack of transportation in those areas.
"But if you are referring to Metro Manila, let's wait for LTFRB (Land Transportation Franchising and Regulatory Board) to make the decision," Roque added at yesterday's press briefing.
LTFRB chairman Martin Delgra III said his agency is still working on the list of jeepney routes that will be allowed back. He hopes to release the list either today or on Wednesday.
"We are still completing the list of routes of traditional jeepneys. But we're looking at Thursday or Friday for them to be deployed on the routes that will be identified," Delgra said in a virtual press conference.
While the LTFRB could not give an initial list of routes, Delgra said jeepney operators and drivers could expect more than 30 routes available this week.
As UV Express units resumed operations yesterday in Metro Manila and neighboring areas, operators and drivers reported few riders amid health protocols enforced in the vehicles.
The operators said they expected the number of riders to increase as more people become aware of the resumption of UV Express operations.
The UV Express units have limited passenger capacity and are allowed only terminal-to-terminal service. Passengers must fill out forms for contact tracing.
The government sidetracked the return of traditional jeepneys as quarantine restrictions were eased earlier this month to prioritize public utility vehicles (PUV) that have higher carrying capacities, considering the passenger limit enforced to prevent the spread of the virus.
The Department of Transportation earlier explained that passengers were at risk in traditional jeepneys due to difficulties in enforcing health protocols inside the vehicles.
Malacañang, however, earlier said "roadworthy" traditional jeepneys would be allowed to ply roads if modern units are not enough to accommodate the volume of commuters.
The government has been following a hierarchy of public transport modes, wherein traditional jeepneys are at the bottom due to difficulties in implementing safe physical distancing.
Aside from the existing routes for modern jeepneys and buses that have already opened in major thoroughfares, the LTFRB said it was also looking at including routes within cities in Metro Manila.
"I would rather not put an exact number of routes, but it is necessary for us to release first the Memorandum Circular for the matter," Delgra said, explaining that the number of jeepney units to be deployed would be dependent on how many routes would be opened.
The LTFRB said that while they would waive the issuance of special permits for traditional jeepneys to return to roads, it would be strict in enforcing and monitoring their compliance in terms of roadworthiness, public health and environmental considerations.
Jeepney operators have been asking the government to allow them to resume operations, saying some of their drivers have resorted to begging to support their families.
But Delgra said public utility vehicles would be receiving an extra cash assistance for fuel subsidy from the government.
With the enforcement of the GCQ since June 1, some quarantine restrictions were relaxed and some modes of public transportation were allowed to resume operations in two phases.
For Phase 1 covering June 1 to 21, the government has allowed the operation but with limited passenger capacity of trains, bus augmentation services, taxis, transport network vehicle services (TNVS), shuttle services, P2P buses and bicycles. Tricycles have also been allowed to operate even before the first phase but with the approval of local government units.
In the second phase that commenced last week, modern jeepneys and buses have been allowed, although not enough to cater to thousands of workers, according to commuters and transport experts. UV Express vehicles have also been allowed this week.