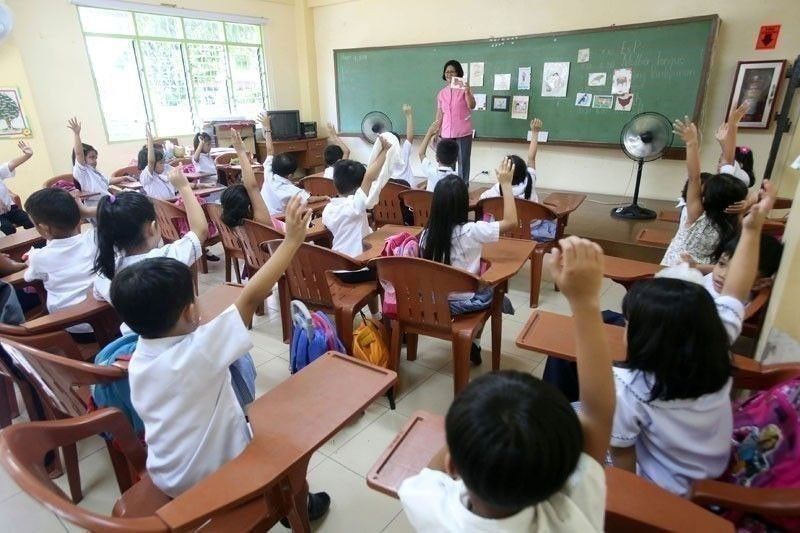 In a statement, the Coordinating Council of Private Educational Associations (COCOPEA) said its members recognize the financial difficulties of many families affected by the coronavirus disease 2019 (COVID-19) pandemic.
The STAR/Boy Santos, file
Some private schools cut fees, defer tuition hikes
Janvic Mateo
(The Philippine Star) - June 27, 2020 - 12:00am
MANILA, Philippines — Despite additional expenses for the shift to blended or distance learning, some private schools have decided to either reduce fees or halt plans to increase tuition next school year.
In a statement, the Coordinating Council of Private Educational Associations (COCOPEA) said its members recognize the financial difficulties of many families affected by the coronavirus disease 2019 (COVID-19) pandemic.
It said many of their members have either reduced fees, withdrew application for increases or deferred scheduled hikes for the upcoming school year.
And, as the education system adopts blended learning methods to protect students from the coronavirus, Sen. Bong Go urged the Department of Education (DepEd) to draw an action plan to address the concerns of Filipinos for school year 2020-2021.
He also reminded agencies to work together to provide for alternative and remote learning methods that can ensure access to education even for students who have no internet connection.
Teachers, Go added, must be given sufficient training in the use of various multimedia platforms for teaching as well as in providing psychosocial support to students.
In ensuring tuition would not be hiked for the incoming school year, Federation of Associations of Private Schools Administrators president Eleazardo Kasilag pointed out that many of the COCOPEA members are afraid that enrollment would plunge, with some considering temporary closure until face-to-face classes can be resumed.
Not only will there be no tuition hike, "most of us even scrapped miscellaneous fees," he told The STAR.
According to COCOPEA, the shift to distance learning would mean additional costs to private schools as they cited the checklist issued by DepEd on the minimum requirements needed before they can start classes.
Implementing online distance learning, for instance, requires schools to have their own educational platform or learning management system and the technical expertise to run it 24/7, as well as having helpdesk personnel to answer queries from teachers and students.
Those who would implement module-based distance learning are required to have complete and appropriate content for the first quarter, as well as reference and supplementary materials for distribution to learners.
"In the absence of government appropriation, these are therefore expected to be funded from tuition payments of students. In fact, the department has also acknowledged that the public schools need additional funding from the government for the training of its own public school teachers and procurement of gadgets, equipment and technology needed for the various modalities in their respective schools," the COCOPEA said.
It explained that tuition is the lifeblood of schools and their personnel as 70 percent of operational costs go to salaries and benefits of teachers and other employees.
On the miscellaneous fees, it said some of those deemed to be inconsistent with distance learning – such as those concerning athletics, library, laboratories and medical and dental services – are part of the long-term development plan of the schools.
"At first glance, it is easy to conclude that private schools should no longer be charging their corresponding fees because students won't be using these facilities during the school year under distance or remote learning," said the group.
"This is not necessarily accurate… The fact remains that these facilities and services still have to be kept by private schools in anticipation of the reversion to face-to-face learning when the pandemic ends," it added, citing attendant costs despite being unutilized.
COCOPEA said it has been asking the government for economic intervention to support private schools.
DepEd on Thursday asked private schools to defer plans to hike tuition in recognition of the financial constraints of families due to the pandemic. Nevertheless, the partial data it released showed that 654 private schools have already been allowed to hike fees next school year as of May 15.
This represents 73 percent of the 901 applications received by the 13 regional offices that have submitted reports on tuition and other fee increases. Those regions have a total of 16,493 private schools.
According to DepEd, 556 applications were filed before community quarantine measures were put in place, while 345 were submitted during the quarantine period.
The average tuition hike applied for was 13 percent.
Equal opportunities
Go said DepEd and relevant agencies must work to allow students, especially those in areas with no internet, access to education.
"Many students still do not have internet access. Authorities should ensure that equal opportunities must also be given them so they could continue their studies. That is why I am urging DepEd to make their programs accessible and inclusive through online and offline methods of teaching for the benefit of students wherever they are in the country," the lawmaker noted.
Go earlier recommended the use of available media, such as television and radio, to facilitate distance learning among students.
He cited Republic Act 8370, also known as the Children's Television Act of 1997, which requires the dedication of at least 15 percent of a network's daily total airtime to programs that further children's positive development.
The state-run Intercontinental Broadcasting Corp. (IBC-13) has offered the use of its television facilities as a remote learning platform, which would enable DepEd to air curriculum-based programs when the school year opens.
Go, who chairs the Senate committee on health, said DepEd should also factor in students with disabilities in the implementation of their plan. The integration of social and emotional learning should be emphasized given the ongoing pandemic which has affected the lives of students and their families.
"We will take this one step at a time so that we can slowly but surely ensure that education continues without compromising the safety of our students even when we do not want to delay the opening of classes," he cautioned.
Voucher program
DepEd said it would continue the implementation of the senior high school voucher program despite a budget cut of P1.7 billion.
The agency said it is finalizing the implementation and would open the application for new beneficiaries once the necessary information and funding are in place.
"DepEd would like to reassure the public of its commitment to continue with the program. While this is a big challenge, we continue to pursue other funding to provide this aid as it is our learners' right," it said.
The voucher program provides financial assistance to senior high school students enrolled in private schools and state/local universities and colleges offering basic education.
Based on the 2020 budget, Congress originally allocated P23.9 billion to the senior high school program.
With the P1.7-billion reduction due to reallocation for programs related to pandemic response, the program still has P22.23 billion, still higher than last year's P18.755 billion. Edu Punay, Romina Cabrera, Rainier Allan Ronda