Government probes 'cloned' Facebook accounts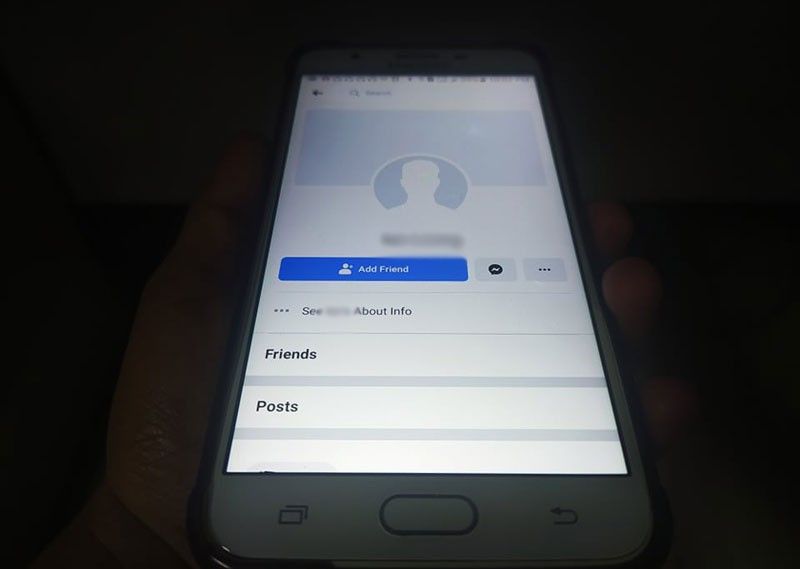 MANILA, Philippines — The National Privacy Commission (NPC) is investigating the reported large-scale faking of Facebook accounts including those of thousands of university students, especially those who have engaged in activism against the proposed Anti-Terrorism Act.
In a public advisory posted on Twitter, the University of the Philippines said it reached out to the NPC after receiving reports of fake or dummy Facebook accounts of UP students and alumni being created.
Upon receiving the reports, NPC commissioner Raymund Liboro said he immediately coordinated with Facebook (FB) Philippines for an investigation.
"We're already looking into it," Liboro told The STAR yesterday. "I have already coordinated with Facebook regarding this, and they are also investigating it on their end."
He said he was immediately alerted by friends and stakeholders in the data privacy and security industry about the cloning, which also hit people from other universities and those who are not students.
"This is the first time that we have encountered such (a phenomenon)," the privacy commissioner said, describing it as an "apparent systematic effort of creating impostor Facebook accounts."
"We don't know the extent, and we don't know how it is happening," he explained.
In a statement, Liboro said the NPC was "monitoring reports about the proliferation of alleged impostor FB accounts that have victimized Filipino data subjects."
"While the extent of these incidents are not yet fully determined at this time, we have been receiving reports from different sectors, mostly coming from academic institutions," he said.
"We immediately brought this to the attention of Facebook. According to Ms. Clare Amador, Facebook representative in the Philippines, they are already investigating this particular matter as well as other information on unauthorized FB accounts," he added.
Liboro said that he had instructed FB to report its significant findings as soon as these become available.
UP issued a public advisory about the existence of duplicate accounts and asked its members to check their FB accounts for profiles made without their consent.
"The University of the Philippines System has received reports that fake or dummy Facebook accounts have been created for UP students, officials, and alumni. We urge the members of the UP community to check their names and accounts and to make the proper report to the data protection officer of Facebook," the UP System said in an FB post.
The UP Office of the Student Regent, in a tweet, advised: "Following protests in UP campuses and threats to our students, there are now multiple reports of empty, duplicate, and fake accounts bearing the names of UP students."
DLSU-Manila, on the other hand, issued a statement on the phenomenon.
"It has come to our attention that there has been a surge in the creation of empty and/or fake Facebook accounts by individuals and groups that pose as members of the De La Salle University community," DLSU said.
"Postings from these accounts are unauthorized and do not reflect the views and positions of the institution," the university said. "We urge members of the Lasallian community to remain vigilant and refrain from responding or clicking on any links in the suspicious email or friend requests."
Affected users have asked their friends to report the bogus profiles bearing their names with a blank profile picture. These accounts were newly created and some have reported that multiple profiles have been generated.
Liboro further advised, "We urge everyone to report alleged impostor accounts to Facebook through www.facebook.com/help/report."
Cyber Security Philippines-CERT also urged those with fake accounts to report this to the NPC via www.privacy.gov.ph/complaints-main/.
Cybercrime unit investigates
Justice Secretary Menardo Guevarra yesterday said he would instruct the Office of Cybercrime, in coordination with the Philippine National Police (PNP) and National Bureau of Investigation (NBI), to investigate the rapid increase of FB dummy accounts.
"I will immediately direct the DOJ (Department of Justice) Office of Cybercrime to coordinate with the NBI and PNP Cybercrime Units to promptly investigate the apparent proliferation of fake or dummy accounts on Facebook," said Guevarra.
The justice chief admitted that false information posted on these bogus Facebook accounts is a cause of concern, especially when there is a prevailing public health crisis in the country.
"This gives me cause for worry. We don't need false information at a time when we're dealing with a serious public health crisis," he added.
Hysteria
The large-scale faking of FB accounts of thousands of university students is triggering hysteria in the academic community, especially after the recent hacking of the San Beda University (SBU) students' web portal which resulted in widespread personal data theft of the school's students.
The hackers had defaced the student portal, posting first a "Doomsday" and then a "Pandora's Box" countdown warning, first done last June 4.
The SBU administration had issued an advisory to its students on the hack last Saturday.
"We discovered an incident where your email address and password, as used in the student portal was accessed by an unknown entity, purporting to be a hacker, and illegally released the same publicly via social media platform Twitter," the SBU was quoted as saying in a statement on online news reports.
According to the school, the hacker that undertook the breach gained access to personal data of its users including full name of students, guardians and faculty; birthday of students; addresses of students and guardians; passwords and email addresses; contact numbers of students and guardians; student grades; student identification number; course; previous schools attended by student, and statement of accounts.
The student portal is where the school's students can view their grades and enter their personal information for enrollment.
The website of SBU was still inaccessible at presstime yesterday.
Fisherfolk group Pambansang Lakas ng Kilusang Mamamalakaya ng Pilipinas (Pamalakaya) yesterday raised alarm over some of their FB users who have either liked, shared or posted status related to the controversial anti-terrorism bill, finding out that they now have dummy accounts.
"Facebook should look into this matter seriously. We believe that this may not just be a simple glitch, but definitely a new form of targeted cyber attack against dissenters and critics of the administration," Pamalakaya national chairperson Fernando Hicap said.
Reports have also started going around yesterday evening that the impostor accounts have allegedly started sending threatening messages to their namesake accounts on the platform.
Trolls borne out of protest actions
The STAR reporter Marc Jayson Cayabyab said, "Following protest actions in UP, spurious and duplicate accounts have emerged pretending to be accounts of UP students and alumni. These accounts could be used as trolls in their social media machinery. So let us do our part in helping friends and reporting these cases," he said.
Journalist Christina Mendez, whose social media account was also cloned, said she will change her security and privacy settings and will unsubscribe to groups to limit exposure to scammers.
Leo Laparan, deskman of The STAR, also posted, "If I am your FB friend, please note that I have a profile pic and I have legit posts (like this). Any one of these 'Leo Laps' who don't have prof pictures, info and posts are NOT ME. Thank you so much!"
The STAR columnist Bum Tenorio Jr. asked his friends to disregard requests from a certain "Bumbaki Tenorio" and help report that as a fake account.
"Though I am also known by that sobriquet, that account is not mine. This is my one and only FB account. I don't know how to create any account on socmed. All my existing accounts were created by my trustworthy friends… I hope that bogus account will be taken out long before my photos and other details will be transported to it," he said. Louella Desiderio, Evelyn Macairan, Charmie Joy Pagulong, Elizabeth Marcelo