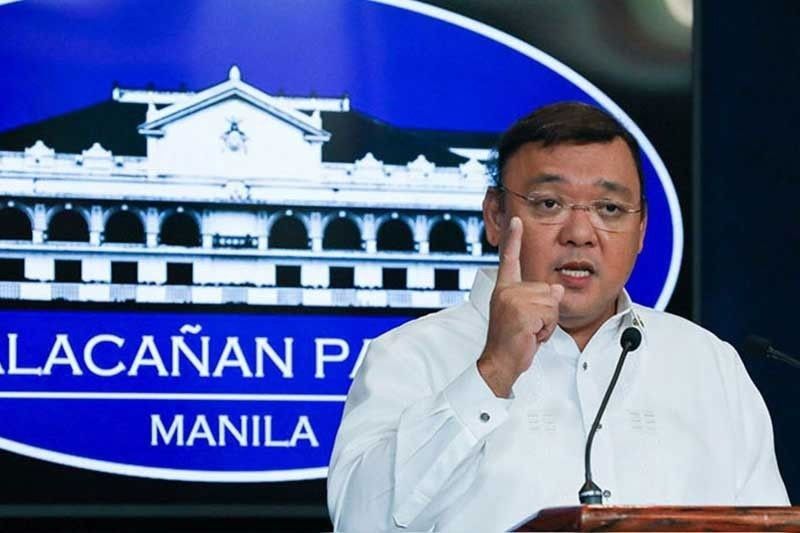 "No place in the Philippines is under ECQ and MECQ. But if many of us do not follow health protocols or do not observe social distancing or physical distancing, wash hands, and continue to leave their homes for unnecessary reasons, we may revert to ECQ or MECQ," said presidential spokesman Harry Roque.
Presidential Photo/Toto Lozano
Palace warns ECQ may be reimposed if…
MANILA, Philippines — As quarantine measures were eased nationwide yesterday, Malacañang warned the people that stricter protocols under another enhanced community quarantine (ECQ) could be reimposed if the public fails to observe safe physical distancing and health standards that would prevent the spread of the coronavirus.
Metro Manila, home to more than 12 million people and contributor of a third of the country's gross domestic product, shifted from modified enhanced community quarantine (MECQ) to the more lenient general community quarantine (GCQ) yesterday.
Central Luzon and Calabarzon regions, Baguio City, and the provinces of Pangasinan and Albay in Luzon, Central Visayas region and Iloilo City in the Visayas, and the cities of Zamboanga and Davao in Mindanao have also been downgraded to GCQ while the rest of the country are now under the most lenient modified general community quarantine (MGCQ).
"No place in the Philippines is under ECQ and MECQ. But if many of us do not follow health protocols or do not observe social distancing or physical distancing, wash hands, and continue to leave their homes for unnecessary reasons, we may revert to ECQ or MECQ," said presidential spokesman Harry Roque.
Officials have advised the public not to be complacent even if quarantine measures have been relaxed, saying the easing is being done to reopen the economy gradually and not because the threat of the virus is no longer present.
Interior Secretary Eduardo Año said that despite the rising number of COVID-19 cases, officials are convinced that the measures being implemented by the government are working.
"The lowering of (positive) rate is in our hands. We have to be homeliners. If we do not need to go out, stay at home, wash your hands, wear face mask, use disinfectants and for employers, if possible, adopt alternative work arrangements," he added.
Año claimed the additional cases are old ones and the increase in the number of deaths is not that sharp.
"We do not see congestion in hospitals. That is a good indicator that we are containing this virus. Despite the late reporting, the situation is not that bad because we thought we are running out of hospital beds and hundreds are dying," Año said.
"Overall, we can handle this situation and it does not mean we would go back to ECQ because based on our indicators, our health sector can respond to the patients of COVID," he added.
Roque, however, noted that the capacity of hospitals may be overwhelmed if the number of cases increase.
"We have 1,273 ICU (intensive care unit) beds, 820 of them vacant and 453 of them occupied. While this is a good sign, it can be filled up easily if we are not careful and we do not follow health protocols," the Palace spokesman said.
Survival of the fittest
Carlito Galvez, chief implementer of the national policy on the coronavirus disease 2019 (COVID-19), disputed notions that it would be survival of the fittest once Metro Manila is placed under GCQ.
Galvez said businesses and local governments have been implementing strict measures to contain the virus, which has so far infected more than 18,000 people in the Philippines.
"I don't think it's right to say it would be survival of the fittest because based on what we saw, people are complying," Galvez said.
"We can see that the business sector, they're heightening up the strict protocols. We are even happy that the LGUs (local government units) in Metro Manila and the business sector have high awareness – even stricter than the IATF (Inter-Agency Task Force on Emerging Infectious Diseases). We can see the concern of the LGUs and business sector," he added.
Galvez also justified the IATF's recommendation to ease quarantine restrictions, saying there is a need to reopen the economy.
President Duterte is expected to perform official functions while in Davao City, including presiding over a meeting of the government's coronavirus pandemic task force, Roque said yesterday.
Duterte went home to Davao City over the weekend, the second time he traveled to the southern city since the Philippines imposed quarantine protocols.
The first time was in the middle of May or 67 days after he was stuck in Malacañang because of lockdown measures.
"First, the President remained in Manila for 67 days and he went home for three days... So three days are not enough. But now that he is in Mindanao, he is not there just for a reunion. He would also monitor what is happening in Mindanao," Roque said.
"He will have official functions in Davao, including delivering a report to the nation and meeting with some members of the IATF," he added.
Roque said some members of the IATF would travel to Davao to attend the meeting. The President may deliver a public address from the southern city on June 4, he added.
Critics have assailed Duterte for traveling to Davao to be with his family while ordinary Filipinos cannot visit their kin because of quarantine restrictions. Roque defended the trip, saying the President needed to know what was happening in Mindanao.
The Philippine National Police (PNP) is considering plans to scale down the full alert status of law enforcers as the country transitions into more eased quarantine measures amid the pandemic.
"The alert status has not yet been downgraded but we will assess in a few days whether we are going to downgrade it or not," PNP chief Gen. Archie Gamboa said yesterday.
Police forces in several regions, including Metro Manila, Central Luzon, Calabarzon, Mimaropa and Bicol were placed on full alert last March when COVID-19 cases increased in many parts of the country.
Other police offices followed suit as the government declared a state of public health emergency.
Gamboa said that while the move to declare a full alert was in line with the emergency situation, the PNP encountered some difficulties as the maximum availability of cops under the full alert status coincided with the strict observance of social distancing in police facilities.
Under a full alert status, all day-off and leaves of PNP personnel were cancelled for maximum availability of officers.
"Where could they stay? So we still have to consider also. It's also possible that our full alert does not mean police officers should be physically present in offices all of the time. Probably they will just be on call at any time," he said. Neil Jayson Servallos