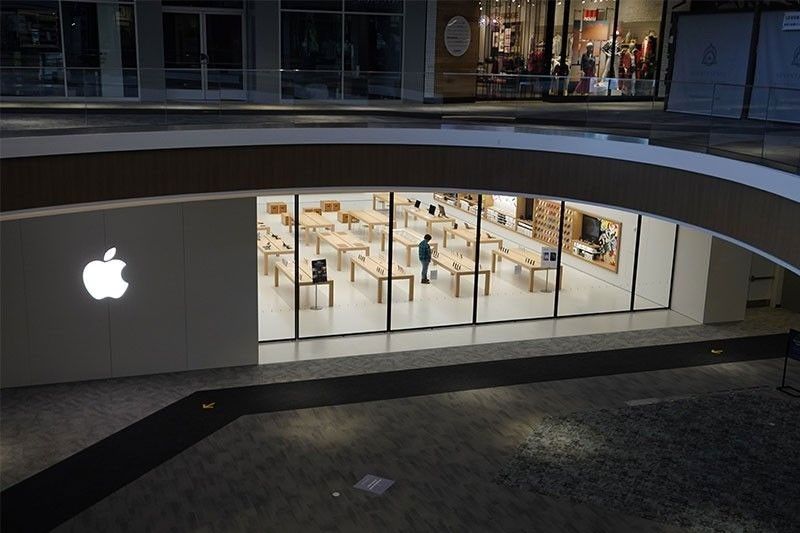 On Thursday, Google and Apple released the software it jointly developed to support contact tracing apps developed by or for public health authorities.
AFP/Timothy A. Clary
Philippines to use contact tracing tech from Google, Apple
MANILA, Philippines — The Philippines will request for access to the new software jointly developed by Google and Apple that aims to help in contact tracing efforts to prevent the spread of the coronavirus disease 2019 (COVID-19).
StaySafe.ph would incorporate the newly launched Exposure Notification technology once it is made available to the Department of Health, a representative confirmed to The STAR.
Developed by PLDT-backed Multisys Technologies Corporation, StaySafe.ph was previously adopted by the Interagency Task Force for the Management of Emerging Infectious Diseases as the official social distancing, health condition reporting and contact tracing system to assist the government in responding to the pandemic.
On Thursday, Google and Apple released the software it jointly developed to support contact tracing apps developed by or for public health authorities.
In a joint statement, the two companies said the Exposure Notification technology would enable contact tracing apps to work more accurately, reliably and effectively across both Android phones and iPhones.
"What we've built is not an app – rather public health agencies will incorporate the API (Application Programming Interface) into their own apps that people install," read the statement. "Our technology is designed to make these apps work better."
Representatives said the two companies worked together to respond to challenges in using technology for contact tracing, such as interoperability between devices, battery life and privacy.
Various governments have turned to technology in responding to the pandemic, such as through Bluetooth-supported contact tracing apps that inform users if they have come in contact with a confirmed case of COVID-19.
In the Philippines, StaySafe.ph was developed to create a community-driven contact tracing, health condition reporting and social distancing system.
It enables users to report their health conditions without disclosing sensitive information, with the data added to a dashboard that visually shows the areas with increasing or improving rate of COVID-19 cases.
In addition to the StaySafe.ph website, a mobile app has been developed for Android users, with an iOS version soon to be made available. Details on how Exposure Notification would work on StaySafe.ph have yet to be released.
According to Google and Apple, the technology-based exposure notification will augment but not substitute traditional contact tracing efforts. They also said that the technology could expand reach and rapidly notify unknown contacts of a COVID-19 patient.
The new system will not collect or use location from the device and would allow users to decide whether or not to opt-in to exposure notifications, they added.
"User adoption is key to success and we believe that these strong privacy protections are also the best way to encourage use of these apps," said the two companies. "Today, this technology is in the hands of public health agencies across the world who will take the lead and we will continue to support their efforts."
Meanwhile, Albay Rep. Joey Salceda revealed that social media platforms, search engines, live-streaming and online shopping apps have been raking in billions of pesos from Filipino netizens and it would be fair and best for the government to tax them.
"Facebook and Google earn P50 billion from ads catering to and paid by Filipinos and they don't pay VAT (value added tax) and income tax. Is that fair?" asked Salceda, chairman of the ways and means committee of the House of Representatives.
As per records culled from government, he added, the popular online shopping app Lazada pays a hefty P15 billion in taxes on a yearly basis, but that "the other half (sales of sellers) do not pay."
"So we make Lazada a withholding agent. Is that a new tax or a tax increase? No, we just make their overseas sellers pay VAT," Salceda said, saying his House Bill 6765 (Digital Economy Taxation Bill) is "clear and simple."
"Make Lazada or e-commerce platforms as withholding agents for VAT on imports from its sellers, mostly overseas. Require digital service providers like Facebook Google and Netflix to be domiciled before offering their services so they are subject to VAT and CIT," he said referring to the corporate income tax.
As for the very popular live-streaming app Netflix, Salceda also disclosed that the internet-based TV films and shows app earns P5 billion "from subscriptions paid by Filipinos."
"OK fine, but why do Filipino firms like DCTV (local cable TV providers) and Skycable pay VAT and income taxes? And Netflix does not, but it does in other countries like India, Indonesia and Europe," he argued.
Salceda's HB 6765 aims to raise about P29.1 billion in new revenues to help the country cope with the pandemic.
"No new taxes here, we just want them to pay their fair share. Assuming you're a company that sets up in the Philippines and you do video-streaming or music-streaming services, you will definitely pay taxes. But companies like Netflix and Spotify don't," he pointed out.
Salceda said the measure "will capture the value created by the digital economy better in the country's tax system, plugging loopholes due to ambiguities in what kind of taxes digital services are liable to."
"That's obviously not fair. When you're a network in the Philippines, advertising services paid to you will be subject to VAT. But Google and Facebook are not subject to VAT for advertising. They have been raking in millions, if not billions, in behalf of the Filipinos, but not a single cent from the value added tax. Zero," Salceda insisted.
He emphasized that these are not new taxes but are mere tax administration measures "that we hope will capture the value more fairly."
"Internet marketplaces like Lazada and Shopee are growing very rapidly due to COVID-19, but there may be issues of tax compliance among its partners too," he added. "These companies are making a killing because of isolation, but are not paying enough taxes."
"And we are not able to capture that because our current definitions do not include them as withholding agents even if they already have the money," Salceda lamented. Delon Porcalla