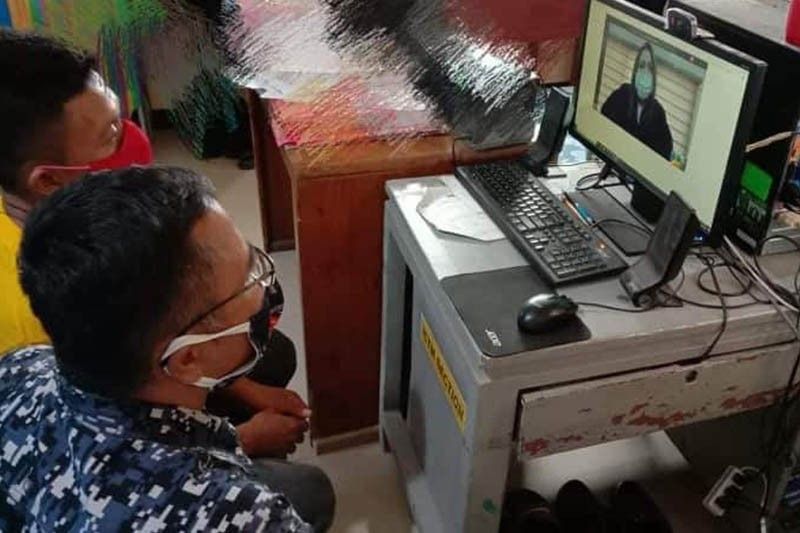 This undated photo from the Supreme Court Public Information Office shows videoconferencing that was pilot tested in Baguio City, Metro Manila, Cebu City, and some cities in Mindanao.
Supreme Court Public Information Office, Twitter account
Courts in GCQ physically open, but walk-in requests prohibited
MANILA, Philippines — Courts in the areas placed under General Community Quarantine—or where health protocols have been eased—will be physically open but inquiries will be coursed electronically, Chief Justice Diosdado Peralta said.
Peralta issued Administrative Circular No. 04-2020 on Friday saying that all courts under GCQ will be physically open from May 18 to 29 and will operate on skeleton staff.
No walk-in requests however shall be entertained. Inquiries on cases, including requests for documents and services, may be first coursed through hotline numbers, email addresses and/or Facebook accounts of courts as listed in the SC website.
On May 16, the Philippines except Metro Manila, Laguna and Cebu will be under GCQ where lockdown restrictions have been relaxed and public transportation with limited load factor will be allowed.
The courts will be open from 9 a.m. to 4 p.m, and will accept electronic submissions from 8:30 a.m. to 3:30 p.m., for transmissions to be acted upon on the same day.
Night and Saturday courts however remain suspended.
Justices, judges and court personnel with medical conditions and are thus vulnerable to COVID-19 may work from home, after securing approval.
Videoconferencing for trials, witness testimony
Courts will receive all petitions and pleadings filed by any party, Peralta also said.
Submissions for civil and criminal cases, including application for bail, may also be filed electronically, directly to the court's email address as posted on the SC website. Otherwise, these may be filed to the Office of the Clerk of Court that will forward the pleadings to the branch.
RELATED: UP Law faculty proposes use of new tech for 'smart courts' during pandemic
Raffle of cases will also start on May 18. "No raffle through videoconferencing shall be conducted in the court stations in the GCQ areas," Peralta added.
Courts in GCQ areas shall continue deciding on pending cases, the chief justice said. "The hearings, either in-court or through videoconferencing, of all the matters pending before them, in both criminal and civil cases, whether newly-filed or pending, and regardless of the stage and trial, are now herein authorized," he added.
Judges from their courtrooms or chambers shall preside hearings through videoconference, except in "exceptional circumstances" where the justice or judge works from home.
Meanwhile, SC will also allow the taking of witness testimony in a place other than the court through videoconferencing "is akin to the taking of deposition under oral examination."
Civil weddings may also be solemnized in these areas, but parties, witnesses and guests shall not exceed five.
Filing of court submissions that fall due May 31 is also extended for another 30 days.
Courts may also promulgate decisions and orders drafted before or during GCQ period. Service of writs and other court processes within GCQ will also proceed.
As It Happens
LATEST UPDATE: June 2, 2020 - 11:41am
Other regions and provinces in the Philippines considered moderate and low-risk areas will be placed under general community quarantine starting May 1. Bookmark this page for updates. (Main image by The STAR/Edd Gumban)
June 2, 2020 - 11:41am
Sen. Nancy Binay challenges government transport officials to commute to work and "experience for themselves" the supposed road transport guidelines they have enforced under general community quarantine.
"Napaka-unfair sa commuters na yung mga private vehicles walang restrictions bumyahe. Napaka-limitado ng choices nila. DOTr knew that Metro Manila and the rest of the regions will soon be transitioning to the new normal. They knew that 30% of those in NCR will start going to work by June 1--tapos ang idi-deploy eh truck ng libreng sakay which compromise and breach all health protocols particularly physical distancing," she says.
June 1, 2020 - 11:06am
Baguio City records two new COVID-19 cases as it transitioned into modified general community quarantine Monday, bringing the total number of active cases in the city to four.
Mayor Benjamin Magalong says one of the patients is a 28-year old female from City Camp Central who had history of travel to San Fernando, La Union last May 26. She is asymptomatic but has suspicious pneumonia based on her chest x-ray examination.
The other patient is a 25-year old male from Sitio Apugan, Barangay Poliwes, along Kennon Road, who is asymptomatic and has no history of travel or exposure to the coronavirus disease. He is a "person deprived of liberty" brought to the Baguio City Jail male dormitory on May 29. — The STAR/Artemio Dumlao
May 30, 2020 - 3:01pm
The Department of Justice says religious gatherings will be allowed up to 50% of the capacity of the church or venue in areas under modified general community quarantine starting June 1.
"As to those in GCQ areas like the NCR, the IATF will host a dialogue between the religious sector and representatives of the LGUs on Monday morning. then the IATF will make a final resolution on the same day," says Justice Secretary Menardo Guevarra.
May 28, 2020 - 11:56am
Education Secretary Leonor Briones says there is no conflict on the position of the Department of Education with that of President Rodrigo Duterte on the opening of classes in August.
Briones clarifies that Duterte was referring to face-to-face classes. The DepEd chief says the agency was one with the president on the safety of children.
"There will be no face to face classes until safe. We can still provide learning opportunities to our students without requiring them to come to school," Briones says. — with report from The STAR/Janvic Mateo
May 28, 2020 - 9:47am
The Inter-Agency Task Force on Emerging Infectious Diseases recommends that Metro Manila be placed under general community quarantine from June 1 to 15.
Interior Secretary Eduardo Año confirms that the IATF recommended that the region transition from a strict modified enhanced community quarantine to a more relaxed GCQ as Metro Manila is now seen as a "high-to-moderate-risk area."
"For Metro Manila, ang rekomendasyon ay maging under general community quarantine, except for high-risk barangays," Año says in an interview with CNN Philippines' "The Source" Thursday morning.