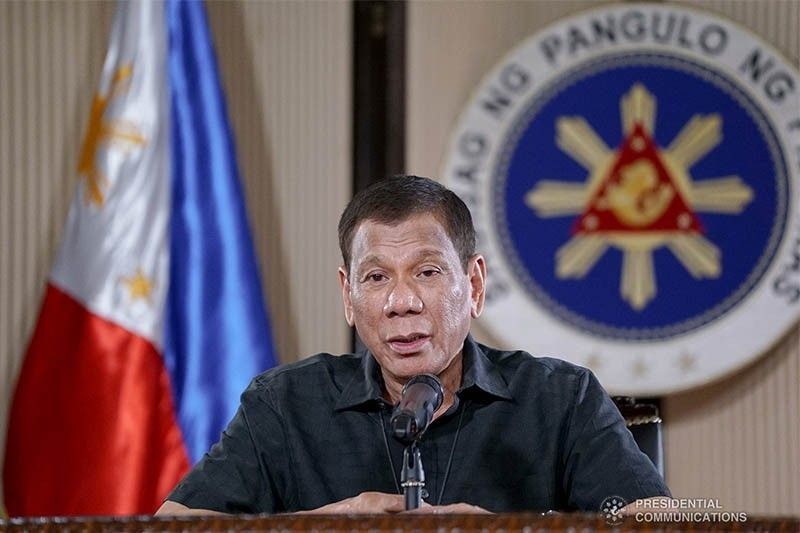 President Duterte announced the extension in a taped address aired over state-run PTV-4 yesterday morning, as the Luzon-wide ECQ entered its 40th day.
Presidential Photo/King Rodriguez
ECQ in Metro until May 15
Metro Manila and several other regions in Luzon and the Visayas deemed "high risk" for coronavirus disease 2019 (COVID-19) contagion will remain under enhanced community quarantine until May 15 as Malacañang has decided to extend the original April 30 deadline of the ECQ, citing the need to protect lives.
President Duterte announced the extension in a taped address aired over state-run PTV-4 yesterday morning, as the Luzon-wide ECQ entered its 40th day.
He said his decision was based on the recommendation of the Inter-Agency Task Force on Emerging Infectious Diseases under Resolution No. 28. The IATF came up with the recommendation after discussions with experts from the health and economic sectors.
"I cannot guarantee – or anybody else for that matter at this table – na hindi tatamaan (that they will not contract the disease). We are all at risk. But do not increase the odds or the chances of getting it," Duterte said.
He said areas considered "high-risk" will remain under ECQ after April 30, while those deemed
"moderate to low risk" by the health and economic authorities may resume operations provided they maintain minimum health standards.
Aside from the National Capital Region (NCR) or Metro Manila, provinces that will remain under ECQ are Cavite, Laguna, Batangas, Rizal, Quezon or Calabarzon; Bataan, Bulacan, Nueva Ecija, Pampanga, Oriental Mindoro, Occidental Mindoro, Albay, Catanduanes, Aklan and Capiz.
Provinces classified under extension, but still subject to further review, are Benguet, Pangasinan, Tarlac, Zambales, Antique, Iloilo, Cebu including Cebu City, Davao del Norte and Davao de Oro as well as Davao City.
Presidential spokesman Harry Roque Jr. said the government will review the situation in the ECQ areas by May 16 to determine if there will be a need for re-classification or retention of current quarantine procedures.
"All other provinces not included in the list and where ECQ is not extended will be placed under the new normal, dubbed as general community quarantine," said Roque, who was with Duterte when the latter made his public address.
The IATF has classified areas in the country as under either ECQ or general community quarantine (GCQ). The IATF based the classification on the levels of infection, fast doubling time of cases and medical response capabilities.
High-risk areas will be under ECQ until May 15, subject to further evaluation. Moderate-risk areas, meanwhile, will be under GCQ starting May 1, also subject to further evaluation. Low-risk areas will fall under GCQ starting May 1 – and if there is no deterioration – their status will be relaxed to normalization starting May 16.
Duterte also approved the task force's recommendation for the implementation of a set of minimum health standards starting April 27 or what is described as the "new normal."
Guidelines readied
The departments of Health (DOH), Transportation, Trade and Industry, Labor and Employment, and Public Works and Highways (DPWH) will come out with guidelines for new quarantine setup by April 25.
Areas that shift from ECQ to GCQ starting May 1 will allow workers to go out and work in phases. Young people, senior citizens and those with high health risk would have to stay home.
For GCQ areas, restricted mall opening covering non-leisure shops would be allowed. There will be mandatory temperature check, mandatory wearing of face masks and mandatory alcohol use. Limited number of people, particularly those aged 21 to 59, with ID and not looking sickly, would be allowed to go inside establishments.
Interior Secretary and IATF vice chairman Eduardo Año warned local officials against unilaterally declaring their areas as under ECQ, saying doing so without getting cleared by the task force would complicate or compromise the distribution of social amelioration programs for the most affected sectors.
"Since this is the new normal, the LGUs will really be at the forefront in the fight against the disease," he said.
Año also stressed LGUs should be prepared for reintegration of patients to communities after getting treatment.
In his address, the President ordered the gradual resumption of commercial and industrial activities in areas classified under GCQ or those with moderate-to-low risk threat of COVID-19.
Industries that may fully operate are agriculture, fishery, forestry, food manufacturing and its entire supply chain (including ink, packaging, raw materials); food retail (supermarket, market restaurant for takeout and delivery only); health care (hospitals, clinics, drugstores); logistics, water, energy, internet, telecoms and media.
Fifty percent to 100 percent resumption of work under GCQ would be allowed for manufacturing, like electronics and exports; e-commerce and delivery services for essential and non-essential items; repair and maintenance services; housing and office services.
Those considered for 50 percent on-site work and 50 percent operations from home include financial services, BPO, selected non-leisure wholesale and retail trade; and other non-leisure services.
According to officials, schools, leisure, gaming, amusement, fitness, 'kid' industry, tourism, as well as all gatherings, including religious and business conferences, will remain prohibited under the GCQ.
Malls catering to essential services will be allowed operation on a limited basis. Construction projects will also be subject to limitations.
Regular commercial flights of Philippine Airlines and Cebu Pacific will remain suspended after April 30, their spokespersons said.
IATF chief implementor Carlito Galvez Jr. said there is a need to continue the ECQ in Metro Manila, it being the epicenter of COVID-19 in the country.
"The epicenter of COVID-19 is really in MM. I hope the trend will improve in the near future, that is why we are working to improve the testing and the capacity of Metro Manila," Galvez said.
The classification was based on the recorded high level of infection and the fast doubling time of cases in NCR, as well as in Regions 3 and 4.
New cases, high rate of death, capacity of hospital to cope with the increasing cases of COVID-19 were among the major reasons why the ECQ is extended in the areas, Galvez said.
COVID-free
Health Undersecretary Maria Rosario Vergeire reported that 26 provinces have not yet been penetrated by COVID-19.
"Based on our latest data, there are 26 provinces that have not reported COVID-19. We are still studying the reasons for this but you will observe that many of them are geographically isolated," she noted.
Vergeire added that some of the provinces in the list are islands or in an island like Siquijor, Dinagat, Batanes, Basilan and Sulu.
The other provinces are Agusan del Sur, Apayao, Aurora, Billiran, Camarines Norte, Camarines Norte, Davao Occidential, Eastern Samar, Guimaras, Ifugao, Kalinga, Masbate, Mountain Province, Quirino, Sarangani, Sorsogon, Southern Leyte, Surigao del Norte, Surigao del Sur, Tawi-Tawi, Zamboanga del Norte and Zamboanga Sibugay.
She also said the "doubling time" of cases and the critical care utilization rate in NCR are still "in the red."
Data from the DOH showed that the "doubling time" of cases has risen to 14 days or from 3,000 cases in April 5 to April 19 – instead of April 9. However, this is still lower than the ideal rate.
According to Vergeire, critical care utilization rate of ICU rooms in NCR is "nearing the maximum."
She added when more people get infected with COVID-19, the health system may be "overwhelmed."
The official gave assurance that while the government can no longer construct new hospitals, there will be "rational processes" wherein some healthcare facilities will be designated for COVID-19 patients, especially those critically ill.
Vergeire said that to augment the workforce, the government has implemented emergency hiring of health personnel now set for deployment to COVID-19 centers in NCR.
Meanwhile, the Philippine National Police said there will be more work ahead despite the easing of quarantine in some areas in Luzon by the end of the month.
"Work will be harder for us in the security sector because there will be more exemptions – and once transport and establishments reopen, there will be more people to check," Lt. Gen. Guillermo Eleazar, commander of the Joint Task Force COVID Shield, said in an interview with radio dzBB.- Sheila Crisostomo, Romina Cabrera, Richmond Mercurio, Rudy Santos
Related video: