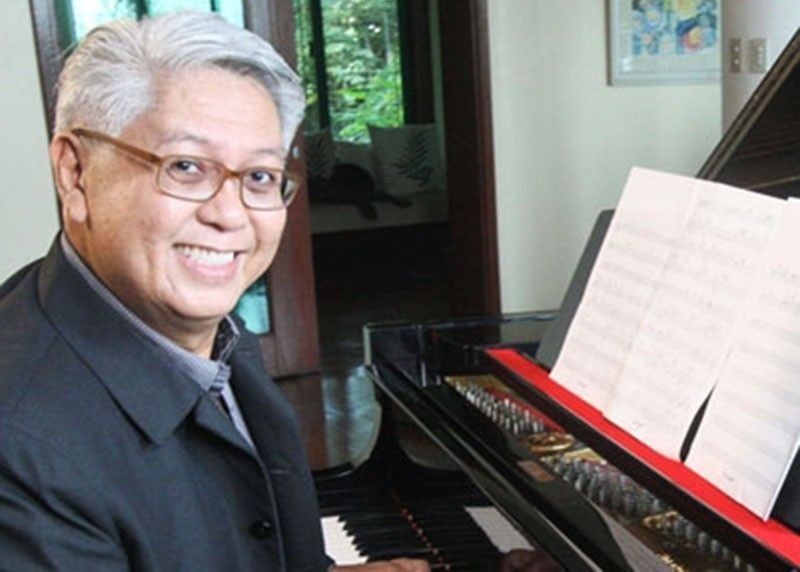 Leading them is the live concert series organized by National Artist for Music Ryan Cayabyab, which has so far raised P42 million for food and health support for urban poor communities across Metro Manila.
Pang-Masa/File
Bayanihan Musikahan initiative launched
Janvic Mateo
(The Philippine Star) - April 18, 2020 - 12:00am
MANILA, Philippines — From online concerts to video game streams for a cause, Filipinos have taken to social media to find ways to help in efforts to respond to the coronavirus disease (COVID-19) pandemic.
Several groups, in view of the enhanced community quarantine being implemented in many parts of the country, have launched online-based initiatives to support health workers and others who are in the frontlines to contain the disease.
On Friday, social media company Facebook highlighted some of the notable initiatives of Filipino netizens in response to the public health emergency. Leading them is the live concert series organized by National Artist for Music Ryan Cayabyab, which has so far raised P42 million for food and health support for urban poor communities across Metro Manila.
Called Bayanihan Musikahan, the initiative has featured live performances by top music artists such as Lea Salonga, Martin Nievera, Ebe Dancel, Morissette, Sponge Cola, Johnoy Danao, Bullet Dumas, Noel Cabangon and Jim Paredes.
"Through Bayanihan Musikahan we want to uplift the spirits of Filipinos everywhere with music and critical support," said Cayabyab. "Seeing artists and people pitching in has been overwhelming and inspiring, so we will continue to raise funds for a community-based COVID-19 care center."
Content creators on Facebook Gaming have also been hosting charity streams to support the COVID-19 fundraiser of the United Nations Foundation for the World Health Organization.
Twenty-three Filipino video gamers have so far participated in the #GamersVsCOVID and United as One campaigns for a cause, including top local game streamers Alodia Gosienfiao and ChooxTv.
Continued efforts under the Work From Home Charity Cup are giving gamers a chance to show how they can do their share in the fight against COVID-19 both online and offline, according Facebook.
The platform has enabled gamers to select causes for their viewers to support, set donation goals, enable a donation progress bar and share donation alerts on stream and in chat.
"I am grateful to be part of an online gaming community that sees the importance of 'coming together' online to do all we can to help our frontline heroes in these tough times," said Gosienfiao.
Meal drops, workshops
Meanwhile, a community of food vendors and restaurant owners has been providing full-day meals to workers at various hospitals providing care to COVID-19 patients.
The LEP Association of Food Vendors & Restaurant Owners (LEPA), which started from the Facebook group Let's Eat Pare, also expanded its program to provide medical supplies to health workers.
"We've discovered that some hospitals already have enough meal sponsors but are seriously lacking in medical supplies," said Let's Eat Pare founder Mark del Rosario.
"This is a gap that we are trying to bridge and we were able to secure a batch of 3D-printed masks already. However, we are more than open to anyone who is willing and able to help us donate a steady supply of these medical resources."
Let's Eat Pare was initially created to serve as an online hub for food lovers to share food memes, restaurant and recipe recommendations and other food-related posts.
It has since expanded to a community to support local food businesses through an official vendors accreditation system or the LEPA.
Facebook group Filipina Homebased Moms (FHMOMS) has also been providing home-based work resources and learning materials on topics such as parenting, freelancing and entrepreneurship.
The group has set up webinars featuring guests and guest speakers and volunteer hosts who discuss topics such as mental health, virtual learning, homeschooling, e-commerce and design thinking to solve lockdown problems.
It has also promoted and connected members to virtual assistant work opportunities, which has gained popularity with the quarantine in place.
"Virtual assistant work is a great source of steady income especially for our kababayans who badly need jobs in light of this COVID-19 situation," said FHMOMS founder MK Bertulfo.
"To help ease this transition and in time for World Autism Month, we are launching the FHMOMS Ausome Project, a scholarship program for 100 moms with kids in the spectrum. A handful of these moms will also be selected to join as a full scholar for our General Virtual Assistance Training," she added.
The group has also started a pay-what-you-can workshop to support frontliners and others who are affected by the public health crisis.
Facebook earlier committed to support efforts to respond to the pandemic, including ensuring fact-based information on the social media platform.