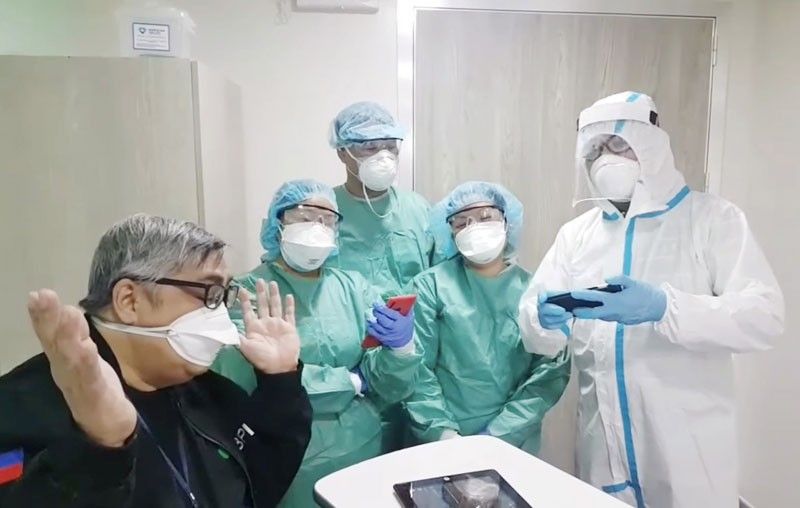 Composer-arranger Arnel de Pano is serenaded by frontliners on the day he was discharged from Marikina Valley Medical Center with 'Lead Me Lord,' a song he wrote more than 35 years ago, but has now found new life as a spiritual anthem amid the country's battle against the pandemic.
Facebook photo
Frontliners serenade recovered composer
MANILA, Philippines — It was a send-off befitting this COVID-19 survivor.
Composer-arranger Arnel de Pano was serenaded by frontliners on the day he was discharged from Marikina Valley Medical Center with "Lead Me Lord," a song he wrote more than 35 years ago but has now found new life as a spiritual anthem amid the country's battle against the pandemic.
A video of the touching moment when his nurses and doctor, in full PPE gear and conducted by De Pano (who's also an award-winning choral conductor) has since gone viral. He shared that the hospital's health workers were already singing the song to uplift the spirits of other patients. They eventually learned he was the composer when alumni doctors of the official choir of the UP College of Medicine released a virtual recording of "Lead Me Lord."
"Medicine cures the body, but music heals the soul," the doctors captioned their video which has since racked up more than 100,000 views on Facebook.
"I think, blessing na rin (yung kanta) kasi naghahanap sila ng (because they're looking for) something to hold on to dahil ang hirap ng situation nila (their situation is so difficult)," De Pano told The STAR in a phone interview.
The song also served as his sign from the Lord to keep the faith and fight the fight during his more than two-week hospitalization, starting March 19 until he was cleared to go home on April 2. What he realized from his health ordeal was that it wasn't just physical but also a mental and spiritual battle for both patients and medical frontliners. "It's a mental thing, it's a spiritual thing. Aside from the physical na pagod, physical na struggle, a lot of people, pati yung frontliners, they struggle with the mental thing.
"Meron akong dalawang katabing kwarto na they lost both patients. Natatanong din namin sila and there's an impact on them... Yung spirits nila, parang ano ba 'to, worth it ba yung ginagawa namin, meron pa namang pasyenteng iba. But they have to continue their work and what they swore to do, (which is) to get patients well."
He recalled how his doctors and nurses rallied for him to get well. "Malakas yung pag-build up nila sa akin because they wanted so much for me to get well. Kumbaga reward din sa kanilang efforts na hindi in vain yung mga kanilang ginagawa."
At the onset of his symptoms, De Pano, who turned 58 last February, experienced shortness of breath and general weakness. He has no idea how he contracted the virus because he has no known exposure to a COVID positive case and no recent travel history, except frequenting coffee shops. He was initially admitted as an emergency patient for suspected pneumonia and typhoid fever. He credited the wisdom of the doctors in making him undergo COVID protocol "rather than wait for my swabs to return. It might have been too late if they didn't start the protocol of medication. Maybe one or two days after, I was informed that I tested positive."
At first, he was in denial of being a COVID patient. "I didn't want to be part of the statistics. I didn't want to be called a PUI, PUM. I struggled with the reality, na COVID ako? Di ko alam saan ako nagpunta, kanino ko nakuha? Hindi ako nagalit pero (I don't know where I went, who I got it from. I wasn't angry but) I was in denial."
When he came to terms with his situation, he thought giving up wasn't an option. "Looking back today, I never entertained thoughts that I might die. I didn't reach that point, thankfully. I also know that a lot of people were praying for me. How can I not fight? I was thinking of my family, I was thinking of my ministry, my work. Yun ang nagpalakas (that strengthened me). I think that helped – not having the consideration to give up. Wala sa aking consciousness na di ako gagaling. At any time during my confinement, di ko naramdaman na pinabayaan ako ng Diyos. I didn't feel that I was in a hopeless situation."
He also thanked his wife Amy for choosing not to leave his side. "There were days when I wanted to send her home to lessen her exposure in the hospital, but nag-usap kami ng doctors, she might be safer in the hospital because at least there were doctors who could attend to her right away. We were in a room, but we had social distancing. Alaga naman siya sa medication. We decided to stick together, through thick and thin," said De Pano.
His wife is not showing any symptoms of sickness to this day, and he's praying it will remain so until both of them finish their ongoing 14-day home quarantine.
De Pano said that while he wasn't the sickly type, he has hypertension and hereditary diabetes; but his condition thankfully didn't reach the stage that he would have to be taken to the ICU. And he could never forget the moment he realized recovery was within his reach.
"Around three or four days before I was discharged, tinanggal na yung aking oxygen that was helping me breathe, tinanggal na yung aking heart monitor, tinanggal na rin yung aking swero. Hagulgol ako. I was crying with the realization that 'I will get through this.'
"The doctors were telling me, 'You've passed the critical stage, you're back from the brink.' You have your second chance, you have your second life. May gagawin ka pa. Ang lakas-lakas ng impressions sa akin when I was there. It was the first time that I was able to walk after two weeks. First time I was able to raise my arms! It was like a victorious declaration that I'm alive!"
Now, more than a week of being COVID-free, De Pano has decided to go public with his experience so as not to miss out on the opportunity to express "an overflowing gratitude for my life." He said he owes his life to his doctors, namely, pulmonologists Dr. Jerome Santos and Dr. Alexander Calderon, infectious disease doctor Dr. Peter Señar and cardiologist Dr. Gerardo Pura. He even listed the names of the battery of nurses who cared for them at Ward Station 6B (Precy Niro, Christen Chan, Arlyn Paredes, Laarni Naquin, Mary Joy Patubo, Jame Marquez, Jamilla Mariano, Reinel Caratao, Romel Layugan, Catherine Cayago, Katrina Enrera, Joana De Claro, Joseca Ebit, Venus Aquino and Charmaine Pasa).
"I don't know how this story will help others but I have to set aside my personal privacy and come out in the open. Not for me, but for people who loved me, prayed for me and took care of me. There's so many people to thank and honor. Hindi siya biro. Hindi ito madaling laban. It's a marathon. At least ako nakalabas na, but the other people there (at the hospital), they still have to take care of patients. Their work continues. Sila ang kailangan ipagdasal at i-(They need prayers and) support."
His victory over COVID has also brought deeper meaning knowing that his work, "Lead Me Lord," has become a prayer of hope and healing for other people, especially in this time of crisis.
It was originally a contest piece that went on to win the grand prize in a songwriting competition while he was a Management Engineering student at Ateneo. It was a spur-of-the-moment composition, a song that seemingly wrote itself, he said, inspired by a worship song from his church. "This is a true story – the idea came to me while walking down the stairs," he mused.
"Lead Me Lord" was first recorded by Basil Valdez in 1985, with arrangement by now National Artist for Music Ryan Cayabyab. It spawned other covers by such OPM artists as Gary Valenciano and Ice Seguerra. The song also launched his career as a Gospel music artist who would receive the Gawad ng Komisyon ng Wikang Filipino for his contributions to original Pilipino church music.
Still, De Pano never imagined that 35 years later, "Lead Me Lord" would be used as a battlecry against COVID. "I didn't write it with the thought that this will minister to a lot of people in the future. Here's a song that was given to me by the Lord many, many years ago, na biglang naging relevant sa maraming tao (to many people). Sino ba ang makakapagsabi na (Who could say that) 35 years after, it will be a battlecry in this time of crisis?" he said.
"Regalo yan lahat sa akin ng Panginoon na wow, ginamit until now. It has been used to inspire both suffering patients and the frontliners. To me, it was the Lord's way of telling me na uy, kailangan ka pa, kailangan ka pa dito (you're still needed here). Gaano pa ba ka klaro ang gustong (How much clearer) sign from the Lord na 'Hey, I will save you.'"