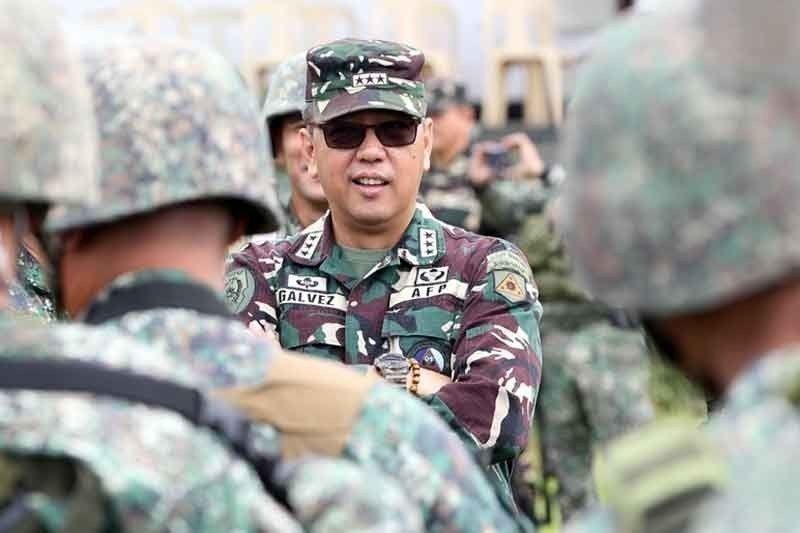 Giving an update on government actions against COVID-19 aired over UNTV, NAP chief implementer Carlito Galvez Jr. said that testing capacity has improved.
Krizjohn Rosales/File
Up to 3,000 COVID tests seen daily
MANILA, Philippines — The chief implementer of the National Action Plan (NAP) against the spread of the coronavirus disease 2019 (COVID-19) on Friday evening said they are targeting 2,000 to 3,000 tests per day.
Giving an update on government actions against COVID-19 aired over UNTV, NAP chief implementer Carlito Galvez Jr. said that testing capacity has improved.
"The good news is that our capacity to conduct COVID-19 testing has significantly improved. Our goal is to be able to do around 2,000 to 3,000 tests per day," Galvez said.
He added that the National Task Force COVID-19 – the body which implements the NAP – is also applying measures to ensure the safety of patients and health workers.
"We also have to ensure the safety of patients as well as the medical personnel when we carry out this test at accredited testing centers," Galvez said.
He said that another nine hospitals are being evaluated for accreditation as COVID-19 testing and medical facilities.
Some 19,000 individuals have already been tested by the Department of Health (DOH) for possible infection with COVID-19 as of Friday, Health Undersecretary Maria Rosario Vergeire said yesterday.
According to her, they have practically been doing mass testing among the population considered vulnerable for the disease.
"What we are doing now is just like mass testing already. We give priority to the vulnerable population… Currently, they are the ones in our list of people to be tested," Vergeire said in a radio interview.
Those categorized as vulnerable are people with severe symptoms, the elderly, those with pre-existing conditions, pregnant women and health workers who are manifesting symptoms.
Vergeire reiterated that the country's testing capability is getting stable owing to the various testing kit brands approved by the Food and Drug Administration (FDA) to be used in the Philippines.
"So far, we have enough supply of test kits, and the government is ready to procure more to make sure that we can sustain our efforts. We also have more laboratories that can do the testing now so more people will be tested," Vergeire added.
FDA gives go signal
The FDA yesterday issued a "marketing authorization" for the rollout of test kits developed by Filipino scientists.
In an interview, FDA director general Eric Domingo said the validation reports for Genamplify COVID-19 rRT-PCR Detection Kits were submitted on Friday afternoon and it was given a "special certificate" by the agency.
The test kit is manufactured by Manila Healthtek Inc. in Marikina City. It is a spin-off company of the University of the Philippines-National Institute of Health (UP-NIH) that does research and development.
The kit was developed by a group of local scientists led by Raul Destura, deputy executive director of the Philippine Genome Center and UP-NIH, and was funded by the Department of Science and Technology (DOST).
The approval of Genamplify brings to 21 the test kits that have been allowed by FDA to be used commercially in the Philippines. The other products are from China, South Korea, Singapore, Germany, United Kingdom, Spain, and the United States.
Last week, DOST Secretary Fortunato dela Pena announced that the test kits were ready for rollout and claimed there will be field implementation for 26,000 tests at the Philippine General Hospital, Makati Medical Center, The Medical City, Vicente Sotto Memorial Medical Center in Cebu, Southern Philippines Medical Center in Davao and Baguio General Hospital from April 4 to 25.
An additional 94,000 tests will be sold commercially by Manila HealthTek.
According to DOST, the detection kit was developed to provide accessible and affordable COVID-19 testing for Filipinos. Each test is projected to cost P1,320, which is significantly cheaper than the units currently being used that cost around P8,000 each.
Once commercially deployed, the test kits would be able to release the results in two hours.
According to Domingo, the Manila Healthtek test kit underwent weeks of field testing to validate its accuracy.
He noted the field testing was done using the test kits on actual patients, alongside the testing kits given by the World Health Organization to the Research Institute for Tropical Medicine.
"Having a locally manufactured test kit will help ensure the availability of test kits during this time of globally competitive procurement of such supplies," he underscored.