Duterte stops patronage politics in COVID aid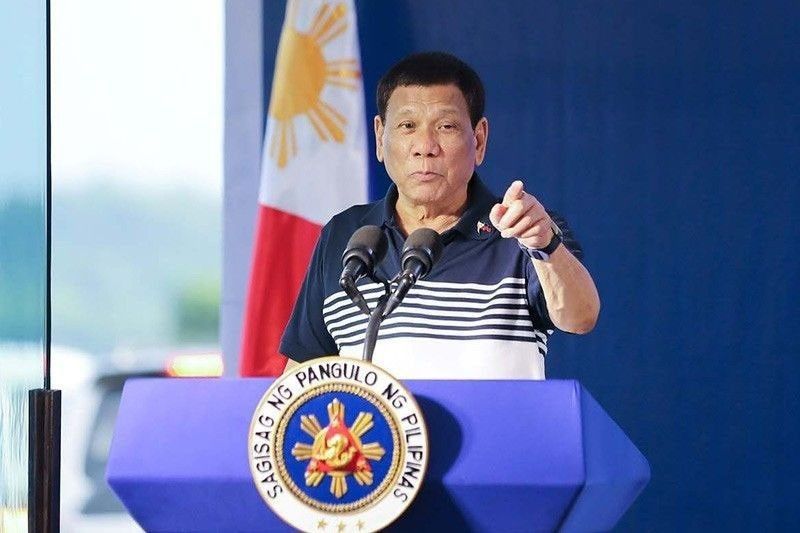 MANILA, Philippines — Citing the need to shield relief efforts from politicking, President Duterte has barred politicians from distributing aid coming from the national government to households affected by the Luzon lockdown, which has been in force since March 17 as part of efforts to contain the spread of the coronavirus disease 2019 (COVID-19).
Duterte said he has to issue the order after receiving numerous complaints about the way food and cash assistance are distributed, with some individuals even stealing from donations. The lockdown is until April 12.
"I've removed the responsibility from politicians because there are a lot of complaints. I stripped politicians of the responsibility to distribute money and rice," the President said in a televised address Wednesday night.
"Some people in charge of distribution do some cuts. Instead of seven, they cut them to five in repacking," he said.
He explained that the Department of Social Welfare and Development (DSWD) would undertake the task of distributing assistance, even cash.
Duterte said social welfare chief Rolando Bautista, a former military general, would take charge of the distribution of food and cash assistance to low-income households during the quarantine period.
Peace adviser Carlito Galvez Jr., the chief implementer of the policy in the fight against COVID-19, would assist in the distribution of goods, he added.
Cabinet Secretary Karlo Nograles said Duterte wants DSWD to take charge of the distribution of assistance under the government's social amelioration package for sectors who lost income because of the lockdown.
"He (Duterte) won't allow it to be marred by politics or political patronage," Nograles said in a televised press briefing yesterday.
"He wants beneficiaries to receive help, aid from the national government. Since the DSWD, the national government will lead the distribution, we will use existing platforms to reach the beneficiaries," he added.
Nograles clarified that LGUs may still be tapped to assist in the distribution – but under the supervision of the DSWD, the military and the police.
He said LGUs deputized for aid distribution would be required to submit liquidation reports immediately.
Local governments may also continue to use their quick response funds to provide aid to their constituents, Nograles added.
He assured the public that local officials found taking advantage of the health crisis by stealing from donations would be held accountable.
The Inter-Agency Task Force (IATF) for the Management of Emerging Infectious Diseases recently approved the emergency subsidy program, which seeks to provide cash benefits to about 18 million households. The amount of cash assistance ranges from P5,000 to P8,000, depending on the minimum wage in the region where the beneficiaries are based.
Qualified beneficiaries are families with at least one member belonging to vulnerable or disadvantaged sectors, including senior citizens, persons with disability, pregnant and lactating women, solo parents, indigents, indigenous people, public transportation drivers, informal economy workers, house helpers, operators of small stores and vendors.
No stopping private donations
Malacañang also clarified that the government is not stopping private groups from donating to hospitals of their choice.
Duterte recently issued Administrative Order No. 27, which enumerated policies on handling of donations for the government's campaign against COVID-19.
"The national government is not dissuading private organizations and individuals to receive or give donations to hospitals of their choice, as well as to their local government units," presidential spokesman Salvador Panelo said in a statement.
For lawmakers, distribution of cash aid should begin within the week. Speaker Alan Peter Cayetano and Deputy Speaker LRay Villafuerte, members of the congressional oversight committee on implementation of the Bayanihan to Win as One Act, said the DSWD can do away with the tedious process of validating all 18 million family-beneficiaries by simply referring to its current list of recipients of existing assistance programs.
Sen. Grace Poe said the prompt release of cash assistance would prevent "mass hunger from turning into mass anger."
Rep. Joey Salceda, chairman of the House ways and means committee, suggested that barangay officials be "given frontliner status and be made eligible for frontliner benefits."
"This is because the challenge is to keep everyone on the boat during the crisis. The emerging reality is that barangay officials and workers, including tanods, are performing frontline work," he said.
Minority senators, meanwhile, lambasted politicians who are exploiting the situation to advance their political agenda.
In a joint statement, Senate Minority Leader Franklin Drilon, Sens. Francis Pangilinan and Risa Hontiveros said 2022 political campaign is hampering the immediate distribution of relief to millions of poor families.
"It saddens us that there are people who could be so heartless and power-hungry as to take advantage of this crisis to advance their political ambition," they said. "When charity is politicized, it stinks. In times like this, it kills," they said. – With Edu Punay, Cecille Suerte Felipe, Delon Porcalla