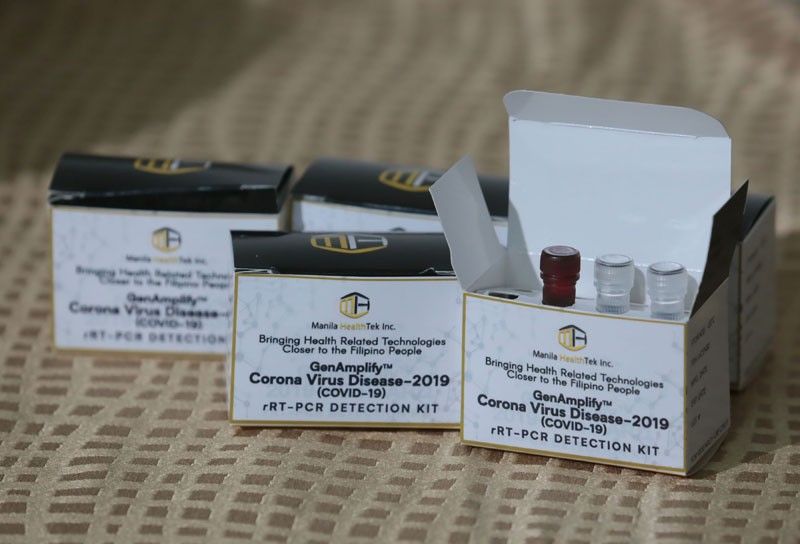 At a press conference, FDA director general Eric Domingo said the agency has decided to use "these point-of-care test kits (which) are registered for use in countries with reliable regulatory agencies such as China and Singapore."
Michael Varcas
FDA approves 5 rapid test kits for virus
MANILA, Philippines — The Food and Drug Administration (FDA) announced yesterday the approval of the use of five rapid antibody test kits for coronavirus disease 2019 (COVID-19).
At a press conference, FDA director general Eric Domingo said the agency has decided to use "these point-of-care test kits (which) are registered for use in countries with reliable regulatory agencies such as China and Singapore."
"We approve kits that are registered and used in countries with advanced technology and wide experience with COVID-19. We want the people to have access to testing but, of course, proper evaluation and safeguards will still be in place," Domingo said.
The FDA, along with the Department of Health, was reluctant to allow the use of rapid antibody test kits in the Philippines but was apparently pressured into doing so after various personalities, including politicians, started using the kits.
The five IgG/GM test kits are Nanjing Vazyme 2019-nCov IgG/IgM Detection Kit, manufactured by Biolidics Ltd., Singapore; Novel Coronavirus (2019 NCOV) IgM/IgG Antibody Detection Kit Colloidal Gold Method of Nanjing Vazyme Medical Technology Co. Ltd. Nanjing China; Diagnostic Kit for IgM/IgG Antibody to Corona Virus (SARS-CoV-2) Colloidal Gold of Zhuhai Livzon Diagnostic Inc., Guangdong, China; 2019-nCOV Antibody Test (Colloidal Gold) of Innovita (Tangshan) Biological Technology Co., Ltd. Hebei China and SARS-CoV-2 Antibody Test Lateral Flow Method of Guangzhou Wondfo Biotech Co. Ltd., Guangzhou, China.
Domingo disclosed that the FDA has also approved the SARS CoV2 kit by Gene Xpert from Abbott Laboratories, which can detect the virus within five minutes.
Abbott Laboratories said it won US marketing approval for a diagnostic test for the coronavirus that can deliver results to patients within minutes and be used in physicians' offices and urgent care clinics, as well as hospitals.
Abbott said in a statement that it plans to begin distributing the test next week and will ramp up manufacturing to 50,000 tests per day
This brings to 17 the total approved "PCR-based test kits for commercial use" in the country.
PCR or polymerase chain reaction is a process of sequencing DNA to detect the presence or absence of a pathogen during infection. The processing is done in a laboratory using a machine.
Domingo, however, underscored that while they gave the green light to the five testing kits, the FDA requires that the "product inserts or label of the Rapid Test Kits" be strictly observed as a "safety precaution."
This insert shall state that the "product is strictly for medical professional use only and not intended for personal use and that the administration of the test and interpretation of results should be done by a trained health professional."
Domingo added the results may yield false negative or false positive so confirmatory test using PCR would be required.
"We have to be very cautious in using these rapid test kits because they measure antibodies and not the viral load itself. The body takes time to develop antibodies and this might give a negative result for patients who have been infected but antibodies have not yet developed," he said.
On the other hand, there can be a false positive result due to "cross reaction with other bacteria or viruses, thus requiring confirmatory PCR-based test."
This happens when the rapid test kit detects an antibody that has been acquired by a patient from previous infections with a bacteria or virus other than SARS-CoV2.
"In simple words, the test kits can detect an antibody, but that antibody was not necessarily generated by the coronavirus that caused COVID-19 but other virus or bacteria," he added.
Domingo maintained that while rapid antibody test kits will yield faster results compared to the PCR-based kits, "it is important that a trained health professional will evaluate and interpret the results."
Aside from this, instructions about the handling and disposal of the specimens, as well as the required temperature and proper used must be strictly followed to generate accurate results.
The FDA is also calling on local government chief executives, heads of agencies, hospitals and private companies to be cautious in using these test kits.
The agency also asked doctors to help in testing and guide patients in the interpretation of results.
Domingo said the DOH "remains steadfast in its obligation to protect the public… by ensuring that health commodities, especially those related to addressing the COVID 19 emergency, are certified following regulatory standards – through streamlined processes."
"Let us remain vigilant and hopeful as we protect each other's welfare against those who seem to take advantage of this vulnerable situation. During this rapid increase of COVID-19 cases in the country, the agency continues to serve the people by giving them access to testing without compromising our mandate of ensuring the safety, efficacy and quality of every health product for the public," he added.
'Do rapid testing now'
Meanwhile, presidential adviser on entrepreneurship Joey Concepcion yesterday urged the government to do the rapid testing as soon as possible to fight COVID-19 and help prevent another lockdown from happening in the country.
"To win this war, we have to have a clearer view of the COVID-19. We cannot emphasize enough; it is critical that we do rapid testing now," Concepcion said in a statement sent to The STAR.
Last week, more than 30 business leaders and heads of chambers met to discuss the sector's proposal to curb the pandemic and address the current crisis. One of the key approaches discussed, Concepcion said, was the use of rapid testing kits.
"The government is currently approving the list of importers and will soon discuss the proper distribution and testing of communities. Hopefully, this rapid testing will help prevent another lockdown from happening," he said.
After securing the testing kits and determining who has been infected or not, the next step is to ensure a "reset" to help save lives and give a clearer picture of the enemy and how to stop it, he added.
"By ensuring continued testing and the gathering of more data, the government can develop a more strategic and comprehensive mitigation plan. Through this, we can also better help our frontliners – most especially doctors and nurses who are manning the hospitals – as well as micro, small and medium enterprises. Once public confidence is reinstated, the Filipino working class can get back to their jobs at the soonest possible time and revive the economy," Concepcion said.
As of date, the government has ramped up its testing at the Research Institute for Tropical Medicine, from 300 tests per day to almost 1,000 tests now. More testing laboratories are being accredited in key facilities such as St. Luke's Quezon City and BGC and the Lung Center of the Philippines.
"We believe that these rapid testing kits will complement the efforts in identifying confirmed cases," Concepcion said.
He commended the "untiring efforts" of the government, led by Cabinet Secretary Karlo Nograles, FDA's Domingo, Inter-Agency Task Force chief Carlito Galvez Jr. and Health Secretary Francisco Duque in fast-tracking the approval of rapid test kits used by other countries in effectively and successfully combatting COVID-19.