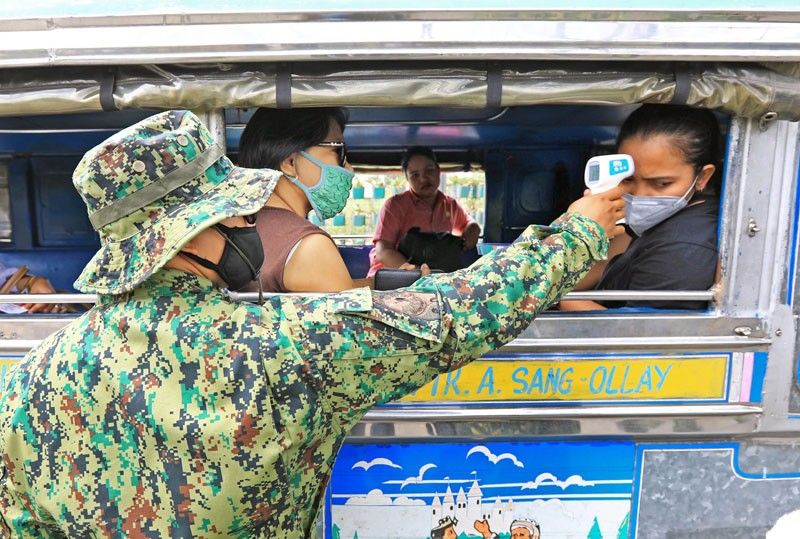 Maj. Gen. Debold Sinas, National Capital Region Police Office (NCRPO) director, said they would implement checkpoints at 56 identified major thoroughfares going in and out of Metro Manila as part of the stringent measures against COVID-19.
WALTER BOLLOZOS
No road closures, only checkpoints for Metro Manila quarantine
MANILA, Philippines — There will be no road closures, only checkpoints, for the initial implementation of the community quarantine in Metro Manila.
Maj. Gen. Debold Sinas, National Capital Region Police Office (NCRPO) director, said they would implement checkpoints at 56 identified major thoroughfares going in and out of Metro Manila as part of the stringent measures against COVID-19.
Sinas said the NCRPO is currently on "warning mode," wherein motorists and the public would be advised of the community quarantine imposed over Metro Manila
instead of the strict implementation of the travel ban.
"It's just for now. When the time comes we'll be stricter. For now it's still OK," he said in a mix of Filipino and English at a press briefing.
Still, the public has been advised to brace for heavy traffic and long queues at checkpoints, as those working in Metro Manila are set to go back from the provinces today.
Sinas noted that they were given guidance not to implement drastic measures at the onset, hence the more lenient implementation of the community quarantine.
The NCRPO chief said they are ready to change strategies if the need arises to enhance the quarantine effectively.
The police were only able to release their advisory of checkpoints hours after the community quarantine had already been implemented on Sunday midnight.
Sinas explained that they needed the approval of higher authorities before they released the official advisory.
The NCRPO has deployed a total of 1,600 personnel from its mobile force battalion to enforce the checkpoints at the boundaries of Metro Manila.
Tourist spots close
In the City of Manila, prominent tourist spots Fort Santiago, Casa Manila, Baluarte de San Diego and Museo de Intramuros would be closed to the public, the Intramuros Administration announced.
"Only essential personnel will attend to our office with limited operations," added the agency which is attached to the Department of Tourism (DOT).
The National Parks Development Committee, also under the DOT, closed both Rizal and Paco parks last Friday, and cancelled all public events in those areas.
Previously, the DOT called on the Metro Manila Council (MMC) – a group of mayors in the National Capital Region – to "clarify the guidelines of the curfew so that public and tourism stakeholders are guided accordingly and that the best interests of everyone concerned are considered."
The MMC agreed to pass ordinances on curfew and calling upon establishments, such as malls, to close indefinitely as Metro Manila undergoes community quarantine.
Trains enforce social distancing
Government-owned train systems would limit their movements during the month-long community quarantine in Metro Manila.
The Metro Rail Transit Line 3 (MRT-3), which gets jampacked on weekdays, would control the entry of passengers that would wait at the platforms before boarding the trains, its management declared.
Train sets would carry only 100 passengers, or 33 in each train car, it noted.
The MRT-3 could bring a daily average of up to 300,000 passengers to 13 stations along EDSA.
MRT-3 personnel would also enforce so-called social distancing, wherein passengers should be at least a meter apart on trains and other facilities like escalators and elevators.
It would also encourage commuters to practice social distancing even when falling in line outside the train station before bag inspection, said its operations director Michael Capati.
Security personnel would bar passengers that would register on thermal scanners a body temperature 38 degrees Celsius or higher.
Meanwhile, the Philippine National Railways would suspend indefinitely its train trips between Alabang in Muntinlupa City to Calamba, Laguna during this period.
Passenger buses will continue plying their routes on a limited basis in and out of the metro, provincial bus company officials have announced.
Passengers, however, will be required to fill up an information slip, according to Memorandum Order 2020-005A of the Land Transportation Franchising and Regulatory Board (LTFRB). They are also advised to bring company IDs or any document to prove they work in Metro Manila as these are to be presented at checkpoints along bus routes.
Reynold dela Cruz, officer-in-charge of HM Transport – which has concession over the operation of point-to-point (P2P) routes between Plaridel, Pandi, and Balagtas in Bulacan, and EDSA-North Avenue – said his firm will continue to operate only at certain times.
He said their buses would ply routes from 4:30 a.m. to 8:30 a.m., then again from 2:30 p.m. to 6:30 p.m.
On the other hand, Grace Joaquin, president of Precious Grace Transport Corp., said P2P routes between Malolos City and Sta. Maria, Bulacan, and EDSA-North Avenue will continue starting at 5 a.m. up to 8:30 a.m. from Monday to Thursday.
She said on Fridays, the last trip to either destination would last up to 10 p.m. and at 9 p.m. on Sundays, with each vehicle plying routes every 30 minutes. There was no mention of trips on Saturdays.
Meanwhile, Baliwag Transit monitoring operation chief Danilo Santiago also bared limited trips of their buses, as well as buses of their firm's sister company, Golden Bee Transport and Logistics Corp.
He said routes between Baliwag and Cubao, and Grace Park would ply starting 5 a.m. instead of the usual 3 a.m. Last trips would be at 7 p.m. instead of 9 p.m.
The same timetable has been set by Baliwag Transit for routes between Metro Manila destinations and the towns of Guiguinto, Plaridel, Pulilan, Baliwag, San Rafael, San Ildefonso and San Miguel in Bulacan, as well as Cabanatuan and San Jose, Nueva Ecija.

On the other hand, Victory Liner has announced its buses would ply first trip routes starting 5 a.m. while last trip is 10 p.m. between Caloocan and Tabang, Malolos and Calumpit in Bulacan, Apalit and San Fernando in Pampanga, and Olongapo City.
Police checkpoints
Police have started enforcing strict monitoring on borders of some cities in Metro Manila.
The Southern Police District (SPD) would install policemen at checkpoints at Susana Heights in Muntinlupa City; Daanghari Road and Zapote Road in Las Piñas City; and the Manila-Cavite Toll Expressway (Cavitex) and Okada Exit in Parañaque City, said its spokesperson, Major Jaybee Bayani.
It also identified so-called "control points" in the three cities all under its watch.
It named River Drive in BF Resort Village in Barangay Talon 2, and Marcos Alvarez Avenue in Barangay Talon 5, as control points in Las Piñas City.
Control points in Muntinlupa City include the boundary of Barangay Tunasan and San Pedro town in Laguna province; servce roads of the Sucat Interchange; Filinvest exit; and Sucat Bridge that borders the cities of Muntinlupa and Taguig.
Also, the following are control points in Parañaque City: Kaingin corner Multinational Avenue; Bicutan Interchange near SM City Bicutan coming from Pasay City; Victor Medina Avenue (Kabihasnan); C-5 Extension at the boundary of the city and Las Piñas City; Sucat Interchange coming from Alabang in Muntinlupa City; and C-5 Extension Southlink (Merville).
The cities are close to the provinces of Cavite and Laguna.
Bayani noted that checkpoints would be installed at "main entrance and exits," and control points at "boundaries, smaller than checkpoints."
Around 400 cops would be deployed at these areas, she noted.
Meanwhile in Bulacan, a total of 20 community quarantine checkpoint areas were established by the PNP in the boundaries of Bulacan and Metro Manila.
Brig. Gen. Rhodel Sermonia, regional police director of Central Luzon, said in a text message that eight of the checkpoints were established in Meycauayan City, seven in Obando town, four in the City of San Jose del Monte and one in Marilao town.
The eight checkpoints in Meycauayan City were established in Barangay Malhacan via NLEX Service road – Lawang Bato, Valenzuela City; Barangay Libtong NLEX Service Road – Lawang Bato, Valenzuela City; Barangay Tugatog, Tugatog Road – Valenzuela boundary; Barangay Bancal, MacArthur Highway – Barangay Malanday Valenzuela City; Barangay Lawa, East Service Road NLEX – Lawang Bato, Valenzuela City; Barangay Langka, Langka Road – Punturin, Valenzuela City; Cherubin Garden Subdivision, Cherubin Road – Caloocan City and Bankers Village, Bahay Pari Road – Bagumbayan, Caloocan City.
The Obando checkpoints were established in Barangay Panghulo, F.Valenzuela Street – Arkong Bato, Valenzuela City. Barangay Panghulo, Kalye Banat – Villa Paransillo Valenzuela City; Barangay Panghulo, F Navarete Street- Malabon City; Barangay Katanghalan, Joaquin street – Barangay Polo, Valenzuela City; Barangay Paco Palapala street – Barangay wawang Pulo, Valenzuela City; Barangay Paliwas, Maripas street – Valenzuela City and Barangay Lawa, Robles Subdivision, Deato street – Barangay Wawang Pulo, Valenzuela City.
The San Jose del Monte city checkpoinst were set up in Evergreen Subdivision Block 1, Barangay Gaya-gaya – Bagong Silang, Caloocan City; Harmony Hills, Lucas Chua street, Barangay Muzon – Bagong Silang, Caloocan City; Pleasant View, Saphirre street Phase 1 B, Barangay San Manuel – Bagong Silang, Caloocan City and Sitio Sapang Alat, along quirino Highway, Barangay San Manuell – Malaria Caloocan City.
In Marilao town the checkpoint was placed in Shelterville Bridge-Bagong Silang Caloocan City. –