COVID-19 infections in the Philippines rise to 64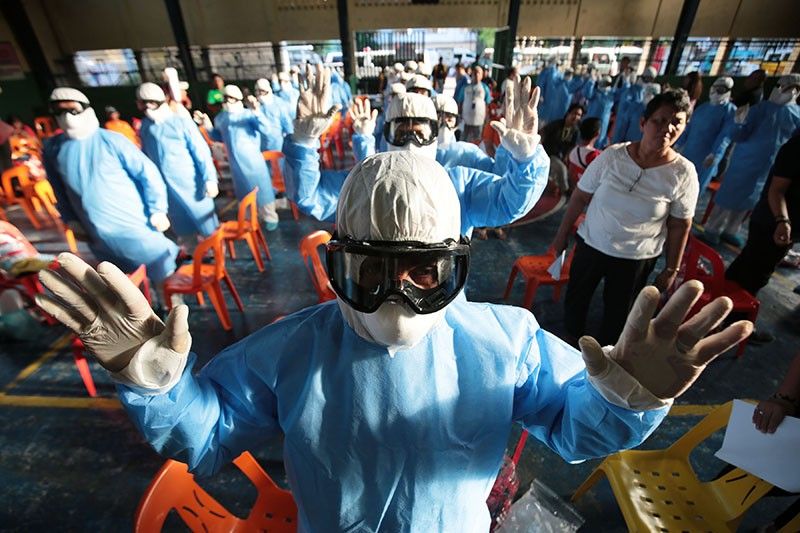 MANILA, Philippines (Update 1, 9:50 p.m.) — Twelve new coronavirus disease infections were confirmed in the Philippines on Friday, raising the country's total to 64, a day after the government announced a new set of measures in a bid to contain the contagion.
Since the country first detected an infection in late January, five people have died from the disease that emerged in the central Chinese city of Wuhan. Four of the five virus-related deaths in the Philippines were reported this week.
The country's new confirmed cases are the following:
PH53: A 30-year-old male from Mandaluyong City. He is admitted at The Medical City.
PH54: A 40-year-old male from Pasig City. He was brought to Ortigas Hospital and Health Care Center.
PH55: A 59-year-old female. She is confined at Cardinal Santos Medical Center.
PH56: A 41-year-old male. He is being treated at St. Luke's Medical Center-Global City
PH57: A 65-year-old male. He is admitted at The Medical City.
PH58: A 45-year-old female from Makati City. She was brought to The Medical City.
PH59: A 27-year-old male. He is being treated at the Makati Medical Center.
PH60: A 49-year-old male from Makati City. He is being treated at St. Luke's Medical Center-Global City.
PH61: A 70-year-old female. She is admitted at the University of the East Ramon Magsaysay Memorial Medical Center.
PH62: A 35-year-old female. She was brought to Ortigas Hospital and Health Care Center.
PH63: A 33-year-old male from Rizal. He is confined at Marikina Valley Medical Center.
PH64: A 32-year-old male from Manila. He is being treated at Bataan St. Joseph Hospital and Medical Center.
The Department of Health said it is conducting intensive information-gathering and contact tracing on the new cases.
Elderly people and those with underlying medical conditions such as cardiovascular disease, diabetes, cancer, chronic lung disease and immunosuppression are vulnerable to COVID-19.
President Rodrigo Duterte, during a nationally televised address, announced plans to halt domestic travel to and from Metro Manila—home to nearly 13 million people—as the Philippines raised its alarm to Code Red Sub-Level 2.
"It's a lockdown. There is no struggle of power here. It is a matter of protecting and defending you from COVID-19," Duterte said.
He also announced a ban on mass gatherings, extended school closure and prohibition on the entry of foreigners from places where the virus is spreading.
"The decision to implement a community quarantine was made in the best interest of the public. I enjoin everyone—young and old—to cooperate fully with our government," Health Secretary Francisco Duque III.
He also urged the public to stop hoarding hygiene and sanitation products.
"It does not help us fight off COVID-19. Realize that when you hoard, you are being part of the problem by denying the rest of your fellowmen the means to protect themselves," Duque said.
Cases globally now stand at more than 125,000 and 4,600 deaths.
As It Happens
LATEST UPDATE: October 16, 2021 - 6:03pm
Follow this page for updates on a mysterious pneumonia outbreak that has struck dozens of people in China.
October 16, 2021 - 6:03pm
Russia on Saturday tops 1,000 deaths over 24 hours for the first time since the start of the coronavirus pandemic, with the country's jab drive at a standstill and few restrictions in place.
An official government tally showed 1,002 deaths and 33,208 new infections, setting a high for both fatalities and cases for the third day in a row.
The surging outbreak has come with just 31 percent of Russians fully inoculated as of Saturday, according to the Gogov website, which tallies Covid-19 data from the regions. — AFP
October 12, 2021 - 1:53pm
Elated Sydneysiders celebrate the end of almost four months of coronavirus lockdown, putting behind them a period of "blood, sweat and no beers" in Australia's largest city.
Sydney's more than five million residents were subjected to a 106-day lockdown, designed to limit the march of the highly transmissible Delta variant.
With new infections now falling -- New South Wales state recorded 496 cases on Monday -- and more than 70% of over-16s fully vaccinated, the city is dusting off the cobwebs. — AFP
October 11, 2021 - 8:38pm
The Kremlin on Monday described Russia's COVID fatality toll as "high" and the country's vaccination rate as "unacceptably" low, even as it rejected new restrictions so as to protect the economy.
Officials on Monday registered 957 new deaths from Covid-19 over 24 hours, bringing the country's total fatalities to 217,372 -- the highest toll in Europe -- even as authorities are accused of downplaying the severity of Russia's outbreak.
Under a broader definition of deaths linked to the virus, the Rosstat statistics agency said Friday that by the end of August more than 400,000 people in Russia had died with the coronavirus.
The growing toll from the virus comes as Russia's jab drive has stalled. As of Monday, just over 30 percent of Russians had been fully vaccinated, according to the Gogov website, which tallies COVID-19 data from the regions.
"Yes, indeed, the level of vaccinations we have is small, unacceptably small," Kremlin spokesman Dmitry Peskov told reporters, saying that this is the reason for "such a high mortality rate." -- AFP
October 9, 2021 - 10:45am
A major study shows that cases of depression and anxiety surged by more than a quarter globally during the first year of the pandemic, especially among women and young adults.
In the first worldwide estimate of the mental health impact of COVID-19, researchers estimated that 2020 saw an additional 52 million people suffer from major depressive disorder, and an additional 76 million cases of anxiety.
These represent a 28- and 26-percent increase in the two disorders respectively, according to the study, published in The Lancet medical journal. — AFP
October 6, 2021 - 8:44pm
The novel coronavirus has killed at least 4,813,581 people since the outbreak emerged in China in December 2019, according to a tally from official sources compiled by AFP on Wednesday.
At least 235,767,340 cases of coronavirus have been registered.
The vast majority have recovered, though some have continued to experience symptoms weeks or even months later.