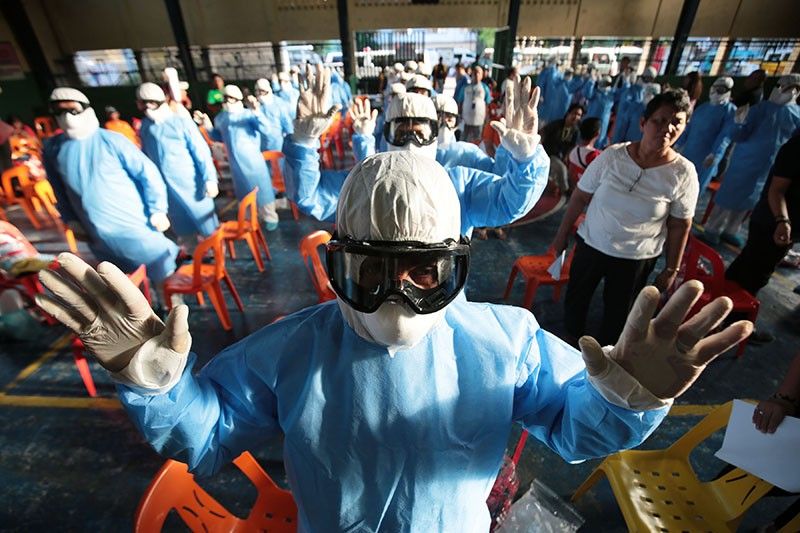 Personnel from the Quezon City Disaster Risk Reduction and Management Office and the City Health Department train members of the Barangay Health Emergency Response Teams from 19 barangays of District 4 how to wear personal protective equipment in Dona Imelda covered court in Quezon City on March 13, 2020
The STAR/Michael Varcas
COVID-19 infections in the Philippines rise to 64
MANILA, Philippines (Update 1, 9:50 p.m.) — Twelve new coronavirus disease infections were confirmed in the Philippines on Friday, raising the country's total to 64, a day after the government announced a new set of measures in a bid to contain the contagion.
Since the country first detected an infection in late January, five people have died from the disease that emerged in the central Chinese city of Wuhan. Four of the five virus-related deaths in the Philippines were reported this week.
The country's new confirmed cases are the following:
PH53: A 30-year-old male from Mandaluyong City. He is admitted at The Medical City.
PH54: A 40-year-old male from Pasig City. He was brought to Ortigas Hospital and Health Care Center.
PH55: A 59-year-old female. She is confined at Cardinal Santos Medical Center.
PH56: A 41-year-old male. He is being treated at St. Luke's Medical Center-Global City
PH57: A 65-year-old male. He is admitted at The Medical City.
PH58: A 45-year-old female from Makati City. She was brought to The Medical City.
PH59: A 27-year-old male. He is being treated at the Makati Medical Center.
PH60: A 49-year-old male from Makati City. He is being treated at St. Luke's Medical Center-Global City.
PH61: A 70-year-old female. She is admitted at the University of the East Ramon Magsaysay Memorial Medical Center.
PH62: A 35-year-old female. She was brought to Ortigas Hospital and Health Care Center.
PH63: A 33-year-old male from Rizal. He is confined at Marikina Valley Medical Center.
PH64: A 32-year-old male from Manila. He is being treated at Bataan St. Joseph Hospital and Medical Center.
The Department of Health said it is conducting intensive information-gathering and contact tracing on the new cases.
Elderly people and those with underlying medical conditions such as cardiovascular disease, diabetes, cancer, chronic lung disease and immunosuppression are vulnerable to COVID-19.
President Rodrigo Duterte, during a nationally televised address, announced plans to halt domestic travel to and from Metro Manila—home to nearly 13 million people—as the Philippines raised its alarm to Code Red Sub-Level 2.
"It's a lockdown. There is no struggle of power here. It is a matter of protecting and defending you from COVID-19," Duterte said.
He also announced a ban on mass gatherings, extended school closure and prohibition on the entry of foreigners from places where the virus is spreading.
"The decision to implement a community quarantine was made in the best interest of the public. I enjoin everyone—young and old—to cooperate fully with our government," Health Secretary Francisco Duque III.
He also urged the public to stop hoarding hygiene and sanitation products.
"It does not help us fight off COVID-19. Realize that when you hoard, you are being part of the problem by denying the rest of your fellowmen the means to protect themselves," Duque said.
Cases globally now stand at more than 125,000 and 4,600 deaths.
As It Happens
LATEST UPDATE: September 21, 2020 - 2:53pm
Follow this page for updates on a mysterious pneumonia outbreak that has struck dozens of people in China.
September 21, 2020 - 2:53pm
UK unveils overhaul of virus-hit privatized rail sector — AFP
September 21, 2020 - 7:52am
The novel coronavirus has killed at least 957,948 people since the outbreak emerged in China last December, according to a tally from official sources compiled by AFP at 1100 GMT on Sunday.
At least 30,849,800 cases of coronavirus have been registered. Of these, at least 20,871,300 are now considered to have recovered.
The tallies, using data collected by AFP from national authorities and information from the World Health Organization (WHO), probably reflect only a fraction of the actual number of infections. — AFP
September 20, 2020 - 12:31pm
London's hard-hit live entertainment sector is hoping to prove it can resurrect itself from the coronavirus shutdown — and a series of gigs from a maze of tunnels could show the way to do it.
"Lockdown Town", which opens on October 2, will see socially distanced performances of American music from the 1920s to 1950s in a network of vaulted venues near Waterloo station.
Audiences will have their temperatures checked during staggered arrival times, move from one venue to the next wearing masks, and not stay in one area for more than 15 minutes.
The number of spectators has been capped at a maximum of 360 each evening — well below the 500-700 capacity in normal times. — AFP
September 20, 2020 - 11:05am
Italians head to the polls Sunday — to the alarm of coronavirus experts — for a referendum and regional elections that could weaken the government and radically reshape the political landscape.
Just a week after a Herculean effort by schools to reopen in line with last-minute COVID-19 rules, classrooms across the country will be shut to pupils and transformed into ballot stations for the two-day vote.
A triumph for the far-right in this fiercely fought campaign would sound alarm bells in Brussels.
It will be the first test for Prime Minister Giuseppe Conte's center-left coalition government since it imposed an economically crippling nationwide lockdown to fight the virus, which has killed almost 36,000 people.
The referendum, on slashing the number of members of parliament — from 630 to 400 in the lower house, and 315 to 200 in the upper house — is expected to pass, though there has been a late uptick in the number of prominent 'no' declarations. — AFP
September 19, 2020 - 4:05pm
The Department of Health reports 3,962 additional cases of COVID-19 infections. This brings the total number of COVID-19 cases in the Philippines to 283,460.
The Health department also announces 1,128 new recoveries and 100 new deaths.