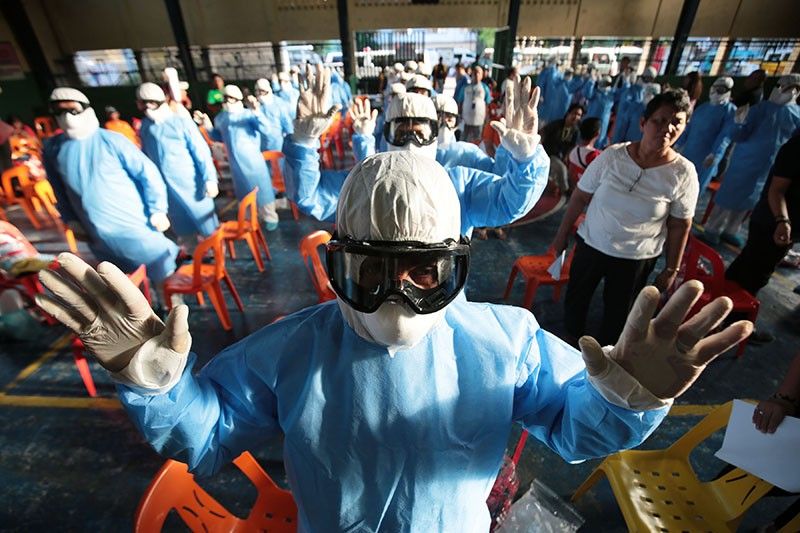 Personnel from the Quezon City Disaster Risk Reduction and Management Office and the City Health Department train members of the Barangay Health Emergency Response Teams from 19 barangays of District 4 how to wear personal protective equipment in Dona Imelda covered court in Quezon City on March 13, 2020
The STAR/Michael Varcas
COVID-19 infections in the Philippines rise to 64
MANILA, Philippines (Update 1, 9:50 p.m.) — Twelve new coronavirus disease infections were confirmed in the Philippines on Friday, raising the country's total to 64, a day after the government announced a new set of measures in a bid to contain the contagion.
Since the country first detected an infection in late January, five people have died from the disease that emerged in the central Chinese city of Wuhan. Four of the five virus-related deaths in the Philippines were reported this week.
The country's new confirmed cases are the following:
PH53: A 30-year-old male from Mandaluyong City. He is admitted at The Medical City.
PH54: A 40-year-old male from Pasig City. He was brought to Ortigas Hospital and Health Care Center.
PH55: A 59-year-old female. She is confined at Cardinal Santos Medical Center.
PH56: A 41-year-old male. He is being treated at St. Luke's Medical Center-Global City
PH57: A 65-year-old male. He is admitted at The Medical City.
PH58: A 45-year-old female from Makati City. She was brought to The Medical City.
PH59: A 27-year-old male. He is being treated at the Makati Medical Center.
PH60: A 49-year-old male from Makati City. He is being treated at St. Luke's Medical Center-Global City.
PH61: A 70-year-old female. She is admitted at the University of the East Ramon Magsaysay Memorial Medical Center.
PH62: A 35-year-old female. She was brought to Ortigas Hospital and Health Care Center.
PH63: A 33-year-old male from Rizal. He is confined at Marikina Valley Medical Center.
PH64: A 32-year-old male from Manila. He is being treated at Bataan St. Joseph Hospital and Medical Center.
The Department of Health said it is conducting intensive information-gathering and contact tracing on the new cases.
Elderly people and those with underlying medical conditions such as cardiovascular disease, diabetes, cancer, chronic lung disease and immunosuppression are vulnerable to COVID-19.
President Rodrigo Duterte, during a nationally televised address, announced plans to halt domestic travel to and from Metro Manila—home to nearly 13 million people—as the Philippines raised its alarm to Code Red Sub-Level 2.
"It's a lockdown. There is no struggle of power here. It is a matter of protecting and defending you from COVID-19," Duterte said.
He also announced a ban on mass gatherings, extended school closure and prohibition on the entry of foreigners from places where the virus is spreading.
"The decision to implement a community quarantine was made in the best interest of the public. I enjoin everyone—young and old—to cooperate fully with our government," Health Secretary Francisco Duque III.
He also urged the public to stop hoarding hygiene and sanitation products.
"It does not help us fight off COVID-19. Realize that when you hoard, you are being part of the problem by denying the rest of your fellowmen the means to protect themselves," Duque said.
Cases globally now stand at more than 125,000 and 4,600 deaths.
As It Happens
LATEST UPDATE: April 4, 2020 - 4:09pm
Follow this page for updates on a mysterious pneumonia outbreak that has struck dozens of people in China.
April 4, 2020 - 4:09pm
The Department of Health reports 76 more local cases of the coronavirus disease 2019, bringing the official tally to 3,094 from the previous count of 3,018.
April 3, 2020 - 12:58pm
The Philippine Health Insurance Corp. assures the public that they will shoulder the full cost of treatment for all COVID-19 patients until April 14, 2020.
"The reason for this accommodation window is due to the novelty and the wide range of severity of the disease in the country for which no existing case rate or package based on accepted protocols has yet been established," it says in a statement.
Philhealth says they will issue a new set of guidelines after the final protocol is established.
April 3, 2020 - 10:22am
The UN General Assembly has approved a resolution calling for "international cooperation" and "multilateralism" in the fight against COVID-19, in the first text to come out of the international body since the pandemic's outbreak.
The resolution, which was approved by consensus, also stresses "the need for full respect for human rights" and that "there is no place for any form of discrimination, racism and xenophobia in the response to the pandemic." — AFP
April 3, 2020 - 8:04am
The cruise ship Zaandam, which has dozens of ill passengers on board and was not allowed to dock in several South American countries, arrivsd Thursday in port in Fort Lauderdale, Florida.
The liner was finally cleared for docking after long negotiations between Holland America Line, local and state officials, and the US Coast Guard, to ensure the safe disembarkation of the healthy — and the sick. — AFP
April 2, 2020 - 5:02pm
The Department of Health confirms 11 COVID-19 patients have died in the Philippines, raising the total number of fatalities to 107.
The Philippines also recorded 322 new coronavirus cases, bringing the national total to 2,633.
As of Thursday afternoon, one additional patient recovered from the deadly virus, bringing the total number of recoveries to 51.