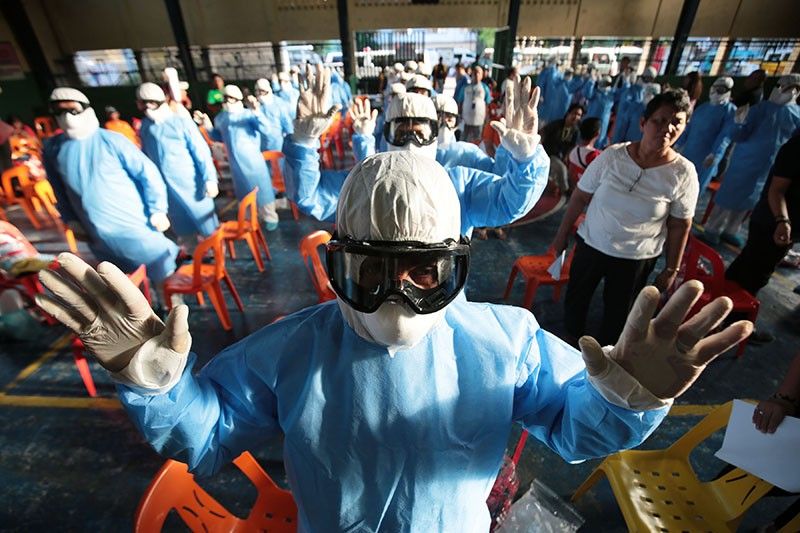 Personnel from the Quezon City Disaster Risk Reduction and Management Office and the City Health Department train members of the Barangay Health Emergency Response Teams from 19 barangays of District 4 how to wear personal protective equipment in Dona Imelda covered court in Quezon City on March 13, 2020
The STAR/Michael Varcas
COVID-19 infections in the Philippines rise to 64
MANILA, Philippines (Update 1, 9:50 p.m.) — Twelve new coronavirus disease infections were confirmed in the Philippines on Friday, raising the country's total to 64, a day after the government announced a new set of measures in a bid to contain the contagion.
Since the country first detected an infection in late January, five people have died from the disease that emerged in the central Chinese city of Wuhan. Four of the five virus-related deaths in the Philippines were reported this week.
The country's new confirmed cases are the following:
PH53: A 30-year-old male from Mandaluyong City. He is admitted at The Medical City.
PH54: A 40-year-old male from Pasig City. He was brought to Ortigas Hospital and Health Care Center.
PH55: A 59-year-old female. She is confined at Cardinal Santos Medical Center.
PH56: A 41-year-old male. He is being treated at St. Luke's Medical Center-Global City
PH57: A 65-year-old male. He is admitted at The Medical City.
PH58: A 45-year-old female from Makati City. She was brought to The Medical City.
PH59: A 27-year-old male. He is being treated at the Makati Medical Center.
PH60: A 49-year-old male from Makati City. He is being treated at St. Luke's Medical Center-Global City.
PH61: A 70-year-old female. She is admitted at the University of the East Ramon Magsaysay Memorial Medical Center.
PH62: A 35-year-old female. She was brought to Ortigas Hospital and Health Care Center.
PH63: A 33-year-old male from Rizal. He is confined at Marikina Valley Medical Center.
PH64: A 32-year-old male from Manila. He is being treated at Bataan St. Joseph Hospital and Medical Center.
The Department of Health said it is conducting intensive information-gathering and contact tracing on the new cases.
Elderly people and those with underlying medical conditions such as cardiovascular disease, diabetes, cancer, chronic lung disease and immunosuppression are vulnerable to COVID-19.
President Rodrigo Duterte, during a nationally televised address, announced plans to halt domestic travel to and from Metro Manila—home to nearly 13 million people—as the Philippines raised its alarm to Code Red Sub-Level 2.
"It's a lockdown. There is no struggle of power here. It is a matter of protecting and defending you from COVID-19," Duterte said.
He also announced a ban on mass gatherings, extended school closure and prohibition on the entry of foreigners from places where the virus is spreading.
"The decision to implement a community quarantine was made in the best interest of the public. I enjoin everyone—young and old—to cooperate fully with our government," Health Secretary Francisco Duque III.
He also urged the public to stop hoarding hygiene and sanitation products.
"It does not help us fight off COVID-19. Realize that when you hoard, you are being part of the problem by denying the rest of your fellowmen the means to protect themselves," Duque said.
Cases globally now stand at more than 125,000 and 4,600 deaths.
As It Happens
LATEST UPDATE: February 26, 2021 - 2:05pm
Follow this page for updates on a mysterious pneumonia outbreak that has struck dozens of people in China.
February 26, 2021 - 2:05pm
Japan will end a coronavirus state of emergency early in some regions as the pace of infection slows, reports say, less than five months before the pandemic-postponed Tokyo Olympics.
The emergency measure -- currently in force in 10 regions including Tokyo -- is looser than the strict lockdowns seen elsewhere in the world, and primarily calls for bars and restaurants to close from 8pm.
It is due to end on March 7, but the government will lift the measure this Sunday, just over a week early, in around six prefectures, the reports say. — AFP
February 26, 2021 - 8:45am
Brazil's death toll from Covid-19 surpasses a quarter-million Thursday, a year after the first case was confirmed in the country, which is struggling with vaccine shortages and a devastating second wave.
The new coronavirus has now killed 251,498 people in Brazil, according to health ministry figures — the second-highest toll worldwide, after the United States, where the number passed half a million Monday.
This has been the deadliest week yet of the pandemic in Brazil, with a daily average of 1,149 deaths over the past seven days, according to the ministry's figures. — AFP
February 24, 2021 - 1:05pm
Fashionistas will have to log on to soak up the glamour at Milan Fashion Week, which remains online a year after the coronavirus first swept into northern Italy.
No sharply dressed crowds will attend the extravaganza's opening on Wednesday: it's virtual catwalk shows only, with the likes of Armani and Prada presenting new women's collections for autumn and winter 2021-22. — AFP
February 23, 2021 - 11:31am
Movie theaters in New York City will partially reopen next month, Governor Andrew Cuomo announces, the latest easing of coronavirus restrictions in the Big Apple.
Cuomo says cinemas will be able to operate at 25% capacity, or up to 50 people per screen, from March 5 -- almost exactly a year since they shut. — AFP
February 21, 2021 - 5:39pm
The head of the World Health Organization on Sunday appeals to Tanzania to take "robust action" to combat COVID-19 in the country, where the president has long played down the virus.
President John Magufuli has claimed coronavirus has been has fended off by prayer in Tanzania, and refused to take measures to curb its spread.
But a recent spate of deaths attributed to pneumonia has struck both members of the public and government officials.
And Magufuli on Friday appeared to admit the coronavirus was circulating in his country after months of denial.
WHO director general Tedros Adhanom Ghebreyesus said a number of Tanzanians traveling to neighboring countries and beyond have tested positive for the coronavirus.
"This underscores the need for Tanzania to take robust action both to safeguard their own people and protect populations in these countries and beyond," he said in a statement.
Tedros said he had urged Tanzania in late January to take measures against the pandemic and to prepare for vaccinations.
"Since then I have spoken with several authorities in Tanzania but WHO is yet to receive any information regarding what measures Tanzania is taking to respond to the pandemic. — AFP