COVID-19 infections in the Philippines rise to 64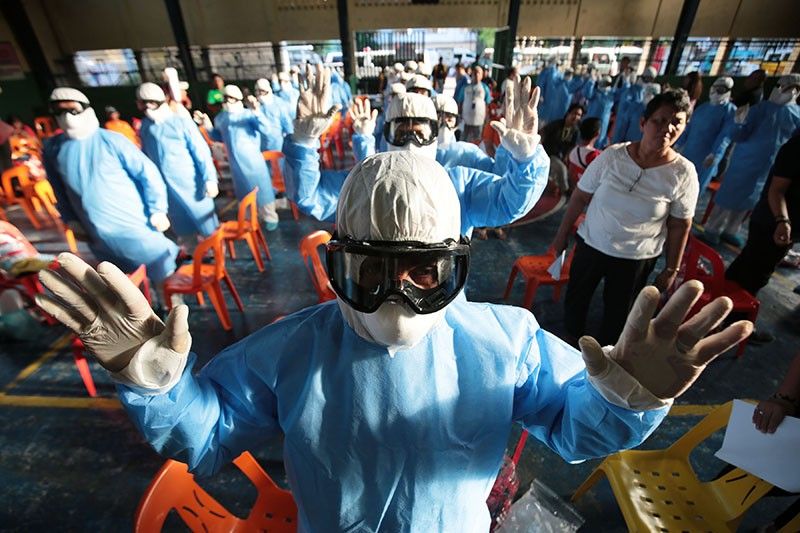 MANILA, Philippines (Update 1, 9:50 p.m.) — Twelve new coronavirus disease infections were confirmed in the Philippines on Friday, raising the country's total to 64, a day after the government announced a new set of measures in a bid to contain the contagion.
Since the country first detected an infection in late January, five people have died from the disease that emerged in the central Chinese city of Wuhan. Four of the five virus-related deaths in the Philippines were reported this week.
The country's new confirmed cases are the following:
PH53: A 30-year-old male from Mandaluyong City. He is admitted at The Medical City.
PH54: A 40-year-old male from Pasig City. He was brought to Ortigas Hospital and Health Care Center.
PH55: A 59-year-old female. She is confined at Cardinal Santos Medical Center.
PH56: A 41-year-old male. He is being treated at St. Luke's Medical Center-Global City
PH57: A 65-year-old male. He is admitted at The Medical City.
PH58: A 45-year-old female from Makati City. She was brought to The Medical City.
PH59: A 27-year-old male. He is being treated at the Makati Medical Center.
PH60: A 49-year-old male from Makati City. He is being treated at St. Luke's Medical Center-Global City.
PH61: A 70-year-old female. She is admitted at the University of the East Ramon Magsaysay Memorial Medical Center.
PH62: A 35-year-old female. She was brought to Ortigas Hospital and Health Care Center.
PH63: A 33-year-old male from Rizal. He is confined at Marikina Valley Medical Center.
PH64: A 32-year-old male from Manila. He is being treated at Bataan St. Joseph Hospital and Medical Center.
The Department of Health said it is conducting intensive information-gathering and contact tracing on the new cases.
Elderly people and those with underlying medical conditions such as cardiovascular disease, diabetes, cancer, chronic lung disease and immunosuppression are vulnerable to COVID-19.
President Rodrigo Duterte, during a nationally televised address, announced plans to halt domestic travel to and from Metro Manila—home to nearly 13 million people—as the Philippines raised its alarm to Code Red Sub-Level 2.
"It's a lockdown. There is no struggle of power here. It is a matter of protecting and defending you from COVID-19," Duterte said.
He also announced a ban on mass gatherings, extended school closure and prohibition on the entry of foreigners from places where the virus is spreading.
"The decision to implement a community quarantine was made in the best interest of the public. I enjoin everyone—young and old—to cooperate fully with our government," Health Secretary Francisco Duque III.
He also urged the public to stop hoarding hygiene and sanitation products.
"It does not help us fight off COVID-19. Realize that when you hoard, you are being part of the problem by denying the rest of your fellowmen the means to protect themselves," Duque said.
Cases globally now stand at more than 125,000 and 4,600 deaths.
As It Happens
LATEST UPDATE: August 11, 2022 - 9:01am
Follow this page for updates on a mysterious pneumonia outbreak that has struck dozens of people in China.
August 11, 2022 - 9:01am
North Korean leader Kim Jong Un declares a "shining victory" over COVID-19, after officials reported no new cases of the virus for nearly two weeks.
Presiding over a meeting with health workers and scientists, Kim announces a "victory... in the war against the malignant pandemic disease," according to the government news agency KCNA.
The isolated country, which has maintained a rigid coronavirus blockade since the start of the pandemic, announced an Omicron outbreak in the capital Pyongyang in May and activated a "maximum emergency epidemic prevention system". — AFP
July 30, 2022 - 12:45pm
North Korea reports zero fever cases on Saturday for the first time in more than two months since it confirmed its first COVID-19 infections in May.
"There were no new fever patients reported" over a 24-hour period from Thursday evening, the state-run Korean Central News Agency says, marking the first time the isolated country had reported no new cases since it began tallying numbers in May.
While it has maintained a rigid coronavirus blockade since the start of the pandemic, experts have said that massive Omicron outbreaks in neighbouring countries meant it was only a matter of time before Covid snuck in. — AFP
July 27, 2022 - 5:46pm
According to a pair of new studies in the journal Science that claimed to have tipped the balance in the debate about the virus' origins, an animal market in China's Wuhan really was the epicenter of the COVID-19 pandemic.
Answering the question of whether the disease spilled over naturally from animals to humans, or was the result of a lab accident, is viewed as vital to averting the next pandemic and saving millions of lives.
The first paper analyzed the geographic pattern of COVID-19 cases in the outbreak's first month, December 2019, showing the first cases were tightly clustered around Wuhan's Huanan Seafood Wholesale Market. — AFP
July 17, 2022 - 2:01pm
Macau is set to begin another working week of partial lockdown, after the city extended the closure of its casinos and non-essential businesses to try and eradicate its worst coronavirus outbreak yet.
Authorities had announced a week of "static management" starting June 11 after recording more than 1,500 infections in the previous three weeks despite multiple rounds of compulsory mass testing of the city's population.
The restrictions had been due to lift on Monday, but cases have continued to climb, with the Macau government saying Sunday there had been 1,733 cases recorded since the start of the outbreak.
Daily case numbers are comparatively small by global standards, but authorities have moved quickly to stamp out transmission as they adhere to mainland China's strict zero-Covid policy.
On Saturday the government announced that the "static management" period would be extended through Friday. -- AFP
July 12, 2022 - 4:58pm
Hundreds of thousands of people were under lockdown in a small Chinese city Tuesday after just one case of Covid-19 was detected, as Beijing's strict no-tolerance virus strategy showed no sign of abating.
China is the last major economy glued to a zero-Covid policy, crushing new outbreaks with snap lockdowns, forced quarantines and onerous travel curbs despite mounting public fatigue and damage to the economy.
Authorities in several regions have imposed a range of restrictions as they struggle to tamp down fresh flare-ups driven by the fast-spreading Omicron variant.
After reporting a new domestic infection, the steelmaking hub of Wugang in Henan province announced Monday that it would implement three days of "closed control" in response to "the needs of disease prevention", according to an official notice.
None of the city's 320,000 people are allowed to set foot outside their homes until midday Thursday, the notice said, adding that basic necessities would be delivered by local authorities. -- AFP