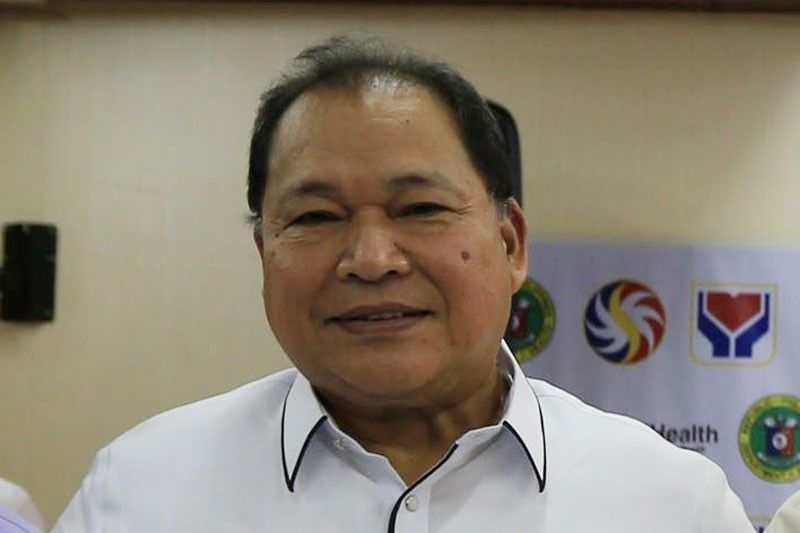 Wendel Avisado served as Davao City administrator when President Duterte was mayor of the southern city from 2004 to 2010.
The STAR/File
Ex-Davao City administrator gets CA nod as DBM chief
MANILA, Philippines — The Commission on Appointments on Wednesday confirmed the ad interim appointment of Budget Secretary Wendel Avisado with no objections raised.
President Rodrigo Duterte appointed Avisado as acting secretary of the Department of Budget and Management in August 2019, succeeding Benjamin Diokno who was appointed governor of the Bangko Sentral ng Pilipinas.
Prior to this, the president appointed Avisado as Presidential Assistant for Special Concerns in November 2016.
Avisado also served as city administrator of Davao City from 2004 to 2010, under the consecutive mayoral terms of Duterte.
Senate Majority Leader Juan Miguel Zubiri sponsored the confirmation of the DBM chief, saying that he was the first Budget secretary to submit a detailed report every Cabinet meeting.
"He can competently lead the DBM in the timely passage and disbursement of funds for the public," the senator was quoted saying in a Philippine News Agency report.
He credited Avisado's role in the enactment of the 2020 National Budget and the Salary Standardization Law 5 (Republic Act 11466).
As It Happens
LATEST UPDATE: June 15, 2020 - 6:05pm
Follow this thread for appointments made by President Rodrigo Duterte.
June 15, 2020 - 6:05pm
President Rodrigo Duterte has appointed a controversial former lawmaker to the Technical Education and Skills Development Authority (TESDA).

Former Rep. Aniceto dela Rosa Bertiz III (ACTS-OFW) is expected to perform a "huge task" as deputy director-general of the agency, presidential spokesperson Harry Roque says.

"With the repatriation of thousands of overseas Filipino workers to the country, Mr. Bertiz has a huge task to fulfill, which is, to provide these returning Filipinos quality-assured and inclusive technical education and skills development, as envisioned by TESDA," Roque also says.

"We hope that everyone would support DDG Bertiz as he begins his new assignment in this extraordinary time," he adds.

Bertiz was heavily criticized in 2018 for refusing to remove his shoes during an airport inspection. He has apologized for his action, which he attributed to a "monthly period." — The STAR/Alexis Romero
May 27, 2020 - 10:06am
Outgoing Philippine Drug Enforcement Agency Director General Aaron Aquino has been appointed to the Clark International Airport Corporation.
Presidential spokesperson Harry Roque confirms that Aquino has been appointed member of the board of directors of Clark International Airport Corporation on May 22.
"We thank Mr. Aquino for his immense contribution to the Administration's campaign against illegal drugs," Roque says.
May 26, 2020 - 9:21pm
Wilkins Villanueva, Philippine Drug Enforcement Agency Northern Mindanao chief, will replace Aaron Aquino as the agency's director general, News5's Maricel Halili reports.
JUST IN | PDEA's Northern Mindanao chief Wilkins Villanueva is the agency's new director general, replacing outgoing Aaron Aquino. (via News5/Maricel Halili) pic.twitter.com/ajg5bbvrrL

— ONE News PH (@onenewsph) May 26, 2020
January 17, 2020 - 10:33pm
President Duterte appoints police Lt. Gen. Archie Gamboa to helm the Philippine National Police.
In a speech in Davao City, Duterte says Gamboa will have to "show his sincerity" and commit to a legacy as the new police chief.
The police force welcomes the appointment and vows that under Gamboa's leadership, "we assure the public that the PNP remains committed to intensify the campaign against criminality, illegal drugs and corruption."
Gamboa has been officer-in-charge of the PNP since the last director-general, Oscar Albayalde, vacated the post. (PNA photo)
October 22, 2019 - 10:22am
President Duterte appoints Vice Admiral Joel Garcia as the 28th commandant of the Philippine Coast Guard. He is set to assume the position on Thursday, October 24.
"Vice Admiral Garcia is a graduate of the Philippine Merchant Marine Academy and a license master mariner. He is the current Executive Director of the National Coast Watch Center (NCWC), under the Office of the President; and the Chairperson of the Regional Cooperation Agreement on Combating Piracy and Armed Robbery against Ships in Asia (ReCAAP) Governing Council, based in Singapore," the Coast Guard says in a statement.
"He earned his Masters of Science degree in Maritime Safety Administration from the World Maritime University (WMU) in Malmo, Sweden and Masters in Shipping Management from the Philippine Merchant Academy (PMMA)."
The Coast Guard says it is also grateful for the outgoing commandant, Admiral Elson Hermogino, for achieving great feats towards the advancement of the command.