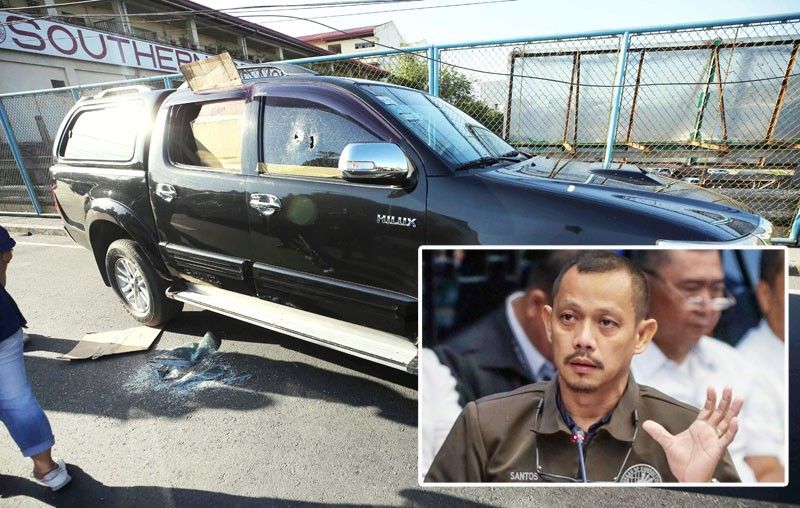 The vehicle of Bureau of Corrections legal chief Fredric Anthony Santos who was shot dead near his daughter's school in Barangay Poblacion, Muntinlupa yesterday. Inset shows Santos testifying during the Senate probe on the good conduct time allowance-for-sale racket last year.
Russell Palma, Geremy Pintolo
BuCor exec who testified in GCTA probe shot dead
MANILA, Philippines — The suspended legal chief of the Bureau of Corrections (BuCor), who had testified at the Senate hearing on the good conduct time allowance (GCTA) anomaly, was shot dead yesterday as he was about to pick up his daughter from a school in Muntinlupa City.
Lawyer Fredric Santos was in his Toyota Hilux pick-up (AAN 7158), waiting for his daughter to come out of the Southernside Montessori School on Katihan Street in Barangay Poblacion, when two unidentified men appeared and shot him at close range. The two men escaped.
The Muntinlupa Rescue Team declared Santos dead from gunshot wounds in the head. The school is about 100 meters from the BuCor headquarters.
Malacañang condemned the killing of Santos and expressed belief that his death would not affect the investigation on the GCTA controversy.
"We condemn any act of violence. We have always been like that. As a matter of policy, we condemn transgressions of law, any violation inflicted against any person, any murder, we condemn that," presidential spokesman Salvador Panelo said in a chance interview yesterday.
"It has nothing to do with the campaign against corruption because we don't know exactly whether or not this is a personal case. Meaning, it might be a retaliation from some personal wrongdoing that he has committed," he added.
Asked whether the incident would set back the GCTA probe, Panelo replied: "No, because people will always reveal certain truths about their agencies or offices. Lalabas at lalabas yan (It will come out). Not everyone is involved in conspiracy on corruption.
"Even assuming that it was done in relation to whatever he has done for this government, still, as I said earlier, it will not thwart or stop the campaign against corruption because people there will always be coming out to tell the truth," he added.
Panelo said the Palace wants justice for Santos and expects authorities to thoroughly investigate the killing.
GCTA is a sentence reduction scheme for prisoners who maintain good behavior while serving time. BuCor regularly reviews prisoner records to determine who can be entitled to the privilege.
Gabriel Chaclag, BuCor's public information chief, told reporters that Santos' killing has left BuCor personnel "anxious" and with "low morale."
Santos was to return to work in March after being suspended on Sept. 12 last year after he was linked to the GCTA anomaly.
Sen. Richard Gordon, meanwhile, said Santos' killing was a rubout as he called on President Duterte and the justice department to ensure that the BuCor official gets justice.
Gordon said Santos was the 15th BuCor official to be killed near or right inside the compound of New Bilibid Prison in Muntinlupa City, he said without elaborating. Three of the killings, he added, happened when Nicanor Faeldon was BuCor chief.
"It's a rubout. It is a warning to those who know something and choose to talk; they can get killed. All the murder cases in Muntinlupa remain unsolved. This is very serious and I call on the President and secretary of justice, who has jurisdiction over BuCor, to act on the matter," Gordon said.
He said the National Bureau of Investigation (NBI) should look into cases of deaths at the BuCor. – Alexis Romero, Cecille Suerte Felipe