Thousands of OFWs fear losing jobs in Hong Kong, Macau
February 5, 2020 | 12:00am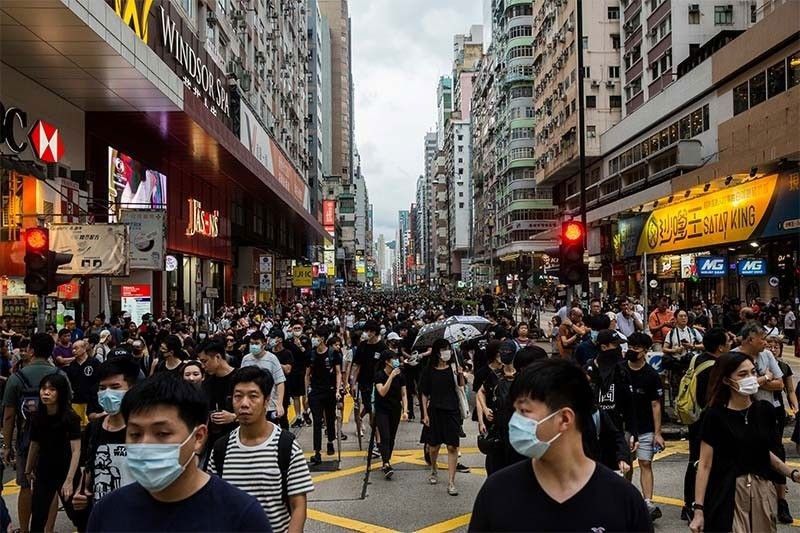 MANILA, Philippines — Thousands of Filipino domestic helpers in Hong Kong and Macau fear losing their jobs amid the travel ban imposed by the Philippines for China and its special administrative regions.
Recruitment consultant and migration expert Emmanuel Geslani yesterday said there are 250,000 household service workers (HSWs) in the two special administrative regions and the travel ban imposed to arrest the spread of the novel coronavirus (nCoV) may affect their employment.
As such, a majority of Filipinos working in Hong Kong expressed disinterest in returning to the Philippines at this time, fearing they would not be able to go back to their jobs.
Geslani said this reaction is not far from the sentiments of 95 percent of Filipino workers in Hong Kong who, at the height of anti-government protests last year, opted to stay than return to the Philippines.
As the Hong Kong airport was shut at the time and government offices had been paralyzed by violent protests, Labor Secretary Silvestre Bello III called on Filipinos there to come home. But very few did.
At present, there are about 25,000 HSWs vacationing in the Philippines or have new contracts and need to leave for Hong Kong by the end of this month, Geslani said.
They are the ones who fear losing their jobs since their vacation leave is only good for two weeks, he said, citing information from the Society of Hong Kong Accredited Recruiters of the Philippines (SHARP).
"These workers are not infected (with the coronavirus) and just want to work in Hong Kong and Macau which have not closed their borders to OFWs (overseas Filipino workers)," Geslani said.
Since Manila-based airlines have suspended flights to these two special administrative regions in response to the travel ban, he said government should consider making an exemption to enable the HSWs to return to their jobs.
For its part, the Blas Ople Policy Center urged the Philippine Overseas Employment Administration (POEA) to convene and issue a resolution converting the travel ban into a temporary deployment ban.
Center head Susan Ople said foreign employers need to be informed by the POEA about the government's decision and changes in policy so as to mitigate the adverse impact on the employment of affected OFWs.
Financial assistance
Meanwhile, Labor Undersecretary Renato Ebarle gave assurance that financial and other forms of assistance are available to OFWs affected by the travel ban in China, Hong Kong and Macau.
Ebarle said the Overseas Workers Welfare Administration (OWWA) will extend P10,000 cash assistance, accommodation and transportation to each stranded OFW caught by the travel ban.
"The grant will help ease the burden on would-be departing workers," he said.
Stranded workers will also be provided with accommodation at the OWWA halfway house while arrangements for their travel to the provinces are being made, he added.
About a hundred OFWs bound for Hong Kong and Macau have been stranded at airports since President Duterte imposed the travel ban.
Bureau of Immigration (BI) spokesperson Dana Sandoval said government is taking into consideration the job security of all OFWs affected by the travel ban.
Sandoval said the BI's job is to enforce the travel restriction regardless of the type of visa the traveler holds, and this includes OFWs traveling to Hong Kong for their jobs.
"But I believe the POEA and the OWWA will be doing their part in ensuring that the jobs of our countrymen would be retained despite this travel ban," she said.
A bishop of the Catholic church said yesterday that despite the danger posed by the new virus, chaplains in Hong Kong and Macau will stay put to attend to the pastoral needs of OFWs.
"We remind them of necessary precautions and sent our prayers against spread of that virus. As we pray for safety, sound health of our people, let us include also our priests working for them abroad," said Balanga Bishop Ruperto Santos, former head of the Catholic Bishops' Conference of the Philippines-Episcopal Commission on Migrants and Itinerants.
Paid quarantine leave
Meanwhile, the Trade Union Congress of the Philippines (TUCP) is batting for a paid 14-day quarantine leave for workers in both the public and private sectors.
TUCP president Raymond Mendoza said the reality posed by the nCoV scare is that there are certain employees whose jobs expose them to potential carriers of the virus.
Among them are those assigned to airports and seaports, doctors, nurses, medical health practitioners, cleaners, security guards in private and government-owned and operated hospitals and quarantine facilities, hotels and restaurant employees.
"There is an urgent emerging need for government policy regulation to provide additional compensation benefit unique only for all frontline employees who are in the first and secondary tier exposed directly or indirectly to the risk of infection to the dangerous nCoV virus," Mendoza said.
However, the sick leave provided by companies is not enough to cover the 14-day quarantine period.
"It is high time to issue a policy regulation from the Civil Service Commission for government employees and the Department of Labor and Employment for private business employees addressing this compensation gap," Mendoza said. – With Alexis Romero, Evelyn Macairan