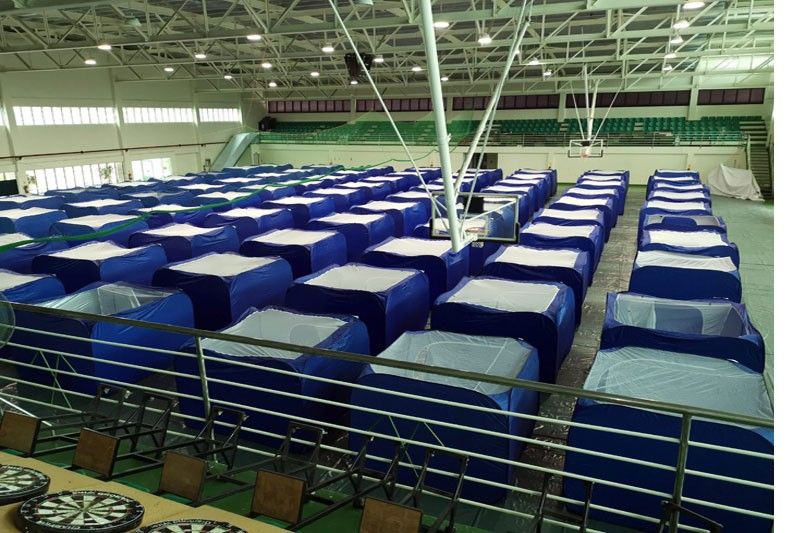 Tents are set up at the 'welcome shelter' of De La Salle University's Lipa, Batangas campus yesterday.
ARNELL OZAETA
Residents keep going back to Volcano Island
MANILA, Philippines — The police and military joined forces to tighten security within the 14-kilometer danger zone of Taal Volcano over the weekend, as the Philippine Coast Guard (PCG) blocked dozens of attempts by residents to return to volcano island, authorities said.
The Philippine National Police-Maritime Group (PNP-MARIG) launched patrols at Taal Lake to intercept fishermen and other residents trying to reenter the area as volcanic activity remains intense.
"We will be implementing enhanced management of police operations," Brig. Gen. R'Win Pagkalinawan, MARIG director, said in an interview over dzBB yesterday.
Pagkalinawan said the MARIG has a boat crew of at least 12 personnel and a high-speed tactical watercraft to patrol the lake. "My men are willing to sacrifice their own lives to make sure that civilians will not get hurt," he said.
Coast guardsmen on patrol block an average of 10 boats per day attempting to return to Taal Volcano island in Batangas, said PCG spokesperson Captain Armand Balilo.
"We continue to appeal to the residents not to insist in going to the island," said Balilo, citing strict orders from the national government to implement a total lockdown in the area.
Twelve towns and cities near the volcano were placed on lockdown as these were included in the 14-km danger zone.
He reiterated that that the lockdown was imposed by the National Disaster Risk Reduction and Management Council (NDRRMC). "We (PCG personnel) are just there to enforce," he said.
"Once the danger has been lifted, we would even help and accompany them back to the island. If there are things that are needed to be lifted, we would help them," Balilo added.
Most of the residents attempting to return are concerned for their livestock.
Pagkalinawan said about 80 percent of the 1,500 horses, cows and other livestock on volcano island were killed instantly after Taal erupted last Jan. 12.
He said efforts exerted by the MARIG and PCG have resulted in the rescue of about 100 horses, excluding those rescued by their owners and members of non-governmental organizations before the lockdown.
"Our estimate is that there are about 100 to 200 horses left," Pagkalinawan said.
Task Force Taal
The military and police have joined forces, creating an aligned "Task Force Taal" to ensure the safety and security of nearly 150,000 residents displaced by the crisis.
Maj. Gen. Arnulfo Burgos Jr., commander of the Philippine Army's 2nd Infantry Division, ordered the creation of the task force, which is headed by Brig. Gen. Marceliano Teofilo, chief of staff of the army's 2nd Infantry Division. The task force is also supported by the Navy and air force.
"It will provide direction on the ground with the support of local police authorities and local officials," said Burgos of the task force, which will ensure security and order at all evacuation centers in Batangas, Cavite, Laguna and Quezon.
For its part, the Philippine National Police (PNP) also created its Task Force Taal to be aligned with its military counterpart.
The task force is led by Brig. Gen. Vicente Danao, Police Regional Office 4-A director, and Col. Edwin Quilates, Batangas police director, with the support of local chiefs of police and local official and government agencies.
"It's been reported that relief supply or goods have poured in at evacuation centers. Overloaded daw, but this is being attended to by the concerned agency – the DSWD was tasked to handle the relief goods," Teofilo told The STAR.
"There are companies, individuals, associations, groups and other volunteers that wanted to directly distribute their relief goods to the evacuation centers, but we asked them to coordinate first with the social workers," he said.
Teofilo said the military is currently undertaking construction work at evacuation centers.
"We finished the SAR operations as well as to transport the evacuees, we are (now) focus on building the comfort rooms, so the military engineering personnel are needed," he said.
Also, 615 policemen from national headquarters at Camp Crame, Quezon City were deployed as augmentation forces in Batangas last Friday.
Quilates said the the police officers relieved their counterparts who needed rest in the affected areas in the towns of Talisay, Laurel, Lemery, Agoncillo, San Nicolas and Balete, among the areas hardhit by the volcano's eruption.
He told dzBB the anti-looting unit continues its patrol.
Phivolcs update
Yesterday, the Philippine Institute of Volcanology and Seismology (Phivolcs) said the threat of a hazardous explosive eruption remained.
Speaking at a press briefing, Phivolcs volcano monitoring division chief Mariton Bornas said around 150,000 displaced residents in the surrounding areas of Taal Volcano should stay put at evacuation centers.
"We stand firm on our recommendation that the danger zone should be totally evacuated and no one should be allowed to enter the areas defined as danger zone," she said.
If the 311-meter high volcano erupts anew, it could show a "faster progression" of seismic events, Bornas said.
"The volcano is already open. The magma will climb up quickly because there is no longer any pressure preventing it from doing so. Whatever was blocking it before had been removed," she said.
She said residents who were moved away from volcano island, its lake and the adjacent Pansipit River, as well as areas around Taal's 14-km radius should remain in evacuation centers.
"You have ash dispersed around the volcano, sometimes there are minor lava flows that come down from the crater, then there is of course strong gas expulsion. These are very dangerous," she said.
Bornas said they continue to "evaluate" the condition of Taal and experts are looking at all scenarios.
Classes in all levels in the entire province of Batangas will remain suspended for as long as Taal Vocano is at Alert Level 4, the second-highest of a five-step alert system.
The Department of Education (DepEd) said that it was taking a wait-and-see stand on developments on the volcanic activity before pushing for the resumption of classes for learners affected by the calamity in Batangas.
Education Undersecretary Nepomuceno Malaluan noted that the Batangas provincial government headed by Gov. Hermilando Mandanas has kept classes suspended up to today.
"For tomorrow, (the) Batangas governor has declared no classes still province wide," Malaluan told The STAR.
Roni Co, DepEd Disaster Risk Reduction and Management Service (DRRMS) director, gave assurance that arrangements for temporary learning facilities will be made eventually, both for learners in evacuation centers in public schools or those operated by local government units (LGUs).
As of last Friday, DepEd had estimated that the Taal eruption has affected 7,895 schools, covering about 7.22 million learners.
Save the Children Philippines said kids worried about missed school days, prompting the group to set up child-friendly spaces in affected areas where they can learn and play while receiving emotional support.
UN support ready
Last Thursday, foreign diplomats and officials from embassies and international organizations based in the country were given a briefing on the situation by the Department of Foreign Affairs (DFA).
The United Nations has said it stands ready to support in dealing with the Taal crisis.
Diplomats from 60 embassies and representatives of 10 international organizations attended the briefing with Phivolcs officer-in-charge Renato Solidum.
The UN had earlier expressed concern over warnings issued by the government that the volcanic eruptions in Taal could last "days, months or even years."
Meanwhile, De La Salle University in Lipa City has opened its doors to evacuees Saturday afternoon, calling it a "Welcome Shelter."
"We treat them as guests here, not as evacuees. If we can ease their suffering a little bit with every little facility that we can provide, at least nakatulong tayo ng maayos (we're able to help)," said university president Dante Amisola.
The families are given access to toilets and shower facilities, locker rooms, the mess hall, commissary and an entertainment area with a play center.
Members of the Police Regional Office 3 (PRO3) delivered P2.5 million worth of relief items to families of Batangas police personnel who have also been caught up in the crisis while serving the affected communities.
Brig. Gen. Rhodel Sermonia, PRO3 acting director, spearheaded the activity last Saturday, delivering the goods to the Batangas Police Provincial Office in Batangas City.
Sen. Francis Pangilinan said the government must come up with a comprehensive inter-agency fund assistance program for the victims.
"This program may include several forms of assistance like outright cash assistance, moratorium on amortization, etc.," said Pangilinan, who participated in a relief operation in Alfonso, Cavite also on Saturday.
The Department of Labor and Employment, for example, can also utilize its funds to assist workers displaced in the crisis areas, according to Sen. Sonny Angara.
Meanwhile, Sen. Leila de Lima urged her colleagues in the Senate to pass the Calamity Leave Bill, which seeks to allow public and private workers to take care of their families and properties when disasters, such as the Taal eruption, strike. – With Evelyn Macairan, Helen Flores, Rainier Allan Ronda Pia Lee-Brago, Arnell Ozaeta, Ric Sapnu, Paolo Romero