Fissures widen around Taal
January 18, 2020 | 12:00am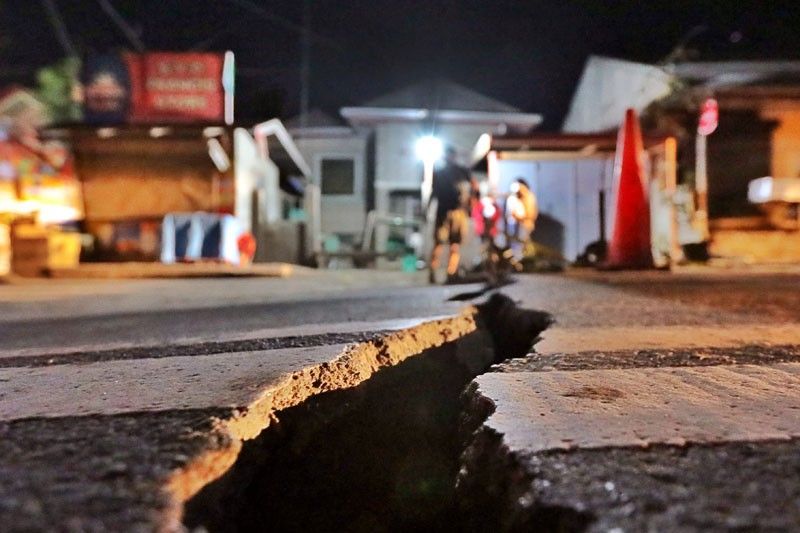 US experts fly in to assist Phivolcs
MANILA, Philippines —Ground fissures caused by the recent Taal Volcano explosion have widened in four towns in Batangas, while a new one has appeared on a trail on the volcano island regularly used by tourists, the Philippine Institute of Volcanology and Seismology (Phivolcs) reported yesterday as it maintained the second highest warning on the likelihood of a massive eruption.
"We found out that the new fissure in the northern side extends to the area where the tourists hike, and it's giving off steam," Phivolcs director Renato Solidum Jr. said in an interview.
He was referring to Daang Kastila, a trail of less than three kilometers that leads to the main crater.
Phivolcs on Thursday said it is seeking the assistance of the United States Geological Survey (USGS) and the National Aeronautics and Space Administration (NASA) for additional satellite data to evaluate the situation in the 311-meter-high volcano.
Solidum said existing fissures found in some barangays in Lemery, Agoncillo, Talisay and San Nicolas have been observed to have widened by a few centimeters.
Phivolcs maintains Alert Level 4 over Taal, meaning a hazardous eruption is possible within hours or days.
Phivolcs' latest bulletin said Taal's activity in the past 24 hours was characterized by "steady steam emission" and "infrequent weak explosions" that generated dark gray ash plumes 100 to 800 meters high and dispersed ash southwest to west of the main crater.
Between 5 a.m. Thursday and 5 a.m. yesterday, 65 volcanic earthquakes were recorded, two of which registered magnitudes of 1.3 and 3.1.
Phivolcs officials said they still have to evaluate whether the lull on Taal's surface activity in the past days is temporary, as this could also be a sign that the volume of magma rising to the volcano's surface is increasing or there is already a significant amount of magma waiting to explode.
"We have two weeks of observation period for us to determine whether Taal's activity has really subsided. That's our standard operating procedure but we'll see if that could be shortened," Solidum said.
Meanwhile, Solidum said they are borrowing an infrared camera from the USGS so they can do quick and no-contact measurement of temperatures in the volcano.
"We asked if they can lend us an infrared camera last Sunday when Taal was erupting," he said.
He revealed that experts from the USGS and Phivolcs compared their data on Taal via Skype yesterday. He noted that the US agency has been routinely coordinating with different countries, including the Philippines, in monitoring active volcanoes.
The USGS Volcano Disaster Assistance Program also assisted the Philippines during the 1991 eruption of Mount Pinatubo in Zambales.
On Thursday, satellite data from the USGS showed that the main crater of Taal has dried up, which could be due to underwater fissures or cracks underneath Taal Lake caused by volcanic tremors and ground deformation due to the continuous rise of magma.