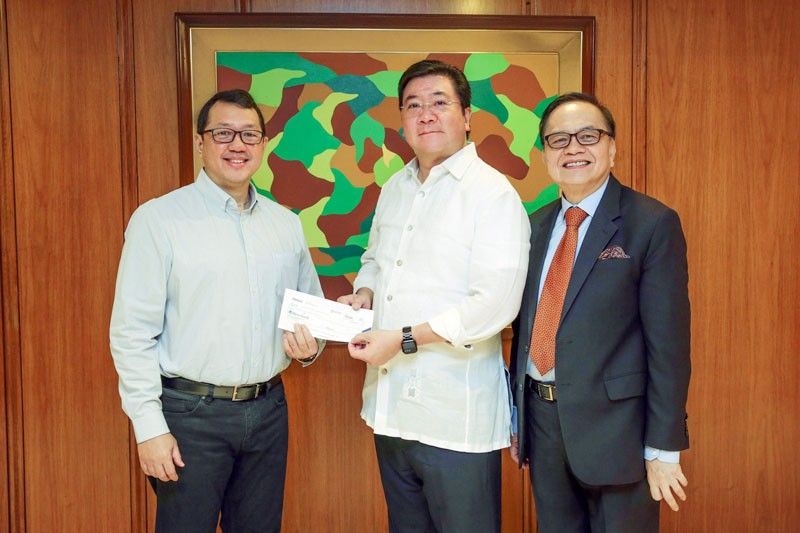 Metrobank president Fabian Dee (center) and Metrobank Foundation president Aniceto Sobrepeña (right) hand over a P1-million check donation to Philippine STAR president and CEO Miguel Belmonte as part of a P2.6-million contribution to ongoing relief efforts for families affected by the eruption of Taal Volcano. Metrobank Foundation coursed its donations through STAR's Operation Damayan, the Philippine Disaster Resilience Foundation, MBC DZRH's Operation Tulong, and Metrobank branches in Batangas and Cavite. The amount will be utilized to bring relief to families in identified evacuation centers.
GEREMY PINTOLO
Damayan's Taal fund drive reaches P5 million
(The Philippine Star) - January 18, 2020 - 12:00am
MANILA, Philippines — At The STAR offices in Port Area, Manila, relief goods including rice, food, blankets, hygiene kits, biscuits, water, toiletries now flood the lobby and corridors.
With more than P5 million in donations from a slew of individual and corporate donors, Operation Damayan is set to conduct one of its biggest relief operations on Tuesday – for Taal Volcano evacuees in Batangas.
Operation Damayan is the humanitarian arm of the Philstar Media Group and is headed by STAR president and CEO Miguel Belmonte, who said that Tuesday's outreach will benefit 5,000 families.
A second trip is being organized since the number of evacuees was growing by the day as Taal Volcano remained restive, and the fate of families living in its perimeter uncertain.
Yesterday, Hennan Group of Resorts vice president for marketing Karl Hendrik Chusuey, representing his father and group chairman Henry Chusuey, turned over a donation for P500,000 to Operation Damayan.
"We hope that this donation will significantly support your endeavors in helping the Filipino people," Hennan's statement said.
For her part, reader Marigold Chiyuto-Fernandez had been following the developments from abroad and decided to donate her share, depositing P5,000 in Damayan's account.
"I read your article and was really touched how people in Taal, Batangas and nearby places were affected by the volcano eruption since last week. Please accept my donation as my help to my fellow countrymen. Please continue your good work towards mankind," she said.
Also sending in much-needed assistance were: Mr. & Mrs. Rene Henson, P50,000; Canadian American School, P20,000; Anonymous, P60,000; Rural Bank of Baco (Or. Mindoro) Inc., P20,000; R.L. and T.L., P10,000; Gaby and Hans Orbon, P10,000; Gary Sancio, P10,000; Avelina Tan, P5,000; and Marichu Villanueva, who donated three boxes of snack items.
Donations may be deposited to Philstar Daily Inc./Operation Damayan Metrobank Savings Account No. 151-7-15152422-9, and deposit slips emailed to damayan@philstarmedia.com. Interested donors may also contact 8527-7902 to 15 local 194.